There were costumes, candy and trick-or-treaters, but this event was a little different than the traditional door-to-door trip to fill up your bag with treats on Halloween weekend.
"We provide a safe place," said John O'Brien with the Cuyahoga County Sheriff's Office. "So if you're living somewhere where you want your kids to be a little safer, that you can come here."
It was the 4th annual Operation Safe Halloween event hosted by the sheriff's office. Lakeside Avenue in downtown Cleveland was lined with dozens of cruisers from about 30 departments. Each "trunk" filled with candy for this year's trick or treaters.
Concerns have been brought up with trick-or-treating related to who is behind the door when a child walks up to request candy during Halloween. Some parents have chosen a different approach to grabbing treats with their children.
Safety on the minds of many….at all times.
"Because you never know what could happen," one mother said. "That's why you take your kids somewhere family friendly and safe."
For some, it starts with being aware of your surroundings.
The Ohio Attorney General's web page offers a Halloween Safety flier, noting the basic tips for keeping kids safe while trick-or-treating. Among the lists of tips is a reference to checking the state's database listing the registered sex offenders in the area.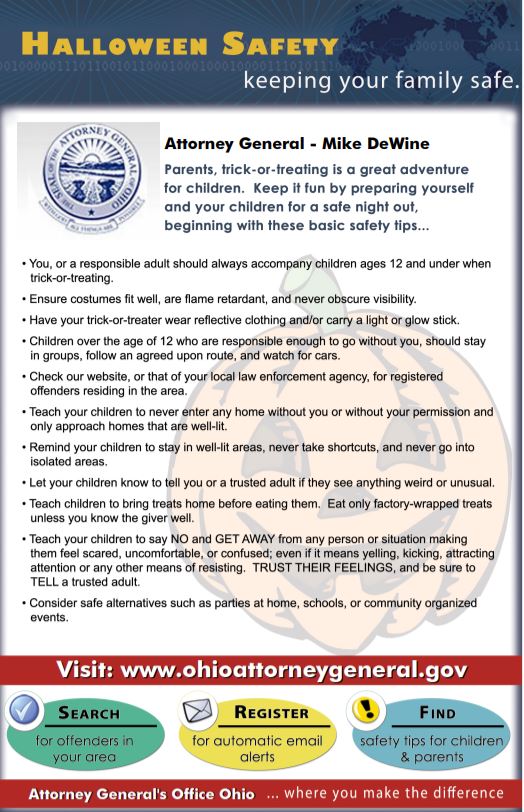 "Go on the site often, because it changes," O'Brien said. "We have about 3,400 sex offenders in Cuyahoga County, and we monitor them all on a daily basis."
O'Brien said it's not against the law for registered sex offenders to pass out candy, but there may be restrictions for those on parole or probation.
"Just be smart about it. If it doesn't feel right, it probably isn't right. Talk to a police officer about it."