Now it's real.
After 347 days of anticipation, the Cleveland Cavaliers and Golden State Warriors meet once again to decide the NBA Championship.
Game 1 is tonight at The Oracle.
Are you ready?
I've reflected quite a bit on these 347 days of the Cavs' championship reign, the first for any major professional sports team in Cleveland since 1964. We saw a parade down East 9th Street, a visit to The White House, a expletive-filled call for help from LeBron James in January, a 26-point comeback in the playoffs, and...another Eastern Conference Championship.
Cavs fans have run the gamut of emotions in this road back to the Finals. There have been times when LeBron James and company have looked unstoppable. There have also been times when they've squandered HUGE leads, played down to the level of their competition, and looked disinterested and bored.
All of that becomes irrelevant starting just after 9:00 p.m. Eastern Time this evening.
This is what the world has been waiting for. The two best teams in the NBA back to duke it out for the third year in a row. It's best two out of three between the last two league champions.
I couldn't be more excited. Just think about who we're talking about here:
LeBron vs. Durant
Kyrie vs. Steph
Kevin Love, Klay Thompson, Tristan Thompson, Andre Iguodala, and yes, Draymond Green.
It's Mike Brown, twice fired by the Cavs, now hoping to lead Golden State back to championship glory.
It's Deron Williams and Kyle Korver, two veteran All-Stars who are finally getting a taste of the NBA Finals experience.
All I can say to Cavs fans as we get closer to game time is: Enjoy this.
No really, take a moment or two today and savor this. Your team is part of one of the greatest rivalries of the 21st Century in any sport.
You have LeBron James on your side. James is playing some of the best basketball of his career RIGHT NOW. He's determined to slay the dragon that is Golden State, and win his fourth NBA Championship in the last seven years, which would solidify his place among the league's greatest players.
You have Kyrie Irving on your team. Mr. 4th Quarter. Captain Clutch.
Don't listen to all of the so-called 'experts' who tell you that the Cavs are no match for the Durant-bolstered Warriors.
Don't worry when the Warriors go on one of their 10-0 runs.
Don't get upset when Steph Curry hits a bunch of threes in a row and smiles through that mouthpiece.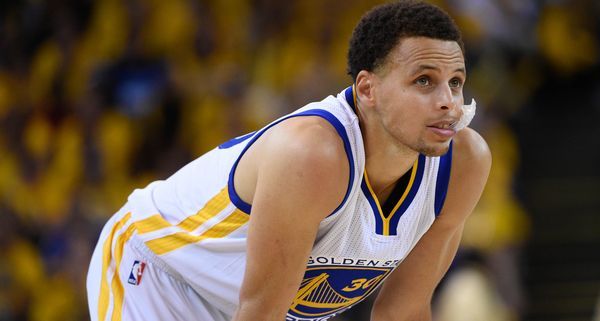 (It is permissible to say bad things about Draymond Green to your television.)
Just enjoy this. This is what we've waited 346 days for.
And remember... as I always say, the Cavs have LeBron. Golden State does not.
And that, among all other reasons, gives me hope that we can do this again!