TORONTO -- There's certainly no irony that the awards season begins for a bright and lively musical called "La La Land" just when the 41 annual Toronto International Film Festival brings down the final curtain.
It's just a matter of history folks and, since the fabulous show-biz fable from writer and director Damien Chazelle walked away from the festival yesterday with TIFF's 2016 People's Choice Award, we can expect many other plaudits to follow.
In fact, six of the last nine Best Picture Oscar winners were shown at Toronto's annual 10-day cinematic bash, and 15 People's Choice picks earned nominations for that top prize. That can only mean good things for "La La Land," its Best Actor and Best Actress hopefuls Ryan Gosling and Emma Stone and, obviously, for 31-year-old Chazelle, who was previously nominated for the screenplay of his "Whiplash."
If anyone's counting, from the 31 films yours truly watched at TIFF, the People's Choice winner easily became a personal favorite. Others grabbing me by the throat (and heart) included writer/director Kenneth Lonergan's masterfully moving "Manchester By the Sea"; "I, Daniel Blake" (Ken Loach's marvelous assault on British bureaucrats); and "Loving," Jeff Nichols' genuinely stunning take on interracial romance.
Another late-year keeper is "Jackie," which details the dark days following the assassination of President John F. Kennedy and how his widow (played by a grand Natalie Portman) dealt with it all. Chilean Pablo Larrain's film won the festival's "Platform Prize," which is voted on by a jury and "champions director's cinema from around the world."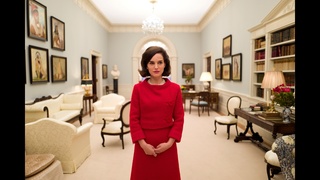 Some other personal nods from TIFF:
Best Actor: Gosling is terrific in "La La Land," and so is Joel Edgerton as the solid husband in "Loving." However, Casey Affleck, as the tormented handyman in "Manchester By the Sea," and Mahershala Ali, as the caring drug dealer in Barry Jenkins' "Moonlight," already might have Best Actor and Best Supporting Actor statues locked up respectively. They are both that memorable.
Best Actress: There's a full festival load, including Amy Adams, as the brilliant linguist trying to stop possible world annihilation in world-class filmmaker Denis Villaneuve's nifty "Arrival"; Rebecca Hall, as the suicidal newscaster in "Christine"; Ruth Negga, as the incredible wife in "Loving"; Portman in "Jackie"; and Stone in "La La Land." And, if you're talking special supporting work, then add Michelle Williams ("Manchester by the Sea") and Naomie Harris ("Moonlight") as well.
Best ending: The thinking person's climax to "Arrival." I'm still not sure I have it right.
Worst ending: The total cop-out in "Wakefield," which up until then is a decent telling of one man (the always fine Bryan Cranston) escaping from life.
Nice surprises: Ben Wheatley's "Free Fire" (a festival winner, see below); the animated "Sing"; the Canadian "Weirdos"; and boxing biopic "The Bleeder."
Wish I Had Seen It: Akron wunderkind Jim Jarmusch's "Paterson" and Korean Park Chan-wook's "The Handmaiden." Each was generating that certain kind of buzz.
Wish I Hadn't: "Buster's Mal Heart," starring Rami Malek. He might be killing 'em on TV's "Mr. Robot," but this cinematic venture, as written and directed by Sarah Adina Smith, never really takes off or pays off.
Worst Dialogue: Diane Lane to Arnaud Viard in Eleanor Coppola's otherwise jovial "Paris Can Wait": "You know, I'm from Cleveland." Viard's curt response: "Well, nobody's perfect."
Other festival films picking up official TIFF awards yesterday: "Old Stone" (Best Canadian First Feature Film); "Those Who Make Revolution Halfway Only Dig Their Own Graves" (Best Canadian Feature); "Kati Kati" and "I Am Not Madame Bovary" (Special International Juried Film Critics awards); "Free Fire" (People's Choice Midnight Madness Award), and "I Am Not Your Negro" (People's Choice Documentary Award).