AKRON -- April 7, 2010 was one of the worst days of Patrice Smith's life. It was the day she found out her older brother, 30 year-old J'Suan Slayton, was murdered on Akron's west side after walking in on a drug deal gone bad.
"He walked in on a robbery and as it was commencing he saw what was happening," says Smith. "He turned to run out the house, and the man chased him down and shot him in the back of his head."
INSPIRATION FROM AN UNLIKELY SOURCE
In 2011, 28-year-old Daniel Travis of Akron pleaded guilty to involuntary manslaughter, attempted murder, and having a weapon under disability in connection to Slayton's murder. He was sentenced to 18 years in prison.
It was Travis' background that led Smith to be the change her community needed.
"Unity in the Community started after I had did some research on Daniel Travis," says Smith. "And I was like this man didn't stand a chance. He just came from like a hard knocks life."
"And that's what made us want to be able to say what if he could have had a little more support in his life," says Smith's husband Pastor Mayceo Smith Jr. of the City of Joy Life Enrichment Center. "What if you know he could've had someone in his life encouraging him to do better?"
The Smith's launched the nonprofit Unity in the Community of Akron to assist youth with similar backgrounds as Travis. The organization's mission is to enhance the lives of children and families in the community by promoting educational enrichment, core family values, and youth mentorship.
Their first event was a Peace Day in the neighborhood where Smith's brother was murdered. The event connected area youth and families with local resources from various Summit County nonprofits. They also provided bookbags and school supplies.
"I saw two kids walking down the street with two of our book bags on and they never met me, never seen me, but they got support from an organization that we helped birth," says Pastor Mayceo Smith. "It's very encouraging to see that we can make a difference."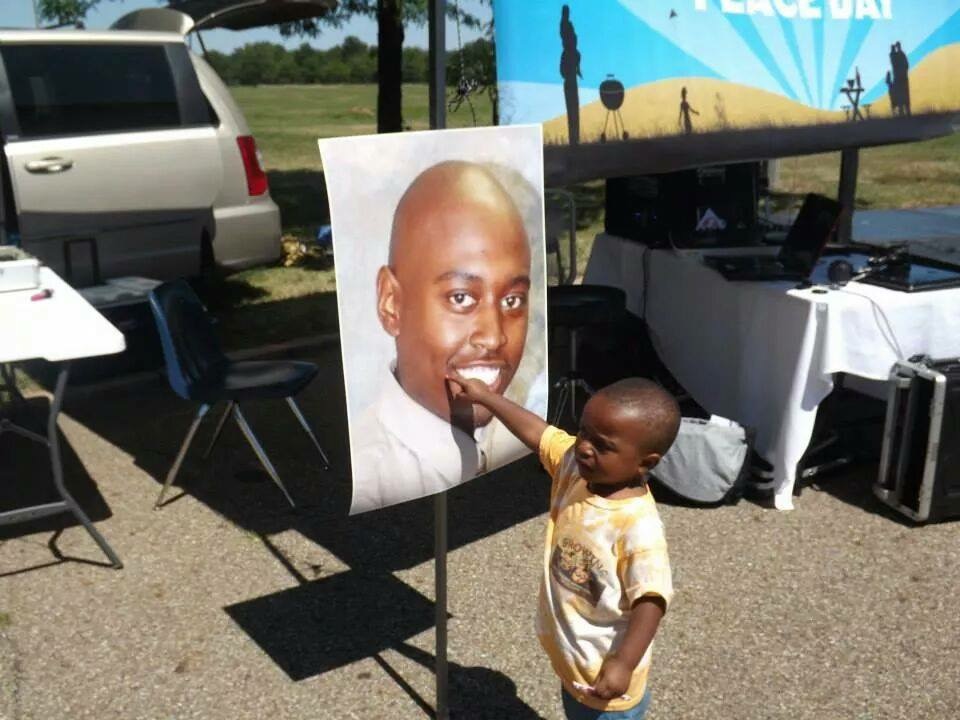 I'M NOT GIVING UP
Patrice Smith did slip into a depression as she grieved her brother's death. She says it was a dream she had about her brother where he encouraged her to continue working in the community that turned things around.
"That to me was like a sign that my brother wanted me to stop being sad, stop grieving and to focus on what mattered," says the now 34-year-old. "To basically make sure that his legacy lived on. After I woke up I dust my shoulders and said you know I'm not going to give up here. I'm going to go from here and I'm going to do whatever it takes to live my life to the fullest."
Smith went on to quit her long-term corporate job in 2016. She launched an online women's boutique and began working for Minority Behavioral Health Group teaching children conflict resolution skills.
"Now I'm doing prevention work where I have the opportunity to go into the same neighborhoods that I grew up in, that my brother's killers grew up in, and teach conflict resolution to those kids to prevent them from making bad choices and helping them to be emotionally well."
"Nothing happens for no reason," says Smith's husband. "So even pain or tragedy there's still a reason that you had to go through it but now I could use it as a catapult to get me to the next level and to be able to be an example for somebody else."
EVERY LIFE MATTERS, INCLUDING DANIEL TRAVIS
And that somebody else just may be the person convicted of killing Smith's brother J'Suan.
What the Smiths didn't know is the prison ministry at the church where they serve as pastors began sending inspirational materials to Daniel Travis. Travis wrote back, not knowing he was sending a letter to the family he had caused so much pain. He thanked them for the messages and said he was growing into a better man.
"When I got that letter I saw the name on it and I said 'now what is this'?" says Pastor Mayceo Smith Jr. "But when I opened it and I read it I said 'now this is what true ministry is all about.'"
"I'm helping my brother's murderer become a better person," says the younger Smith. "It's just a reminder that this is bigger than us. Every soul matters; every life matters."
The Smiths have not responded to Travis' letter. However, they say they have forgiven him and are excited about his growth.