He's just 9-years-old but Kameron Massie stepped up in a big way when seconds counted.
Massie was out back picking up sticks and debris in Ashland County helping his buddy 73-year-old Leon McGuire who was on this tractor in the front yard.
"It just wouldn't turn and went straight for the ditch and over it went!" says McGuire.
McGuire was pinned under the tractor thinking, "I gotta get ahold of Kameron to get me outta here!"
Massie says "I heard him yelling for me! I'm running all around the property but I can't find him. Then I see something down in the ditch. I got up to him said oh my god! He said go get the loader!"
Nearby workers from the gas company started hooking up chains while Massie says he, "Ran around back, hopped up on the front loader, backed up then I put it forward and I floored it."
"I try to teach him everything I know. I don't know much but he learns quick," McGuire smiles
Grandma and Grandpa Teague have been raising Kameron since he was two years old.
Just two weeks ago, "My grandpa Paul Teague passed away." Kameron says he took it pretty hard.
"It hurt me so bad," says Kameron.
"He needed his grandpa. I told him he can cry anytime he wants to around me. It doesn't matter because I cried for Paul," says McGuire.
Then, in the blink of an eye,
"He's my hero!" says McGuire.
"Oh! I could have been dead! Clearly the Lord wants me to do something else before I go," McGuire smiles.
Kameron thinks grandpa Paul may have had something to do with it.
"I think it's pretty cool because he helped me in a split second know what I had to do and did it. To me he feels like a grandpa," says Massie.
McGuire thinks, "That's probably the reason, he wants me to be with him."
On Friday Leon's whole leg was stuck.
"Oh! Painful!" he recounts.
Still, not a single broken bone and Kameron continues to care for and help Leon McGuire who's still in a lot of pain.
Kameron is still his right hand man.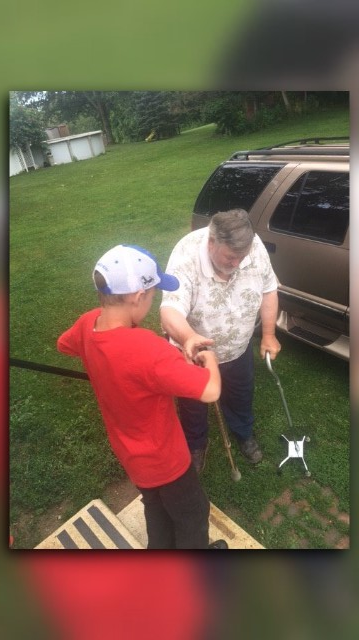 If grandpa Paul is looking down, "He has to be proud. He has to be real proud. I'm real proud of him," says McGuire.
A friend has started a letter writing campaign to let Kameron "how grateful we are for kids like him".
If you would like to send Kameron Massie a card, send it to 489 U.S highway 250 East Ashland OH 44805.