Cleveland continues to woo and win national conventions.
Most recently, the National Black Prosecutors Association held its annual conference in downtown Cleveland.
Nearly 150 African-American lawyers attended the week-long conference and job fair, held July 16-22 at the Westin.
During the daily sessions, the prosecutors focused on their unique role as law enforcement officials and also agents of social change.
"The path of a prosecutor of color is not a simple one," is how conference chair Aqueelah Jordan, an assistant Cuyahoga County prosecuting attorney, put it. "We are in a unique position in our profession to offer a different lens through which legal issues can be viewed, and the position carries with it a moral obligation as well."
NBPA President William Jorden, an assistant district attorney in Baton Rouge, La., said the conference gave prosecutors an opportunity to network and strategize together on how best to move forward during a challenging time. "Cases garnering media attention nationwide have communities questioning, 'Is there justice for all?' This is a time for our organization to step up as leaders," he said.
Panel discussions explored timely topics such as cybercrime and sexual assault investigations. They also tackled meaty questions such as "Shared Trauma: Can the criminal justice system and communities of color heal from the violence?"
Several awards were presented to Clevelanders during the conference.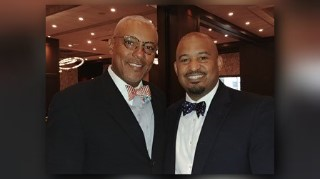 Cleveland Police Officer David Muniz received the Profiles In Courage Award for displaying extraordinary courage in 2015 when he was shot in the chest while responding to a call. Body camera footage showed that Muniz tried to preserve the life of the man who fired the gun at him, although officers eventually shot the man dead.
The Thurgood Marshall Award went to the Cleveland NAACP Chapter for its social activism.
Trailblazer Awards were given to Cleveland Municipal Administrative and Presiding Judge Ronald Adrine and also posthumously to Cleveland Municipal Judge Ed Wade, who passed away last year.
Shaker Heights Chief Prosecutor C. Randolph Keller received the Norman S. Early Jr. Founder's Award. He was recognized for exemplifying the spirit of the lawyers who established the NBPA in the 1980s in order to provide training for their peers, create a pool of legal scholars on the cutting edge of the legal profession and support the roles of blacks in all aspects of law enforcement.