MANSFIELD, Ohio -- Something wicked is happening inside Mansfield's "Shawshank Prison."
A Hollywood horror mastermind is bringing his macabre madness to the infamously eerie Mansfield Reformatory.
Gory guru Robert Kurtzman, a legend in the special effects industry, is putting his sinister spin on the historic prison's annual Halloween season haunted house.
It's called Paranormal Penitentiary: Monster Lockdown.
"We are so excited to unleash our creative forces onto such an ionic site as the Mansfield Reformatory," Kurtzman said in a Facebook post. "We are bringing to life all new characters and creature creations with more scares and fantastic visuals. We are going to pull out all the stops to make the 2016 Halloween experience better than ever."
A blood red poster teases more monsters and more scares than ever before at the haunted event. Paranormal Penitentiary: Monster Lockdown will start screaming on Sept. 23.
WKYC app users can see photos of the 2015 Mansfield Reformatory haunted house HERE.
PHOTOS | 2015 Haunted Prison Experience at Mansfield Reformatory
Archived image from the 2015 Haunted Prison Experience at the Mansfield Reformatory. (Photo by Ryan Haidet, WKYC-TV)
Archived image from the 2015 Haunted Prison Experience at the Mansfield Reformatory. (Photo by Ryan Haidet, WKYC-TV)
Kurtzman is known as the "K" in KNB EFX, the iconic Hollywood effects trio of Kurtzman, Greg Nicotero and Howard Berger. He has worked on a plethora of films dating back to the 1980s, including numerous movies in the Nightmare on Elm Street series, Misery, Pulp Fiction, From Dusk Till Dawn, Scream, Boogie Nights, Spy Kids, Austin Powers in Goldmember and loads more. In total, he has been involved with more than 400 flicks -- six of which he's directed, including 1997's cult horror favorite, Wishmaster.
Just outside the prison's shadow, Kurtzman owns and operates his self-named "Creature Corps." in Crestline. It's in this wicked workshop where he and his minions make movie magic by crafting props and effects for films being made around the world. Creature Corps. is the largest special effects makeup studio in the United States located outside of Los Angeles.
The Mansfield Reformatory, which features the world's tallest free-standing cell block, closed in 1990.
Since then, the ominous, castle-like structure has been showcased in numerous films like The Shawshank Redemption and Air Force One.
Many also believe it's one of the country's most haunted locations, which is why it has been splashed across national TV on shows like Ghost Hunters and Ghost Adventures.
The prison is now a popular tourist destination, which offers self-guided tours and opportunities to hunt for ghosts.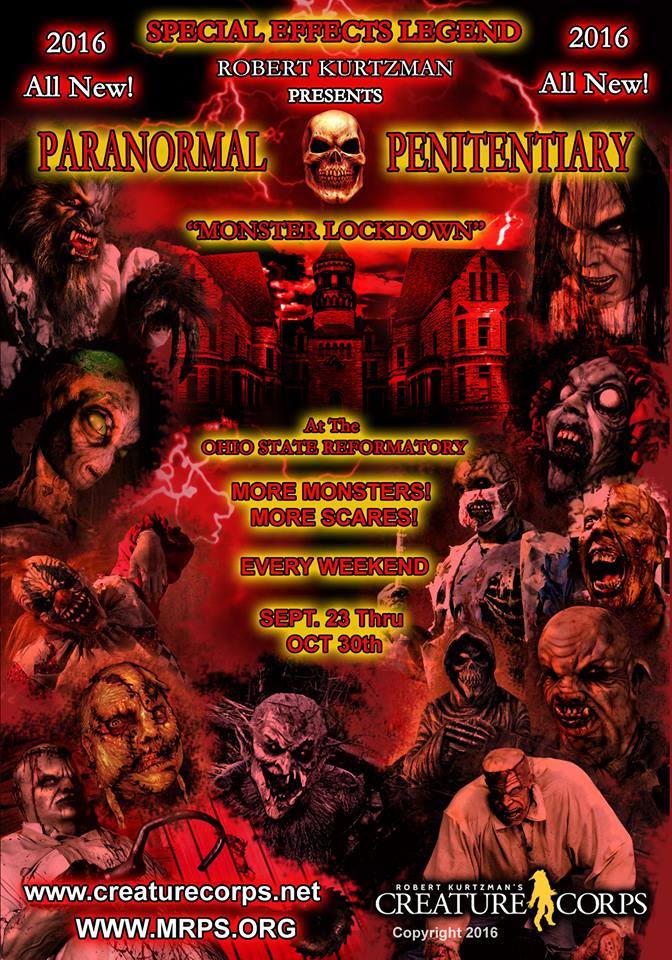 Below you can read the legend behind Paranormal Penitentiary: Monster Lockdown, which was posted on Facebook:
The year -- 1964, a secret society of monster hunters and occult warriors from around the world have established a heavily fortified monster containment facility in the heart of Ohio.
They are called the SOD: Slayers of the Damned.
Behind the gothic stone walls of the Historic Ohio State Reformatory, the SOD have imprisoned hundreds of creatures from this world and beyond. Their mission -- to understand the nature of these creatures through scientific study and to ensure the safety of mankind.
Until the night it all goes horribly wrong.
October 2016. A violent inmate has broken free and has released the evil creatures from their cells. Now the Slayers of the Damned must battle to take back control of the facility before the monsters can break out beyond the walls and once again terrify our world!
Think Guantanamo Bay for monsters and madmen. Code named "Paranormal Penitentiary."