Channel 3 is again partnering with the Cleveland Animal Protective League for the 6th Annual Fur-Get-Me-Not Telethon.
Taking place from 5 a.m. to 7:30 p.m., the telethon brings the community together and inspires viewers to help the thousands of animals that will come through the Cleveland APL's doors this year.
Join us throughout the day as we present stories showcasing the diverse and meaningful work the APL does to rescue, heal, nurture, adopt, and advocate for animals in need. Thanks to our viewers' generosity, our previous telethons have raised more than $230,000 and led to the direct adoption of over 120 animals. All funds raised by the telethon benefiting the Cleveland APL. We also want to give a big shout out to Levin Furniture for returning as the main sponsor of this year's telethon.
If you can't watch the telethon but want to make a difference in the lives of neglected and abused pets, you can donate now by calling 216-566-PETS or by clicking here.
So just how are those donations spent? Meet some furry friends who've benefited from the generosity of past donations and the excellent care provided by the Cleveland APL and their staff.
BC
%INLINE%BC, a 20-year-old cat, was surrendered to the APL by his owner—the only mom he had ever known—because she was going into a nursing home and could not take him with her. The APL's veterinary team ran tests and saw that other than being 20 years old, BC was a healthy cat and, therefore, he was put up for adoption. His story was shared on the APL Facebook page and in less than 24 hours, BC was adopted by a wonderful woman who was celebrating her birthday and felt the perfect birthday gift would be to give a loving home to a geriatric kitty! His new mom kindly gave her contact information to the APL, and we shared it with his first mom. BC's two moms connected, and his first mom is now comforted by the knowledge that BC is very much loved in his new home. She always thought BC needed to be an "only child" so she was thrilled to learn BC now lives happily with two humans, and a cat and a dog—a first for him!
Felicia
%INLINE%Felicia was just a small kitten when a Good Samaritan found her on the street, underweight and infested with fleas, and brought her to the Cleveland APL. The kitten was very pale, covered in fleas and anemic. Our veterinary team went straight to work and gave the sweet kitten a blood transfusion, after which she started to do very well. Felicia spent nearly two weeks in a loving foster home to continue to heal before becoming available for adoption. She didn't even spend a full day on our adoption floor before she found her new dad and a loving home!
Gizmo
%INLINE%Gizmo is a 1-year-old American Staffordshire Terrier mix who was brought to the Cleveland APL by the Humane Investigations team. Gizmo's story is similar to many dogs who come to us through the humane investigations department—he was a sweet dog who was tethered outside without appropriate shelter, food or water at a vacant property to stand guard. The Humane Investigations team brought Gizmo to the APL and he was soon adopted by a loving family with two other dogs. Gizmo is a much loved member of a family who will never have stand guard outside again.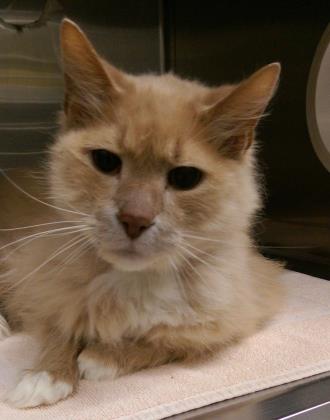 Greensby
%INLINE%Greensby is a young rabbit who was found abandoned in a park with nothing but a bag of carrots. A Good Samaritan found her and brought her to the Cleveland APL. Greensby, who was quickly examined by our veterinary team, was in poor shape. She was emaciated, her ears were in terrible shape and she had ingrown teeth. Because of donations to the APL, she received specialty surgery to remove the ingrown teeth. She recovered in the home of an APL Foster Care volunteer. Well, actually Greensby was home because her foster mom adopted her!
Haniel
%INLINE%Haniel was one of 11 puppies who were born in the home of an APL Foster Care volunteer on Christmas Day. They were named after Archangels. At three weeks old, Haniel developed a neurological disorder, and she suddenly could not use her back legs! Haniel's foster family worked with her for months, taking her to physical therapy and acupuncturists to help with the issue. Eventually, Haniel went to a new foster family who had more time to care for the puppy's many needs. That family was so devoted to her care and loved her so much, they adopted her! And as a bonus for Haniel—she now lives next door to one of her littermates!
Katie
%INLINE%When she arrived at the APL, Katie's appearance was heartbreaking. The boxer mix was extremely underweight, with very little fur and open sores. Katie had been confined in one room for most of her life; now her owner was moving, and could not take Katie along. The APL staff quickly set to work, bathing this sweet girl and getting her ready go to a loving foster home. Katie's skin issues were complex and difficult to diagnose and treat. The APL's veterinary staff performed tests and applied treatments, and even referred Katie to a doggie dermatologist! But after a lot of care, Katie's conditions were treated and she was given a second chance at having a happy, healthy life. Best of all, Katie's foster family decided to become proud members of the APL foster failure club and welcomed this sweet dog into their family!
Lucas
%INLINE%Lucas is an Australian Shepherd/Beagle mix who was transferred to the Cleveland APL from the Cuyahoga County Dog Kennel through our dog transfer program. Lucas was heartworm positive so he needed to spend several weeks in the home of an APL Foster Care volunteer. He also is blind. His foster family not only healed his body; they also healed his spirit. Lucas found his happy ending when he adopted by a wonderful woman with another dog to keep him company.
Minion
%INLINE%Minion is a 2-year-old cat who was brought into the APL by a Good Samaritan who had been caring for him for about a month. One morning, he came crawling to her porch, and she noticed his front leg was broken. The APL's veterinary team went to work and treated Minion's injury. He was then was sent to recover in the home of a caring APL Foster Care family. There he learned the joys of living in a wonderful home with children to cuddle with and even found himself a forever home with his foster family. Now Minion couldn't dream of going back to being an outdoor cat!
Sylvia
%INLINE%Sylvia was brought to the Cleveland APL by our humane officers because she was not being properly cared for. When our veterinary team examined her, it was determined that Syliva had heartworm and needed to go to a foster home to heal. While she was in foster, we were able to learn just how friendly and loving she was—Syliva would lick any human to death if they let her get close enough! It may have taken a few months for this loving dog to find the perfect home for her, but the APL staff was determined to find Sylvia her dream home. After enough patience and care, Syliva was able to ring in the new year with a family she could call her own!
Taylor
%INLINE%When Taylor the Snowshoe mix first came to the Cleveland APL, he had been found by a Good Samaritan who noticed him wandering around outside for nearly a year. He had a limp when he walked and seemed to be scared—this friendly cat didn't need to spend any more time without a home. At the APL, our veterinary staff—using a recently acquired x-ray machine—determined that Taylor's leg had a fracture in two places. They put a bright green cast on his leg and sent him to a foster home to heal. A month after his arrival, Taylor was ready to find a loving home which includes children, dogs and other cats!
google1620879307495e8e.html