Clevelanders are heading into the weekend on a high after hosting another successful large-scale event.
The city is making positive headlines for its beauty and hospitality, not the terribly negative predictions some had for the week of the Republican National Convention. A lot of that is thanks to the leadership of one man.
Chief Calvin Williams likes to give away the credit. And yes - government officials, city workers and thousands of amazing officers deserve our praise. But Chief Williams led the charge with an approachable toughness and a firm friendliness – huge reasons we feel the pride we do today.
A man of the people and the leader of an army, Chief Williams reflects on a successful mission.
"Aside from the day I was sworn in as chief a couple years ago, this is the proudest I've ever been being a Cleveland Police Officer," he said as WKYC caught up with him Friday morning.
It was no small task: eight months of planning, coordinating more than 2,800 officers all for one week of heightened awareness.
"I wasn't worried things would get out of hand," he said. "We had highly trained officers there. Everybody knew what their responsibilities were."
Wednesday saw the most action as a man burned the American flag. That day, there were 18 arrests and a few minor injuries.
"As soon as that happened, officers were right there. They took control of the square. We took control of the situation, restored order and still let people do what they came here to do," Williams said.
Chief Williams was right there in the middle of it all. He prayed with protesters and hugged total strangers, setting the tone for others to follow. One local organization has suggested him for the Nobel Peace Prize -- and an internet meme is circulating on social media calling him the RNC MVP.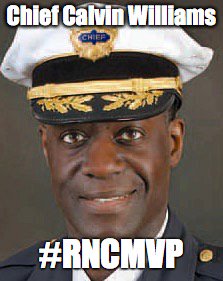 Chief Williams led a security plan that was equal to the task and worked, turning doubters into believers.
"Fortunately with some prayers and some luck it worked out for us," he said.