More than 72 hours after a 20-year-old woman fell from a balcony at Spirits Restaurant and Bar, the investigation continues.
As of Monday night, that young woman remains in critical condition.
READ MORE I Woman who fell from Spirits balcony critical; bar closed for violations
Monday nights are quiet evenings on West 6th Street. But its been a quiet three nights since the accident happened at Spirits.
The woman who fell has yet to be identified and details of what happened exactly, are slowly starting to emerge.
Some liquor establishments judge good nights from bad ones by what's called "the door". The headcount or turnout.
But "the door" at Spirits Restaurant and Bar in the heart of downtown's popular West 6th Street neighborhood tells a different story.
This pink page from is said to be from the Cleveland Department of Fire. It indicates that Spirits was in violation of among other things: out of date fire extinguishers, obstructed exits, and un-maintained sprinkler systems.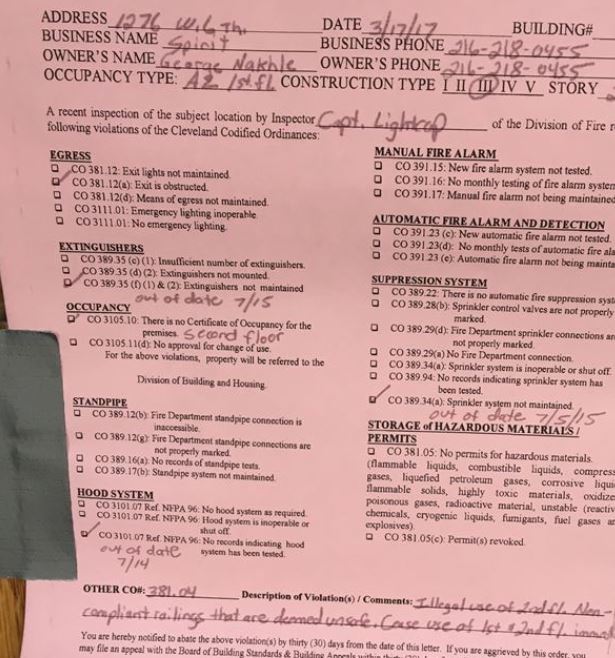 The St. Patrick's Day signs still hang in the windows, while on the day itself, police emptied the place after that 20-year-old fell.
"You should feel very confident when you're going into establishments," Cleveland City Councilman Kerry McCormack told WKYC Channel 3 on Monday. Friday's incident, according to McCormack, will trigger new efforts to make sure establishments are safe.
"We are going to make sure the establishments are safe and operating in the right way," added McCormack. "And that we will coordinate amongst the agencies in the city in the right way to make sure that happens."
Bobby George, who owns nearby The Barley House and Town Hall, told WKYC's Amani Abraham, this should be a reminder that liquor licenses should be distributed only after diligent background checks.
"It's very similar to owning a gun," he says. "Only the right people should be able to own a liquor license."
We still don't know exactly what triggered the events leading up to Friday's fall.
We have asked for a comment from the owners of Spirits. So far, they have not made any statement.