EUCLID, Ohio -- It is an emotional day as Robert Godwin Sr., the man whose murder was shown on Facebook, is laid to rest.
The viewing was at 10 a.m. at River of Life Ministries at 24600 Lakeshore Boulevard. The funeral started at 11 a.m. and went until 1:30 p.m.
A procession immediately followed the funeral to Lake View Cemetery in Cleveland.
On Cleveland's east side, the memorial continues to grow at the spot where Robert Godwin, Senior, was shot and killed.
The 74-year old great-grandfather had been targeted at random, while walking and waiting for Easter dinner.
The tragedy continues to cause sadness, disbelief, and even anger.
"The age that he was, and you're going to get out of your car and shoot this man? No reason?" asked Bennie Hillmon who stopped by Friday to pay respects.
Godwin was a native of Alabama, and moved to Cleveland decades ago for work. His family said he planned to visit them there next month.
Instead, nearly 50 relatives have traveled by bus to Cleveland.
Many remember him as someone who did not just enjoy fishing and collecting cans, but loving others.
"He call you every Saturday morning and he just want to hear your voice," said his sister, Quinnin Jones.
"My brother, all he ever did, was love everybody," said brother Lindsey Jones.
And many loved him back.
A forensic artist in Philadelphia shared a picture on Facebook Friday of a portrait he made for the family.
In Kentucky, an airbrush artist created a free portrait to give to Brenda Haymon, Godwin's daughter.
"In my mind it was how it really captured my dad's spirit," she said. "It really just rained so true about how humble and a gentle person he was."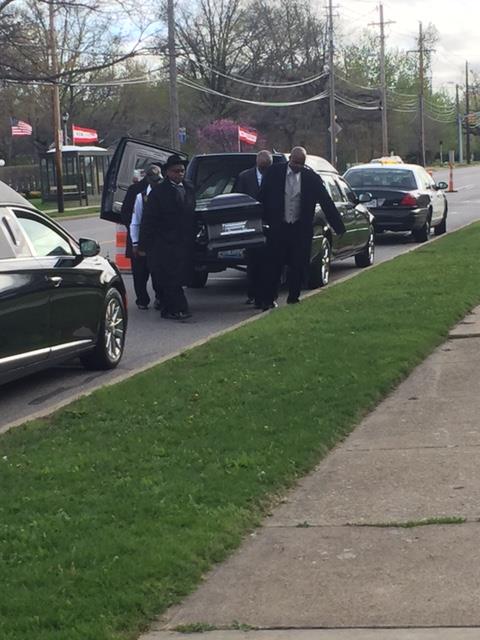 Inside #RobertGodwins funeral. @wkyc pic.twitter.com/i7b5zEV3wo

— JASMINE MONROE (@MONROEWKYC) April 22, 2017