At 14-years-old, Will Lynch was a budding entrepreneur in Pepper Pike.
"I was working in my parents basement. I had a passion for flowers and turned it into a business," says Lynch.
Now at the ripe old age of 18, Lynch is hugely successful, creating floral masterpieces out of his Lynch Designs Studio Beachwood.
His clients include Khloe Kardashian.
Kardashian is dating Cavs center Tristan Thompson and has been popping up all over social media lately from iconic places in the CLE.
Lynch, however, saw an opportunity months ago when he sent flowers to Khloe at Tristan Thompson's home.
"Just out of the blue, kind of hey! If you need anything we're here. Welcome to Cleveland," says Lynch.
It worked.
Khloe gave a video shout out on social media, showing the flowers and saying, "God these are so, so beautiful. Thank you Lynch Design for sending these to me."
"And a few weeks later she needed flowers, so she called us," Lynch smiles.
Khloe has been a client since Christmas.
She even called on Cleveland's Will Lynch to go all out for Tristan's birthday party in March.
Now Tristan himself orders Lynch Design flowers for Khloe. So does sister Kourtney and her boyfriend Scott.
Khloe Kardashian is not just Lynch's most famous client, but she is a fan of his as well.
A handwritten thank you card to Lynch reads:
"Thank you for the beautiful flowers! They are my absolute fave. I cannot tell you what it means to me. You are a true talent and on your way to major success my love, Khloe."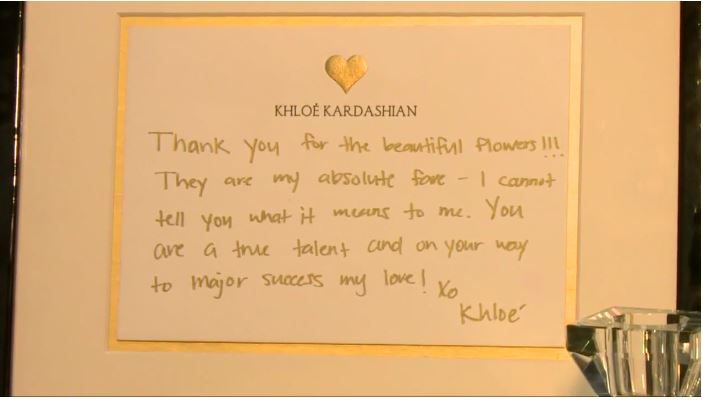 Will Lynch is a also a freshman at John Carroll working on a business degree.
This 18-year-old Will, with a world of possibility still ahead of him because he chose early on to turn his passion into profit.
"I didn't try to start a business and make a lot of money. I didn't have this big ambition, I just wanted to do what I love and it just happened along the way," says Lynch.