Jim Glenn, disabled Marine Corps veteran, and his family were honored by Marc's, Eckrich and Operation Homefront with $5,000 in free groceries on Friday.
Crowds gathered in front of Marc's in Parma in the rain and cold to celebrate America's veterans.
Many served our country and were being rewarded with a free lunch and $25 gift cards to the grocery store. But one local family was there for something a little more.
Jim Glenn, his wife Lyndsay, and their two children thought they were just being thanked for their service. Little did they know what was about to happen.
After a presentation of colors by the Parma Fire Department, the Glenns were called on stage and presented with an oversized gift card for $5,000 in free groceries.
"I was shocked and I guess I still am," Jim said.
He served two tours in Iraq, where he suffered a traumatic brain injury and came home with a diagnosis of PTSD. But the battles he fought overseas haven't stopped for him or his family.
He continued, "The VA is trying to cut my benefits. It's a very stressful thing to deal with, fighting that and making ends meet."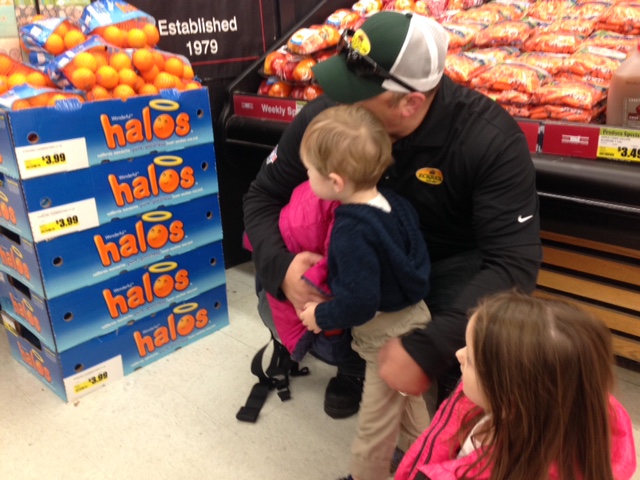 Jim's wife is battling on several fronts. She's a wife and mother of their two kids, but also a caregiver for Jim, who is currently on military disability. She says this gift of $5,000 in groceries really takes a weight off their shoulders, especially with the holidays coming.
"It's going to be a great Thanksgiving. We have so much to be thankful for," she said.
The Glenns went on to thank Marc's, Eckrich and Operation Homefront for all they do for veterans every day of the year, not just on Veterans Day.