Help for Houston poured into a little dance studio in North Ridgeville all day Tuesday.
It's a story that happened quite by accident and it's proof of the incredible power of good people whose hearts are with Houston.
"Yeah. This morning we started with two cases of water and a box of diapers. And look where we're at," says Robin Sykes, tearing up in the middle of massive donations.
It's all because her son, North Ridgeville native Tim Sykes, came home from Houston for grandma's birthday party.
He watched the devastation back in Texas unfold and knew he had to do something.
After two cancelled flights back to Houston, Tim decided to drive.
"I figured I'm going to go back I might as well go back with something in my hands.Since I was going to be driving, I said I might as well put it in the U-Haul and bring it with us, so that's what we're doing," says Tim Sykes.
The Sykes kids grew up in North Ridgeville and 20 years of dance families through mom Robin's Jillian Rian's Dance School guaranteed the Sykes are firmly woven into the North Ridgeville community.
An extended social media community stepped up in just one day, bigger than they could have ever imagined.
Books and toys, clothes for all ages, cleaning supplies, toiletries, even people dropping by cash for gas.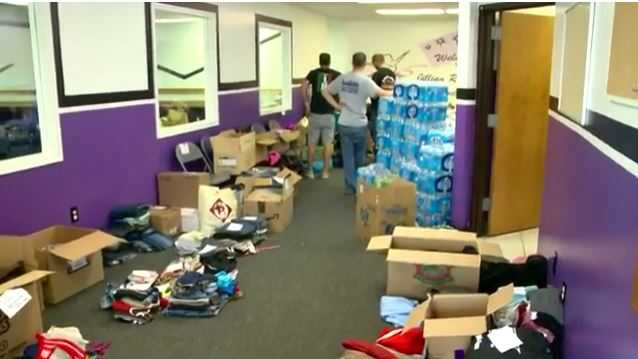 "People have been coming in and out, dropping off stuff. Some stay 30 minutes and break down boxes and pack and sort stuff for us. I'm not surprised she was able to pull this together," says Tim Sykes.
His proud mamma just so grateful her own son is safe.
"We had a small flood at Christmas in the basement. 6 inches. I thought that was terrible at Christmas time, but I just can't imagine 6-8-10 feet of water," says Robin Sykes, who was moved to tears through the whole interview.
Who could blame her when little angels like 9-year-old Ella Butler walk through the door knowing one thing.
"Ummm that I need to help them," says Ella Butler.
Her parents brought supplies.
Ella brought bibles.
"Because they need to trust God if they're scared. Because God will help them," Ella says.
Maybe he already is through all the helping hands who rallied to round up pile after pile of much needed relief.
It's the good stuff! Texas bound. Rollin out of northeast Ohio Wednesday at about noon.
"We need more of this.There's a lot of inherent good in people right?" asks Tim Sykes.
At Channel 3 we agree, so one other thing they'll be bringing with them will be us!
Dawn Kendrick and photographer Sean Forester are headed to Houston to take you along through stories over the next few days on this #TheGoodStuff journey bringing Cleveland help for Houston.
Also, Tim has set up a GoFundMe account to cover the expense of the rental truck to haul donated goods to Houston. All monies remaining after he arrives in Houston will be donated to Red Cross.