As the 15th anniversary of 9/11 closes in, one particular group has been seeing the possible ever since, for veterans and first responders.
The Stephen Siller Tunnel to Towers foundation's mission is "Building for America's Bravest", and is See The Possible at it's finest.
Army Sgt. Joshua Stahl, 27, of North Canton fits that bill.
The father of 5 served 2 tours of duty and was injured by an IED Afghanistan in 201.
"I felt my body shoot up and I could see my legs go," said Stahl. "It was 60 pounds of explosives and it took my legs away from me."
It was 60 pounds of equipment that another father of 5, New York firefighter Stephen Siller, grabbed out of his car September 11, 2001.
He was off duty when he heard about the attack on the towers.
In his car, he was unable to get through the Brooklyn-Battery Tunnel, so he ran the 2 miles through the tunnel to the World Trade Center to help out.
Siller was never seen again.
This year, a record 30,000+ will follow in Sillers footsteps and run that "tunnel to towers" route in New York, as they have now for 15 years.
"The Siller family really wanted people to never forget what our country experienced after 9/11," says Tunnel To Towers' Race Director, Mark Phillips. "They fell like our military really picked up the ball in fighting terrorism since then and we want to show them, we'll never forget the sacrifices they've made."
So the T2T foundation was formed.
They've built more than 40 smart homes with the latest technology like countertops and cabinets that lower to make life easier for injured veterans, police officers and firefighters
The Stahl family's smart home is already being built in North Canton.
It means more independence for Josh from his wheelchair, and even independence for his wife, Truda, and other spouses. Phillips says they find relief in the veteran's newfound independence, as well.
"I'm looking forward to it a lot because here I have to climb up onto the counters to get into the cabinets," said Stahl.
"These homes are custom designed for each service member. No two are alike. We have 200 on the waiting list nationwide," said Phillips.
Almost 50 of them, like the Stahl's, are finished or under construction right now.
They are smart homes made possible by fundraisers like T2T runs.
Twenty nine cities will host runs this year.
Medina has been the Buckeye State's host for four years.
This year Phillips expects a record number of runners for the race on Sept 11th.
You can register for the race by clicking here.
"The message we send to these families is no, we have not forgotten," said Phillips.
It's a message not lost on Stahl either.
He wears a killed in action band for a fallen brother.
"Because it's a reminder that not everyone I served with came home. Especially after I managed to make it home," said Stahl.
It's also why Sgt. Joshua Stahl has done the T2T race in New York, right beside runners.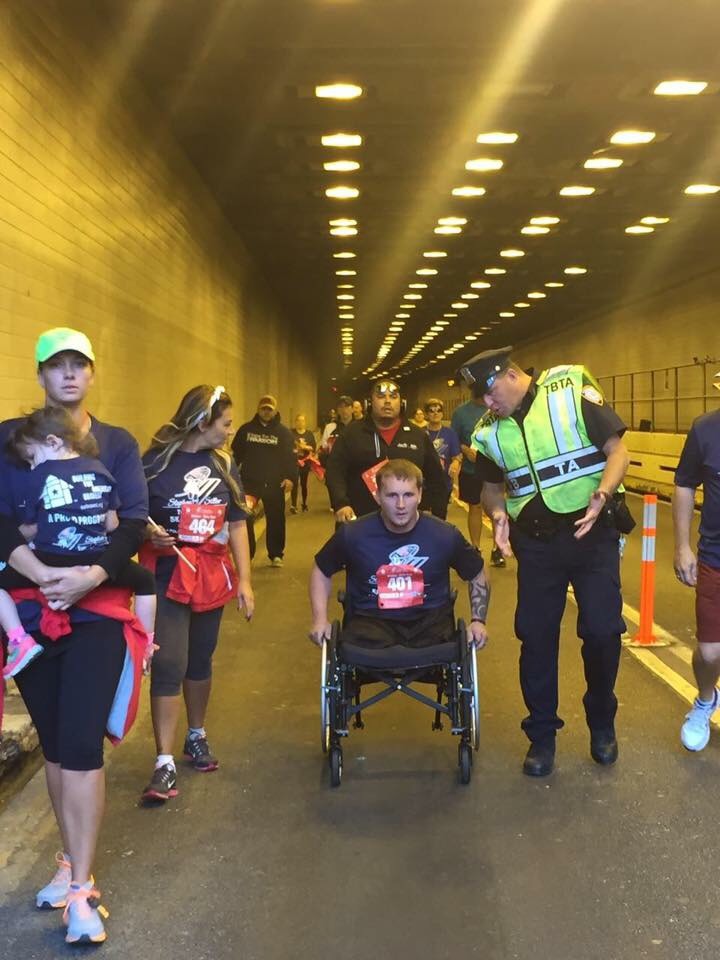 That's how this hero who doesn't want to be called a hero rolls--paying honor to those who paid with all their tomorrows for the rest of our todays.
It's the same reason the growing army that runs in the name Stephen Siller as well as all who came after, honors Sgt. Stahl.
It's why they build smart homes for Stahl's entire family, with the keys to the house comes independence.
It's the gift of as normal of a life as can be expected after leaving your legs in Afghanistan in the name of freedom.
There is no price that can be paid for that sacrifice, but T2T has raised $70 million dollars since 2001 for heroes like Sgt. Joshua Stahl.
"What I did was what I chose to do so I don't call it a sacrifice," said Stahl.
But $70 million says supporters of the Tunnel to Towers Foundation DO believe he's done something heroic.
"I know. That's why I smile," Stahl said, with a huge smile that gives him away.
This wounded warrior who hated running in boot camp, now without his legs, weighs in with a perspective check for all of us.
"I can't get up and stretch my body like runners do and run for miles until your body hurts. My body just hurts from sitting in a wheelchair," says Stahl.
But he refuses to do pain meds that he said make him "not himself".
On a good day, he says his pain level is an 8 on a scale of 1-10.
What he wouldn't give now to do what runners do.
Now, thousands across the country run the 2T2 races for heroes like Stahl.
So fitting that the T2T mantra is "while we are here, let us do good."
Stephen Siller probably could not have fathomed 15 years ago, just how far reaching his "while we are here let us do good" reflex would have been.
Besides building smart homes, T2T has paid off mortgages for families of police officers killed in the line of duty.
They have sent checks for $100,000 to the families of each of the five murdered police officers in Dallas,
The instinct to save lives that came so naturally for Stephen Siller, and the instinct of his family to carry it on, is why the Stephen Siller Tunnel 2 Towers story is going straight into Channel 3's #thegoodstuff file.