It's 49 years old but it's as lively as ever.
On Tuesday night, after the Cleveland Indians and the Cleveland Cavaliers notched victories, Chagrin Falls High School students took to the streets to celebrate but not like you might think.
As the clock struck midnight, CFHS seniors and juniors made the annual trek to the top of Grove Hill on North Main Street for the pumpkin roll.
Hundreds of pumpkins were pulled from a Ryder rental truck and from a pile on the corner of Summit Street and smashed onto the roadway.
And that's when the real fun began.
The students grabbed their saucer sleds or long, plastic sleds and began sliding down the roadway in the smashed pumpkin goo. There was a lot of screaming as they raced down the hill, smashing into pumpkins that were in various stages of spilling their guts out.
Just so you know, the pumpkin roll, a tradition that is not sanctioned by the high school. It started back in 1967 when students from the Class of '69 drove to the top of the hill and tossed 69 pumpkins down the hill and just drove off.
It wasn't until years later when they started smashing the pumpkins and sliding down the goo.
The pumpkins are usually brought to the top of Grove Hill by trucks/vans and the driver or drivers of any trucks dumping pumpkins are cited by police for "illegal dumping in the roadway" and the students collect money for the fine.
Where do the pumpkins come from? Well, they are stolen from the yards and front porches of Chagrin Valley homes weeks before the roll. In recent years, residents have deliberately put out pumpkins to be stolen, marked usually with notes like "Grove Hill or Bust!"
No one knows except the students which night around Halloween that the roll will take place.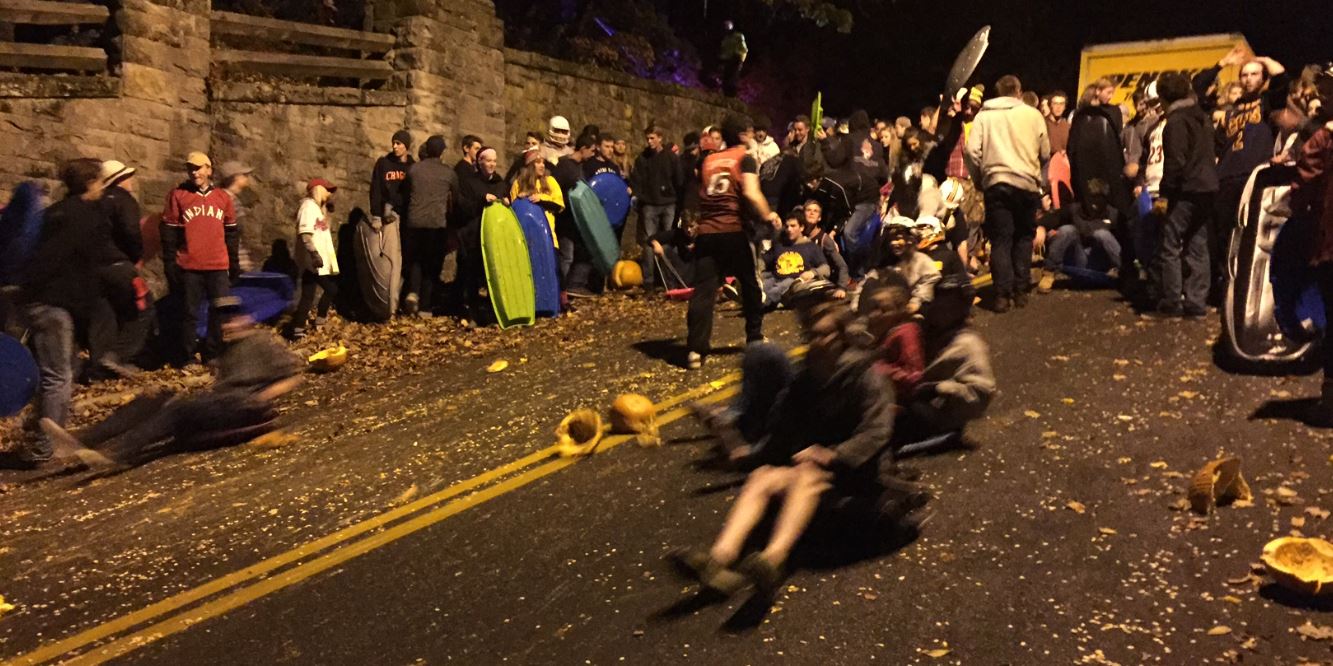 Starting in the mid-1990s, the rolls saw multiple arrests for disorderly conduct and other years there have been no arrests.
Injuries? Most of the injuries over the years are bad cases of road rash, once in a while a broken wrist or ankle.
This year, EMS was called for two injured people, neither of which appeared serious.
Only one serious injury has ever happened and that was during the November 2008 roll when an out-of-control plastic sled and its rider struck a Solon man standing on the west sidewalk along Grove Hill, knocking his feet out from under him.
His head struck the roadway and he ended up in MetroHealth Medical Center with a serious head injury.