Cleveland Police say the 20-year-old woman who fell from an inside balcony on the second floor of Spirits Restaurant & Bar on West 6th Street about 3:30 p.m. Friday in downtown Cleveland remains in critical condition at MetroHealth Medical Center.
Police have not identified the woman.
WKYC also went to Spirits Sunday and found it closed, with a Cleveland codified ordinances violations notice taped to the locked front door.
The notice, dated March 17 from the Cleveland Fire Department, cites multiple violations, including illegal use of the 2nd floor; non-compliant railings deemed unsafe; exit is obstructed; fire extinguishers out of date as of July 2015; and the sprinkler system not maintained and out of date as of July 2015.
The notice also requires Spirits to immediately cease use of the 2nd floor as there is no certificate of occupancy that has been issued.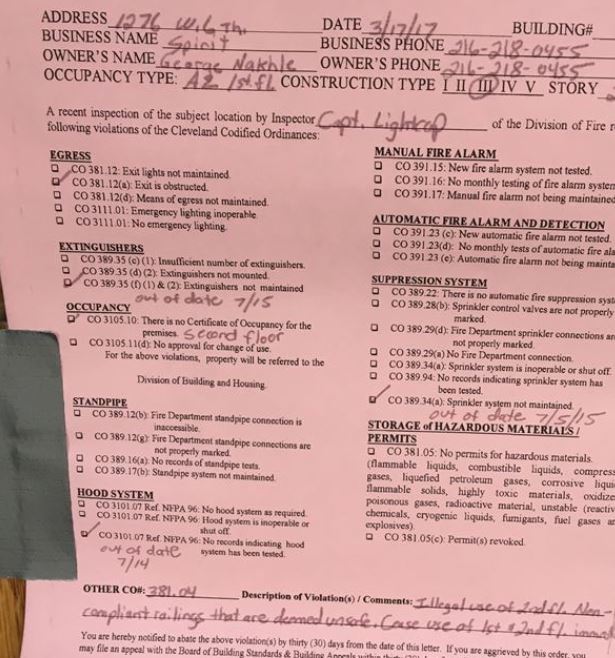 On Friday, Cleveland EMS rushed the woman to MetroHealth Medical Center with life-threatening injuries. She was rushed into surgery and was first declared in critical condition Friday night.
Cleveland Police say Sunday that the Cleveland Police Homicide Unit has been notified but is not investigating at this time.
Police are saying there is nothing to indicate she was pushed.
The Cleveland Fire Department and building inspector closed the crowded bar to look into what they said may be "unsafe conditions," while police are still looking into what exactly what may have called her to fall.