The fiercest hurricane to hit the U.S. in more than a decade came ashore late Friday about 30 miles northeast of Corpus Christi as a mammoth Category 4 storm with 130 mph winds. Harvey weakened to a tropical storm by midday Saturday and by 4 a.m. Sunday the National Hurricane Center said Harvey continued to cause "catastrophic flooding in southeastern Texas."
Tracking Harvey is not easy. There is no exact consensus for what it will do long term, and the most likely scenario is the storm meanders around the region for a couple of days.
More: Why Hurricane Harvey's future is so uncertain, hard to predict
The National Weather Service is cautioning that the continued threat of Harvey, which is now pummeling Houston with heavy rainfall, is flash flooding.
Here's more of what we know about Harvey at the moment: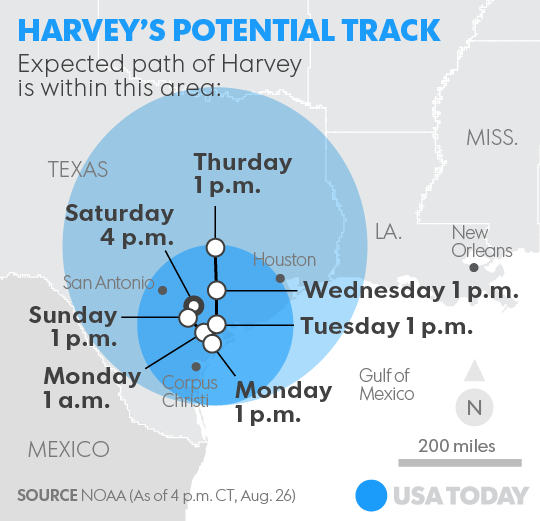 Where is the storm now?
The hurricane center says in its 4 a.m. Sunday update that Harvey remains stationary about 45 miles northwest of Victoria, Texas.
Are there any deaths?
At least two people have died from the storm.
Aransas County Sheriff Bill Mills said Saturday that a man was discovered dead in his home, which was destroyed by a fire. Mills also said 30 to 40 people remained unaccounted for as of Saturday evening.
Late Saturday, a Houston official confirmed a death there due to flooding, when a woman apparently tried to exit her car on a flooded road.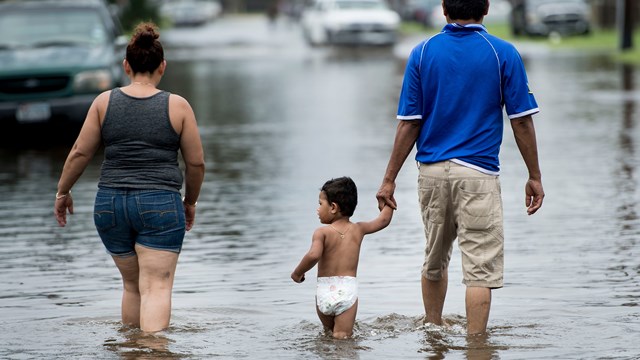 How strong is the storm?
Harvey was downgraded to a tropical storm Saturday afternoon, with sustained winds weakening from 60 mph down to 45 mph, the National Weather Service said.
What is the damage?
Authorities don't know the full scope of damage because weather conditions are preventing emergency crews from getting into the hardest-hit places.
Texas Gov. Greg Abbott said about 300,000 customers were without power statewide and it would probably be several days before electricity is restored.
Some of the worst damage appeared to be in Rockport, a coastal city of about 10,000 that was directly in the storm's path. The mayor said his community took a blow "right on the nose" that left "widespread devastation," including homes, businesses and schools that were heavily damaged. Some structures were destroyed.
The Corpus Christi port was closed with extensive damage. Because the city is the third-largest petrochemical port in the nation, the agency will be on the lookout for spills, Hahn said.
"It was like being in another world," said David Cameron, assistant chief of the volunteer fire department in Fulton, a seaside community just north of Rockport. "And there's still a lot to do."
More: Hurricane Harvey: Beautiful but terrifying images of a monster storm
Related: Why Hurricane Harvey's future is so uncertain, hard to predict
Update on shooting @ 7100 Ficus Ct. homeowner shot intruder. Victim @ Hosp. with gunshot wound was coherent when medics took him. PIO Pace
— Corpus Christi PD (@CorpusChristiPD) August 26, 2017

The hurricane also left some 20,000 passengers stranded on four cruise ships that found conditions too dangerous to return to Galveston, KTRK-TV reported. The Carnival Valor and Carnival Freedom, which planned to return to Galveston on Friday, will instead head for New Orleans, according to the Houston Chronicle.
Is the storm still a threat?
The National Weather Service warned Saturday morning that water, not wind, is the biggest threat to life, adding, "Danger from #Harvey still very real."
EMERGENCY MANAGEMENT HAS REQUESTED: IF HIGHEST FLOOR OF YOUR HOME BECOMES DANGEROUS...GET ON THE ROOF. #houwx #glswx #txwx #Harvey
— NWS Houston (@NWSHouston) August 27, 2017

Rainfall totals varied across the region, with Corpus Christi and Galveston receiving around 3 inches (8 centimeters), Houston 7 (18 centimeters) and Aransas 10 (25 centimeters). Tiny Austwell got 15 inches (38 centimeters).
Harvey "may be nothing short of a flooding disaster," for Texas, according to AccuWeather meteorologist Alex Sosnowski, who said some communities could be underwater for days. Forecasters were already measuring 28-foot-high waves near the eye of the storm.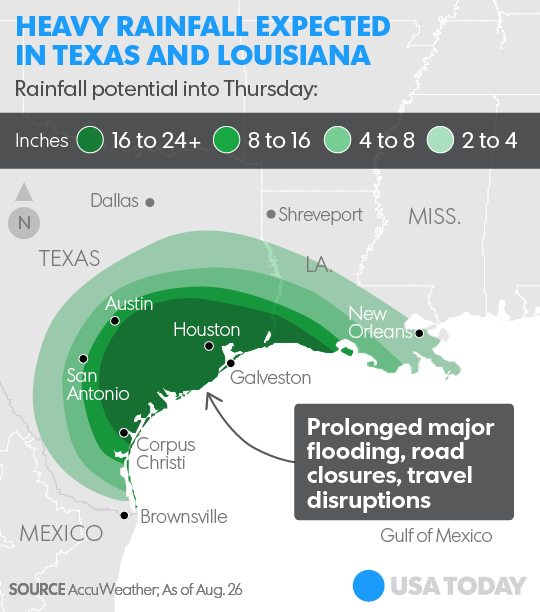 How has the federal government responded?
The hurricane posed the first major emergency management test of President Trump's administration.
The Federal Emergency Management Agency (FEMA) granted Abbott's request for a Presidential Disaster Declaration in response to the hurricane. Ahead of the storm, Abbott declared a state of disaster for 30 counties.
President Trump said on Twitter Saturday that his office would "remain fully engaged w/ open lines of communication." Trump also tweeted that he was in contact with the governors of Texas and Louisiana. "I have spoken w/ @GovAbbot of Texas and @LouisianaGov Edwards. Closely monitoring #HurricaneHarvey developments & here to assist as needed," Trump's tweet read.
At the request of the Governor of Texas, I have signed the Disaster Proclamation, which unleashes the full force of government help!
— Donald J. Trump (@realDonaldTrump) August 26, 2017

How does it compare to past hurricanes in the U.S.?
Harvey was the first major hurricane — classified as Category 3 or above — to hit the U.S. in over a decade when it made landfall as a Category 4 storm. It was the strongest to strike Texas since 1961's Hurricane Carla, the most powerful Texas hurricane on record.
#Harvey made landfall at 10 PM CDT as a category 4 hurricane near Rockport, Texas, with max winds of 130 mph and min pressure of 938 mb.
— NHC Atlantic Ops (@NHC_Atlantic) August 26, 2017
RELATED | From Dennis to Matthew: All the hurricanes that hit the U.S. since 2005
Contributing: The Associated Press