As the "23 Big Dreams" series continues, the LeBron James Family Foundation and its broadcast partner, WKYC, will highlight current University of Akron students and former 330 Ambassadors. These students have mentored and supported the Foundation's younger students, helping them stay on the path to earning their tuition and fees scholarships from The University of Akron. They are walking proof of the power of hard work, the need for a strong support system, and the value of a college education.
Sometimes, as Aleah Duncan is hard at work at her current job, she'll hear a young, excited voice. "Hey! You work for Mr. LeBron!" While the young students don't always remember her by name, they recognize her as one of LeBron's workers. And that still makes Aleah smile as she sets aside her work for a moment to catch up with them about school and their lives.
As a former 330 Ambassador, Aleah represented LeBron in classrooms across the Akron Public School system for three years, serving as a mentor and role model for kids in his Foundation's Wheels for Education and Akron I PROMISE Network programs. Spending countless hours providing hands-on support for the younger students taught Aleah a lot about learning, and more importantly, a lot about life.
"Being a 330 Ambassador has really contributed to my growth and helped me be a better student and a better person," said Aleah. "It's different for me to be someone that younger kids look up to. And you'd be amazed how they look up to LeBron and watch everything he does."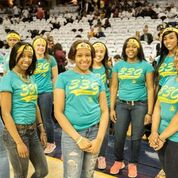 What LeBron has done is create a vast network of support for his kids. From his 330 Ambassadors to local corporate partners and everyone in between, he has moved an entire community of champions committed to his kids' success. As a large part of that support system, The University of Akron has helped LeBron guarantee four-year college scholarships to his kids – something that Aleah says is invaluable for them and their futures.
"Education is something people can never take away from you," she says.
Now a freshman at The University of Akron, Aleah is beginning to appreciate the value and impact college has already had on her personally. Offering a wide range of opportunities for all students, she says UA has allowed her to be "open to so much more and really see what the world has to offer."
With her first semester at the University entirely covered by scholarships, she is also a college student that knows the value of this critical assistance.
"Not only does it take the burden off my family, but it motivates you because you know you have to maintain your grades in order to keep that scholarship, and you know that you have a lot of people counting on you so you can't let them down," she says as she explains the economic and emotional impact of the scholarship.
Aleah's story speaks to so many things – the importance of giving back to your community and being a positive role model for the next generation; to the need for higher education to pursue your career aspirations; and to the value of a college scholarship. These are all things LeBron is reinforcing to his students every single day as he works to eliminate as many barriers on their path to their big dreams as possible.
The University of Akron is Aleah's gateway to her big dream of working in marketing for the non-profit sector. As she continues to pursue her degree in marketing following her service as one of LeBron's 330 Ambassadors, she has left a long line of excited, passionate, and well-supported LJFF students in her wake.
Just as Aleah stepped foot on the UA campus for the first time this semester, so to, will LeBron's first class of kids in 2021. And no one knows better than Aleah how life-changing that monumental day will be.