In this "23 Big Dreams" series, the LeBron James Family Foundation and its broadcast partner, WKYC, highlight a new Akron Public School student and his or her career aspirations each week. With a tuition and fees scholarship from The University of Akron, the commitment of college has changed their personal goals and their expectations for their futures. Like LeBron, these are just kids from Akron with big dreams.
The walk from school to home wasn't long, but the steps taken between the two became life changing for a young boy thanks to Lilly Phinnessee.
After seeing a boy get endlessly picked on and teased at school, Lilly wouldn't stand for it. A class favorite for her kind and loving disposition, Lilly walked the boy home from school every single day for the entire 4th grade school year. With Lilly by his side, no one bothered the young boy.
The two didn't have much in common, but they would talk about school and other small talk on occasion. Other times, they'd walk in silence, with the comfort and strength Lilly gave him all he needed to get home.
That is but one example of the caring, compassionate young lady Lilly has always been. With these hallmark attributes, it comes as no surprise that she'd pick a career path that is just as selfless. Lilly's big dream is to become a pediatrician because as she explains, "I like being around kids and I don't like seeing them sick or hurt. I always want to help them."
Now an 8th grader at East middle school in Akron, Lilly is part of the LeBron James Family Foundation's original class of Akron I PROMISE Network students. And just as she helped that young boy stay the path home, LeBron has helped her stay on the path toward her big dream by earning her education and staying focused in school.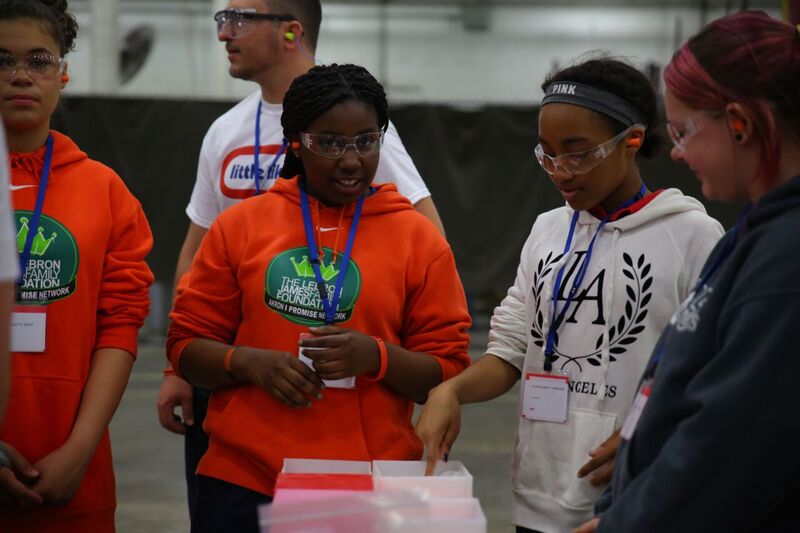 When things got a little off track for Lilly, LeBron was right there to help her refocus.
"She got a letter from LeBron that said 'you have to do better' and that meant everything," says her mom, Janice Munford. "For him to really know what's going on, and for these kids to have someone that cares about them so much, we've never had that."
Since that letter, Lilly has remained focused on her education. Her mom says she's always working hard and wanting to make sure she's doing her best for LeBron.
Because Lilly knows if she does that, there is a four-year scholarship to The University of Akron waiting for her when she graduates. And that has changed a lot of things for her and her family.
"It means EVERYTHING," she says, emphasizing every syllable of that last word. "I've always dreamed about going to college when I graduate from high school, and now I can," she says.
A guaranteed college scholarship means everything to Lilly and her fellow students in the Foundation's programs because it means she has hope for an amazing future. It means she looks at the world a little differently, knowing her road to her big dream of becoming a pediatrician has been paved for her. She just has to put in the work in the classroom and the community.
And the walk from college to home may not be long, but the steps taken between the two will be life changing for Lilly thanks to LeBron and The University of Akron.