In the finale of the LeBron James Family Foundation's "23 Big Dreams" series with its broadcast partner, WKYC, the perspective shifts to that of a parent with a child in the program. The impact of the full tuition and general service fee scholarship to The University of Akron committed to these students extends to their entire family, especially their parents. Knowing a college education will be in their child's future, where it may have not have been a possibility before, has lifted a heavy burden off their shoulders and given them very real hope for their entire family's future as well.
"To this day, I still have no idea how she did it."
You'll often hear LeBron James talk about his mother with great appreciation. He is still in awe of the sacrifices she made as a single-parent working several jobs to make ends meet while raising her child in Akron's most impoverished neighborhoods. Now one of the most famous names in all of Akron's history, LeBron's story is one that many of the kids – and parents – in the LeBron James Family Foundation can relate to. It hits very close to home for Victoria Young and her daughter, Lazurae Gary.
Victoria had every intention of earning a college degree from The University of Akron, but life had other plans for her. After only one year, the burden of being a single-parent, working full time, and trying to make ends meet became too heavy for her to bear alone.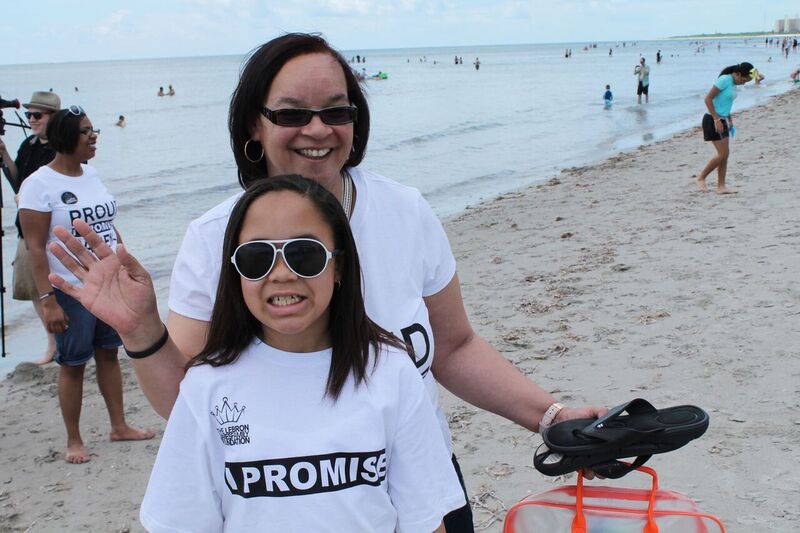 While she does the best she can, things aren't always easy, especially living in a low-income neighborhood. But she uses those surrounding struggles as a constant reminder to her kids that they can be better, and that's why she pushes education so hard.
"If you have a college degree, it gives you opportunities to be able to reach your dream, to really reach for the stars," Victoria says. "It lets you pull yourself up out of the neighborhood and be able to come back and help others pull themselves out that can't do it on their own."
Victoria has found she is not raising her kids alone. When Lazurae entered the LeBron James Family Foundation's program in 3rd grade, they gained an extended family.
Victoria says having that extra support, especially for a single parent, is so important because when she can't get always get it done, she knows the influence of LeBron and the Foundation are there to back her up.
"All you have to say is 'Mr. LeBron' and she responds because she knows 'this kid started out like me, and look where he is now.' That is a big motivator for her and it means a lot to me as a parent because it shows me she believes it," she says.
That back-up has also manifested in a four-year college scholarship for her daughter to The University of Akron, a life-changing commitment that brings Victoria to tears.
"I've often wondered, even working full time, how am I gonna afford sending two kids to college?" she shares as the heavy weight of the cost of college hangs on every worried word. With her voice getting noticeably lighter, she continues, "And then one day, LeBron makes this announcement and there it is."
With the financial barrier eliminated, Victoria can invest her time and attention in helping Lazurae, now an 8th grader at Litchfield middle school, focus on her education, complete her work, and give back to the community, which will be a big piece of the critical criteria to earn the scholarship.
"What LeBron teaches these kids is they have to work for it. Nothing in life is free. If you want it, you have to go get it," says the empowered and inspired mom.
And with a big dream to become an interior designer, that is exactly what Lazurae plans to do.