10:11 p.m.--FINAL THOUGHTS FROM THE Q
First things first, you can read Matt's game story from Kent State's win over Ohio here.
And big time props to my partner for this great picture of Jaylin Walker's game winning shot: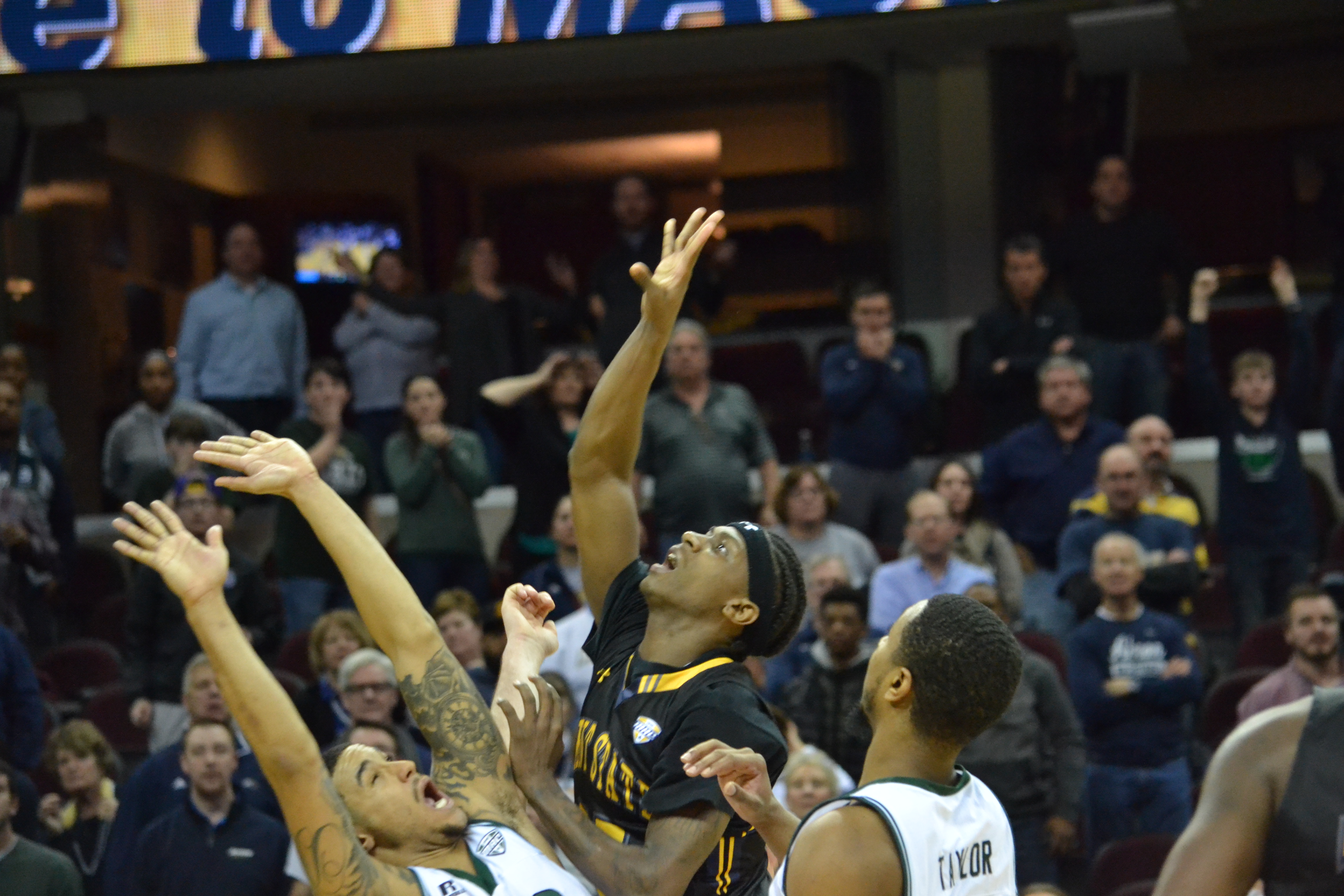 So you've got Akron and Kent State set to square off tomorrow night at 7:30 p.m. for the right to move on to the NCAA Tournament. If you are wondering about the head-to-head matchups this year between the two teams, amazingly the each won on the other's home court.
On February 17, Kent State topped Akron 70-67 at the J.A.R. as Deon Edwin scored 21 points and Jimmy Hall added 18. The Zips returned the favor on March 3 at the MAC Center, beating the Flashes, 66-56.
Akron had balanced scoring with four players in double figures, they also held the Flashes to 33& shooting from the field, including 3-22 from behind the three-point line.
Kent will be the more fatigued of the two teams because of the extra game on Monday, but if you watched them tonight, it didn't seem to make much of a difference.
We'll talk to you again tomorrow night from courtside here at the Q.
10:03 p.m.--KENT STATE 68, OHIO 66--FINAL
To quote Russell Crowe's character, Maximus, in Gladiator: Are you not entertained?
What a game! After Jaaron Simmons hit one of two free throws to tie the game at 66 with just about nine seconds left, Kent's Jaylin Walker again drives fearless to the basket and drops the game-winner with four seconds to play. The Golden Flashes advance to their first MAC Championship game appearance since 2011 with a 68-66 victory.
That's three wins in five days now for the Golden Flashes against three pretty good (or very good) teams in Central Michigan, Buffalo, and Ohio.
Final thoughts coming up in just a few...
9:56 p.m.--KENT STATE 66, OHIO 65 WITH 40.9 SECONDS TO PLAY
Just when Kent State was starting to get ready for a date with the Zips, Medina's Kenny Kaminski buries a three-pointer from the corner to bring the Bobcats to within one. WOW!
9:48 p.m.--KENT STATE 64, OHIO 58 WITH 1:59 TO GO
Jimmy Hall is getting some offensive help. Kevin Zabo has hit a pair of three point baskets followed by a triple by Jalen Avery as the shot clock winded down and suddenly Kent State has a six-point lead with less than two minutes to go.
Hall has been superb in his own right tonight with a double-double of 20 points and 10 rebounds. But a little help from his friends might be enough to power the Golden Flashes to a date with Akron tomorrow night.
9:40 p.m.--KENT STATE 55, OHIO 52 WITH 5:35 TO PLAY
The referees aren't just taking flak from the fans here at the Q, the media is having some fun as well. From our pal Tom Withers of the Associated Press:
Give me a whistle. @KentStMBB @OhioMBasketball

— Tom Withers (@twithersAP) March 11, 2017
Here's what I would say, Matt and I can't remember the last time we've seen this many charges/player control fouls in one game. Ohio is in the double bonus for the rest of the game while Kent is in the single bonus.
9:28 p.m.--KENT STATE 49, OHIO 47 WITH 9:30 TO GO
Fouls are becoming a MAJOR factor in this game. Deon Edwin and now Mitch Peterson have four fouls for Kent State, who are at nine team fouls already in the second half. Jason Carter has four fouls for Ohio, but they are still at five team fouls. That disparity is not making the three men in stripes very popular on the Kent State side of the arena.
9:20 p.m.--KENT STATE 45, OHIO 44 WITH 12:18 TO PLAY
The first Matt Florjancic "I'm gonna write this moment down" note of the game comes after Kent's Deon Edwin commits his fourth foul on a charge. Edwin kicked the ball over to Mitch Peterson, who nailed what would have been a three pointer.
Flashes have the lead now, let's see how they play from ahead. Plus, when will Edwin be re-inserted?
9:11 p.m.--OHIO 42, KENT 40--15:57 TO PLAY IN GAME
Jimmy Hall is doing Jimmy Hall kind of things to start the second half. He has scored six of the Flashes first eight points and now has 14 on the night along with seven rebounds.
One other Kent player that is standing out is guard Jaylin Walker. He fearlessly drives to the basket and ignites opportunities for his teammates. He also has pulled down six rebounds.
9:01 p.m.--HALFTIME THOUGHTS
We tried to ask Rufus, the Ohio University mascot, what he thought about the first day of free agency for the Browns: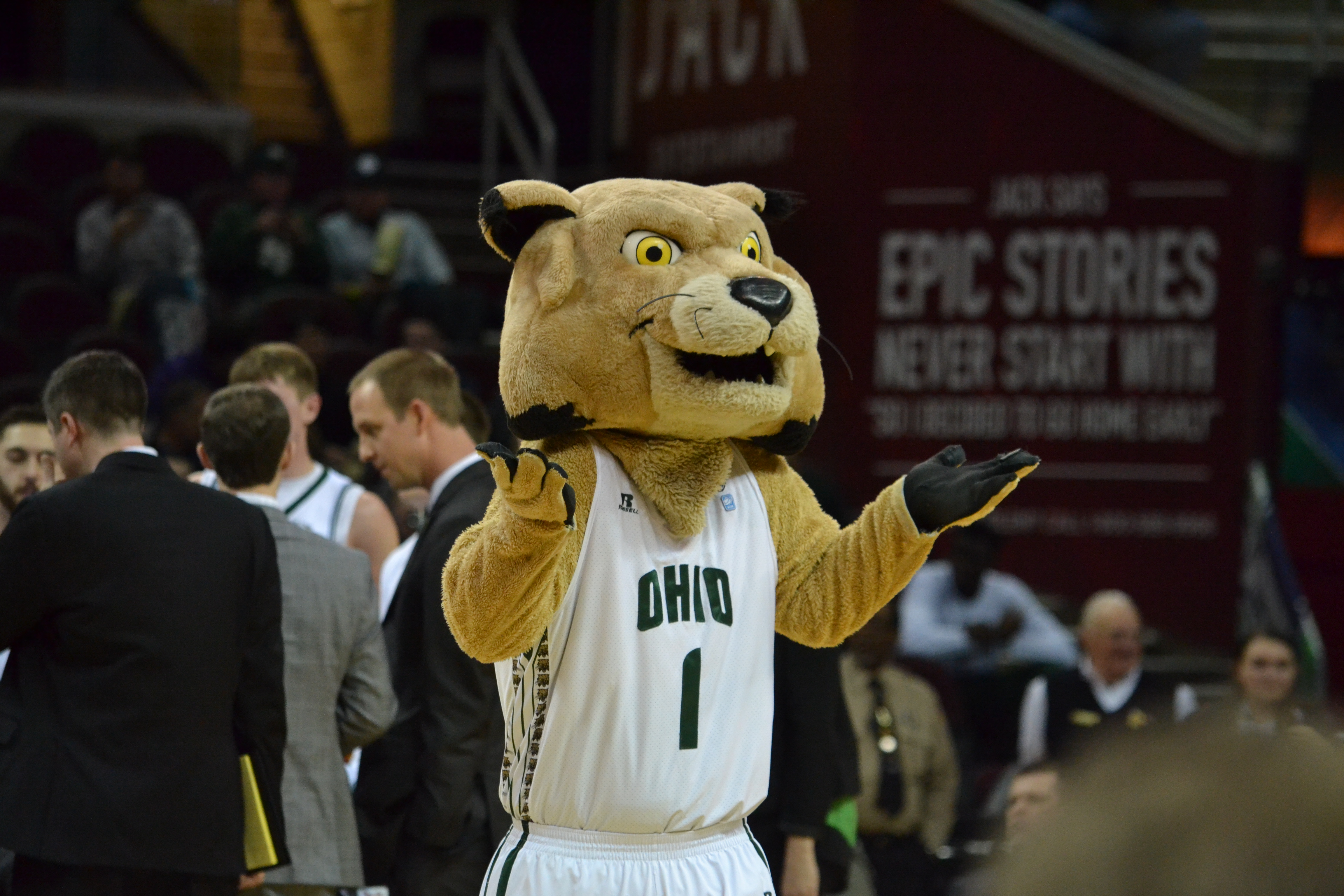 Oh well. But the new fashion consultant for the Mid-American Conference, Matthew "Michael Kors" Florjancic has again weighed in on uniforms this evening. Matt has declared that Kent State's black uniforms are not only the best we've seen tonight, but the best he's seen all tournament. Folks, you can't get this kind of analysis anywhere else!
8:48 p.m.--OHIO 34, KENT STATE 32 AT HALFTIME
Jaaron Simmons floater with two seconds to play has given Ohio a two point lead as we head to halftime. Simmons and Kenny Kaminski both have 11 points to lead the Bobcats. Jimmy Hall and Mitch Peterson have eight points apiece for the Golden Flashes.
Matt is doubling as both reporter and shutterbug photographer tonight! He's posted our gallery for this game that you can check out below:
Kent State takes on Ohio in the MAC Tournament Semifinals
Kent State's Jaylin Walker knocks down a runner in the lane that gave the Golden Flashes a 68-66 win over the Ohio University Bobcats in the semifinals of the Mid-American Conference Tournament at Quicken Loans Arena Friday night.
Kent State's Jaylin Walker knocks down a runner in the lane that gave the Golden Flashes a 68-66 win over the Ohio University Bobcats in the semifinals of the Mid-American Conference Tournament at Quicken Loans Arena Friday night.
8:41 p.m.-OHIO 32, KENT STATE 28--2:32 TO PLAY IN FIRST HALF
One thing that we've noticed here in game two of the semifinals is how loud the crowd is. Ohio's fans filled up the lower bowl and a good chuck of the upper bowl behind their bench. Kent State, as always, is loud and rowdy. Makes for the kind of atmosphere you love in March.
On the floor, Kent State is currently on an 8-0 run as they've gotten the crowd on their side after falling behind by double digits.
8:32 p.m.-OHIO 25, KENT STATE 18--7:37 TO PLAY IN FIRST HALF
The Bobcats have seized some momentum and take a seven point lead as we go under eight minutes to play in the first half. Kent State is STRUGGLING from the field, hitting just 33% from the field (7 for 21) and 20% from beyond the three-point line.
So far, Jimmy Hall has been held in check by the Bobcats. Kent's star forward averages 19 points and 10 rebounds per contest. So far he is 1-6 from the field.
8:12 p.m.-SECOND SEMIFINAL UNDERWAY BETWEEN KENT STATE AND OHIO
The second seed Ohio Bobcats hold a two point lead over #6 Kent State, 14-12, with 13:12 to play in the first half. The Bobcats have gotten eight of their 13 points from Medina-native Kenny Kaminski.
One thing to keep in mind as this game progresses, this is the third game of the week for the Golden Flashes. Kent State had to endure overtime on Monday, before finally getting past Central Michigan in an offensive track meet game. The Flashes then held off Buffalo last night in a grind game that was dominated by fouls. So Ohio has the edge in terms of rest.
7:32: p.m.-AKRON 74, BALL STATE 70--FINAL
Keith Dambrot will look for his fourth Mid-American Conference Tournament title as Akron's Head Coach as his Zips advance to tomorrow night's MAC title game against either Ohio or Kent State. Under Dambrot, the Zips have now advanced to to the MAC Championship game for the ninth time in the last 11 years. Juggernaut.
Antino Jackson and Isaiah Johnson each scored 19 points to lead Akron. Ball State was paced by Tahjai Teague's 19 points. Matt's full game story is now available.
When the Cardinals look back at the tape from this one, they might regret some of those 'unforced errors' we mentioned earlier. They seemed to be one or two possessions short in this one.
Besides the Zips and their fans, the happiest people here at the Q may very well be the staff of the Mid-American Conference. Of course the great folks at the MAC do not play favorites, but having the Zips in the final instead of Ball State means a much bigger crowd tomorrow. Ohio has a large alumni base in the area and traditionally travels well, but having an Akron-Kent State MAC title game is a dream for attendance lovers. We'll see how that plays out.
Akron advances to MAC title game with 74-70 win over Ball State. Isaiah Johnson & Zips await Ohio/Kent winner tmrw night. @WKYCSports @wkyc pic.twitter.com/Cqa7hho2NF

— Pat Chiesa (@PatChiesa) March 11, 2017
7:23 p.m.-AKRON 70, BALL STATE 64 WITH 54 SECONDS TO PLAY
When you need baskets to try to close out games, you call on the MVP. Isaiah Johnson came up with an and-one bucket and followed with a layup on the next trip down the floor to put the Zips up by six with less than a minute to go. You have to give Ball State a lot of credit, they aren't going away without a fight.
7:14 p.m.-AKRON 65, BALL STATE 57 WITH 3:49 TO PLAY--JACKSON MAKES HISTORY
Antino Jackson picked a fine time to make a little history. His driving layup off of a nice pass from Isaiah Johnson put the Zips' guard over 1,000 points for his career. Jackson now has 19 points and 6 rebounds as Akron leads Ball State by 8 as we finish out the final media timeout.
7:05 p.m.-AKRON 54, BALL STATE 46 WITH EIGHT MINUTES TO GO
When the Zips need a clutch basket, they have no shortage of players able to step up. After Ball State got to within 2 points at 47-45, Kwan Cheatham calmly stroked a three to put Akron up by five. Antino Jackson and Noah Robotham followed with layups and the Zips quickly regain momentum.
The crowd here at the Q is mostly pro-Akron as you might expect, so any burst of energy by the Zips makes this feel like Rhodes Arena.
6:49 p.m.-AKRON 43, BALL STATE 38 WITH 14 MINUTES TO PLAY
The pace of play has slowed quite a bit here in the second half, which tends to favor Ball State. The change of pace can be attributed somewhat to the foul situation. Akron has been whistled for six team fouls already, meaning the Cardinals are essentially in the bonus for the remainder of the game. Ball State has three fouls.
At some point, you wonder if Isaiah Johnson will just take over the game for the Zips. The Mid-American Conference's MVP has 12 points and five rebounds.
6:35 p.m.-PHOTO GALLERY NOW UP AND RUNNING
Get all of your photos from tonight's Akron-Ball State game by checking out our gallery:
Akron battles Ball State in the MAC Tournament Semifinals
Akron's Josh Williams goes through his routine at the free-throw line late in the semifinals of the Mid-American Conference men's basketball tournament at Quicken Loans Arena in Cleveland, Ohio.
Akron's Josh Williams goes through his routine at the free-throw line late in the semifinals of the Mid-American Conference men's basketball tournament at Quicken Loans Arena in Cleveland, Ohio.
6:29 p.m.-HALFTIME OBSERVATIONS FROM DINO & MATT
First of all, whenever you are accompanied by ESPN Cleveland's Michael Reghi, you get first class treatment. As Matt points out, "Reghi is the Michael Stanley of sports in Cleveland. A rock star."
Bring it strong!
Matt also pointed out to me that Ball State's uniforms look like something from the 1980's, except for the fact that the shorts are much longer.
What do you think?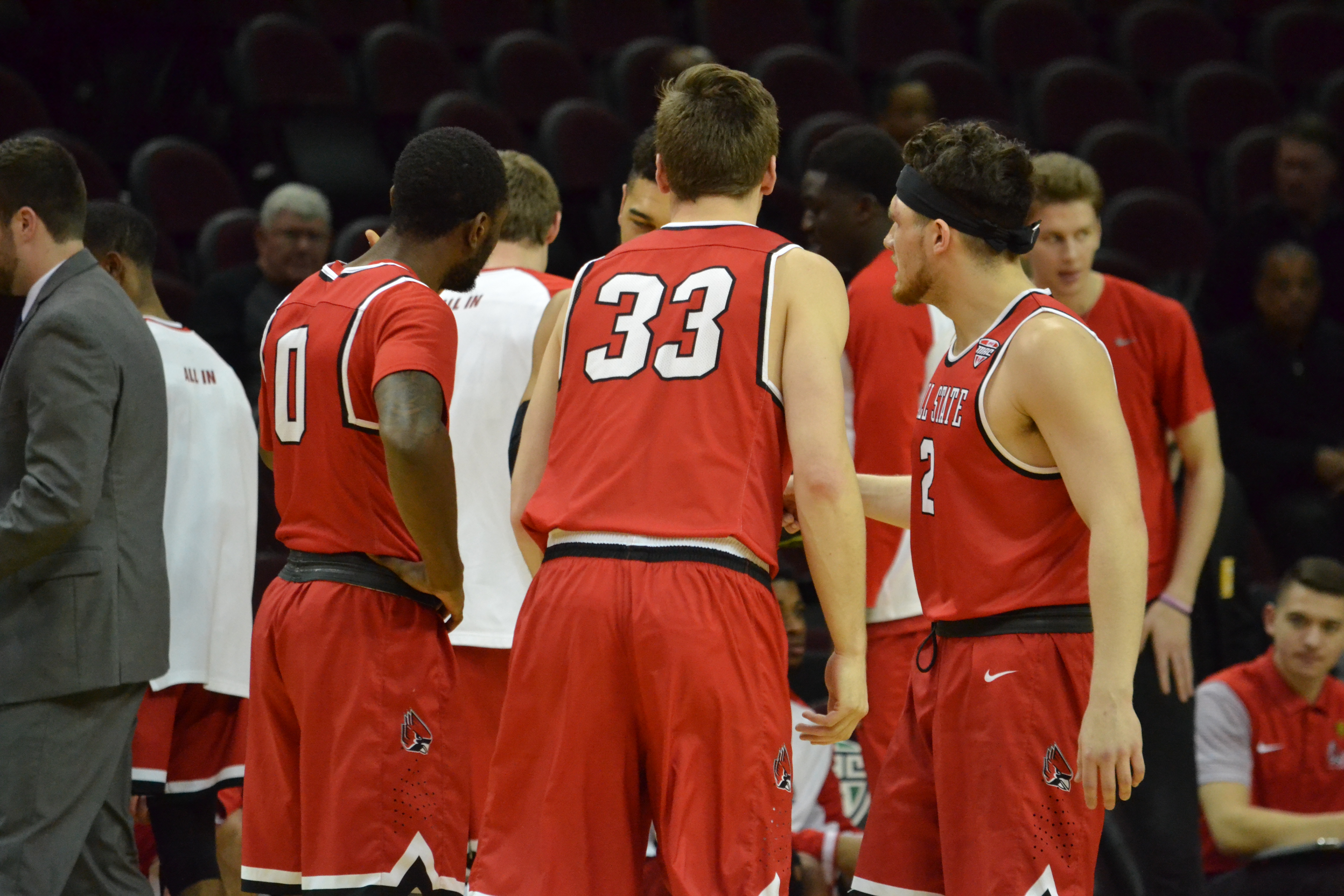 6:16 P.M.-AKRON 39, BALL STATE 30 AT HALFTIME
The Cardinals made a bit of a run before half, cutting the Akron lead to 33-27. The Zips responded with an Isaiah Johnson tip-in and a nifty pass by Noah Robotham to Jimond Ivey for a layup at the buzzer to head to the locker room with a nine-point edge.
5:58 p.m.-AKRON 26, BALL STATE 16 WITH 7:51 TO PLAY IN FIRST HALF
One thing that's evident in this half is that Akron has come out with an extra aggressiveness on defense. They are forcing Ball State to settle for a TON of outside shots. The Cardinals have also committed a couple of 'unforced' turnovers so far, including an over-and-back and stepping over the line on an in-bounds play.
5:44 p.m.-WELCOME TO THE MAC SEMIFINALS
Matt Florjancic and Dave DeNatale are with you courtside for both Akron vs. Ball State and Kent State vs. Ohio. The winners will come back here tomorrow night and play for MAC Tournament crown and an automatic berth in the NCAA Tournament.
We are at the 14:35 mark of the first half with #1 seed Akron leading #4 seed Ball State 15-6. Zips are 3-4 from 3-point range so far and Kwan Cheatham has eight points.