Uh oh.
As Cleveland Indians' fans flocked online to purchase tickets for World Series watch parties, the squad said it was hit with what the organization said is a "tech issue" Monday afternoon.
We are aware of a tech issue with fees on our Watch Party tickets.
Please be patient -- we are working to fix. https://t.co/j40QLqynSZ
— Cleveland Indians (@Indians)
October 24, 2016
Prices were set at $5 for a general admission ticket and $24 for a 'Club Lounge' option.
When some users went to the checkout, the ticket price was the same--but they noticed huge ticket fees of roughly $60 per ticket.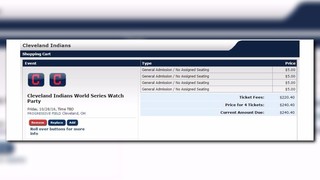 The organization said the issue was fixed a short time later.
They thanked fans on Twitter, adding that anyone who purchased tickets with those fees would be refunded automatically within the next day.
Thanks for your patience. Fee issue has been corrected.
If you purchased tickets with fees, they'll be automatically refunded in 24 hrs.
— Cleveland Indians (@Indians)
October 24, 2016