One of the things that I've found essential in being a member of the sports media is try to keep the so-called 'hot takes,' to a minimum.
Don't declare that a team is going to win a championship after signing or trading for a player. Don't fly off the handle when things seem like they are out of hand. Don't go crazy if a rival team signs a player. Don't declare a season over when a team loses a couple of games in a row. That kind of stuff.
Maybe it's just me, but things seem rather odd right now with the Cleveland Cavaliers.
Let's review the evidence.
June 19, 2017--David Griffin and the Cleveland Cavaliers part ways
11 days before his contract was to expire, the Cavaliers General Manager departs because as he put it to ESPN's Dave McMenamin: "Dan (Gilbert) and I know now that we are a team built largely on the concept of fit and we are now at a point where the fit is not right for us to continue with one another."
Why was 'the fit' was no longer there between Griffin and Cavs' owner Dan Gilbert? It's become apparent that a lot of the tension boiled down to Griffin feeling a lack of appreciation for the three-year body of work that he had put together in Cleveland. Griffin watched as Cavs coaches and players got pay raises after the team's 2016 NBA Championship, while he remained one of the lowest-paid GMs in the league. According to ESPN's Brian Windhorst and Dave McMenamin, Griffin was also one of the few examples in recent years where the general manager of a championship club did not get rewarded with a promotion. His contract was expiring and there seemed to be no sense of urgency to address it prior to the end of June.
If Dan Gilbert was truly prepared to move forward with a different voice in the front office, why didn't he allow Griffin to talk to other teams that were interested (Orlando, Milwaukee, Atlanta)? Was Chauncey Billups the only man on his radar screen?
Speaking of Billups...
June 21, 2017--Chauncey Billups offered 5-year deal to run the Cavaliers' front office
I get that Dan Gilbert loved those early to mid-2000s Pistons teams. I get it.
But you can't hand over the front office of a championship contender to someone who has never worked in an NBA front office.
The Athletic's Jason Lloyd reported at 11:30 p.m. on June 21st that the Cavs had made Billups a five-year offer. (By the way, no Cavs' personnel executive under Gilbert has ever had a contract that long) That started a clock that took 12 days to finally stop ticking on Monday.
Billups told ESPN's Marc J. Spears that 'it wasn't the right timing or fit' for him to join the Cavaliers.
There's that word again: fit
Billups stated that he:
Still wants to be an NBA executive someday
Didn't consult with LeBron James, a free agent to-be a year from now, and his status had no bearing on the decision
Had the full backing of his family to take the Cavs job
Yet given all of these factors, the fit wasn't right? Hmmm
This probably didn't help matters:
Making Chauncey Billups' decision not to take Cavs front office job a tad easier, he received more money from ESPN, I'm told. https://t.co/aBWYn5tidn

— Jeff Zillgitt (@JeffZillgitt) July 3, 2017
And by the by, once you take over 48 hours to mull over a decision like taking a job offer, chances are you're not going to take it.
June 23, 2017--Cavs reportedly try but fail to acquire 2nd round pick in NBA Draft
Spears reported via Twitter that the Cavs 'thought they had deal for 34th from Kings to draft Cal's Ivan Rabb, source said but it stalled at deadline. Terms were already agreed to.'
Is it reasonable to ask if this happens if Griffin or a full-time GM is working the phones that night?
The Kevin Love trade rumblings
This is one where I'm not going to bash the Cavs' lack of a GM for things falling apart in reported trade discussions for Jimmy Butler or Paul George. I never seriously believed that either Indiana or Chicago would trade their stars to a team in their division.
Except to say this:
Ever since the Cavs acquired Love, we've heard nothing but noise about the Cavs rumored to not be re-signing him in 2015, then rumored to be trading him for everyone from Butler and George, to Carmelo Anthony.
The one guy I've always felt who had Love's back in the organization was Griffin. Now he's gone.
I wonder if that was a source of tension between owner and GM.
June 28, 2017--Dan Gilbert pulled into White House celebration for Chicago Cubs
This was just a bad look on the part of the Cavs' owner.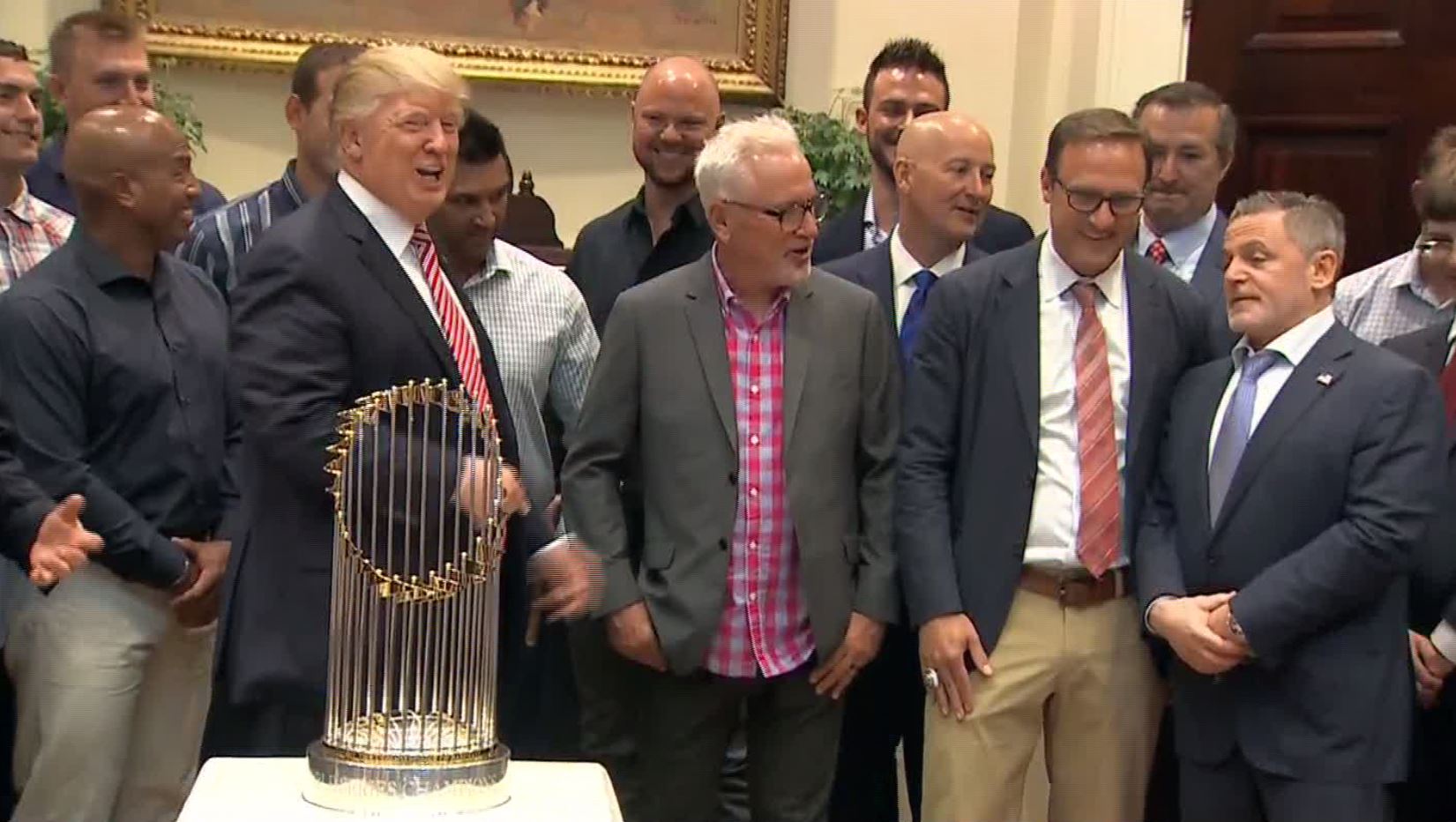 I can't imagine how hard it is to say 'No Mr. President, I can't come in for this photo op with you.' But it just wasn't a good look by the owner of a Cleveland sports team to be taking part in a celebration for the team that BEAT A CLEVELAND TEAM to win a championship. Gilbert later tweeted:
I would've strongly preferred celebrating an @indians victory at the @WhiteHouse today.Being drawn into @cubs visit was quite interesting...

— Dan Gilbert (@cavsdan) June 28, 2017
And finally...
July 1, 2017--Cavaliers reportedly shopping Iman Shumpert to Houston Rockets
I was at the U2 concert when this news and the news of Jose Calderon's signing came out. According to ESPN's Adrian Wojnarowski (back with the Worldwide Leader), Shumpert was to be moved to the Rockets for primarily a package of non-guaranteed contracts, which would allow Cleveland to create financial flexibility to pursue other roster upgrades. But since Houston has apparently agreed to a deal with P.J. Tucker, it looks like that trade is off.
Now I bring all of this up because the Cavaliers look like a rudderless ship right now.
Deals they bring up, they can't close.
And the national media is starting to bust out the narratives that we all love so much:
From Yahoo's Dan Wetzel (who I have a lot of respect for): Chauncey Billups rebuffing Cavs is all about LeBron James featuring this not-so-dynamite Drop-in: "Feel free to panic, Cleveland fans. This is the most tangible sign yet that LeBron Part II is coming to an end and the megastar will again bail on the Cavs as a free agent after next season."
Newsweek: CAVS NEWS: CHAUNCEY BILLUPS' REJECTION MEANS CLEVELAND'S LEADERSHIP VACUUM IS NOW A PROBLEM
The Washington Post: Cavaliers remain in turmoil with Chauncey Billups passing up chance to run team
Gilbert needs to find 'a fit.' And find it like yesterday.
I'd suggest calling Griffin back in, apologize for stonewalling him for the last year, and re-negotiating his contract with a hefty raise. Heck, Gilbert gave Mike Brown a second shot at being the Cavs head coach. The Cavs owner also swallowed his pride and asked LeBron James forgiveness for the Comic Sans shot heard 'round the world on the night of The Decision.
I've seen stranger things in sports. But I just don't see a Gilbert-Griffin reunion.
Maybe young Koby Altman will get a shot. Maybe Gilbert will turn outside of the organization to find someone.
I just know that the hot takes won't stop until Gilbert finds a solution.
And hopefully the right fit.
WATCH: Jim Donovan and I discuss the Cavs' offseason so far in Monday's 'Donovan Live!' postgame show: