Sorry about it, carnival barkers.
There may be no one in professional sports whose movements are tracked more closely than that of LeBron James. And these days, whenever he's in Los Angeles, it's a code red for those who believe that the Cavs star is set to become a Laker or Clipper after this upcoming season.
So when James and his wife Savannah were spotted by TMZ entering Los Angeles' Notre Dame High School earlier this week, alarm bells went off.
TMZ posted this picture of LeBron with members of the Notre Dame basketball team as James got some work in on the high school court.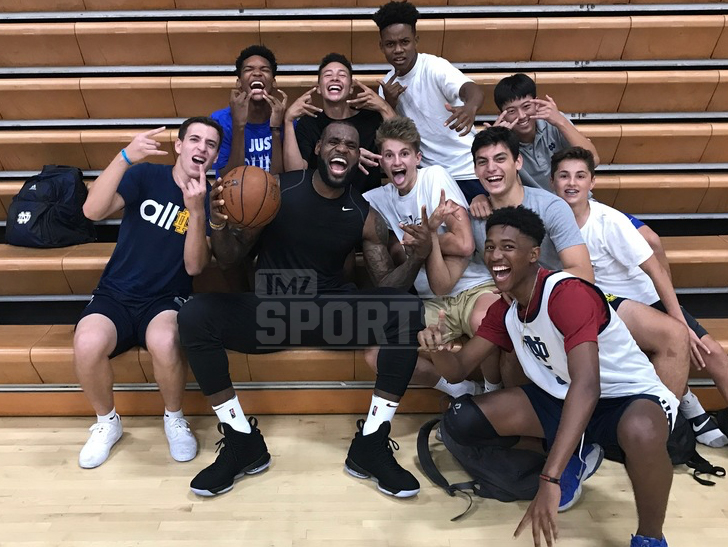 Surely the James' were there to check out the campus for their kids, including oldest son LeBron, Jr. (Bronny). That must be it, right? After all, the James' do have a house in Southern California.
National publications, including Newsweek, picked up on this story and added to the tired old narrative that this was another step towards LeBron bolting from Cleveland to L.A.
James posted this video on the UNINTERRUPTED Instagram account following the workout:
Imagine @kingjames showing up to your high school gym unannounced. 🚀👀
A post shared by UNINTERRUPTED (@uninterrupted) on
TMZ went back and admitted a few things after the video was posted:
LeBron is thanking the school for opening the gym so he could work out after a long day of shooting commercials.
LeBron says the kids had no idea he was coming and emphasizes that he was there to get his own workout in.
LBJ makes no mention of the school being a candidate for his own kids.
Shut down.
As I've said from the beginning of this offseason, just understand that there are going to be these types of reports and speculations. We'll do our best to monitor what is fact and what is fiction.
One more LBJ related note: Today he posted this picture of him and former Heat teammate Dwyane Wade:
Can I be a carnival barker for a second? Does this mean that Wade is one step closer to getting a buyout from the Bulls and joining the Cavaliers?
On second thought, forget I asked.