There's a pretty special feeling when you walk through the gates of 76 Lou Groza Blvd. and step onto the practice field on the first day of Cleveland Browns Training Camp.
For a few moments, you don't dwell on the fact that the Browns were 1-15 last year. You don't care who will be starting at quarterback this fall. You don't worry about depth at wide receiver, or if Myles Garrett is healthy.
You just take in the atmosphere. And it brings back great memories.
I thought about when my Dad used to take my sister and I to camp when the Browns trained at Lakeland Community College in Mentor. I couldn't believe the first time I saw Brian Sipe up close. Or the first time that Ozzie Newsome caught a pass in front of me. Or the look on my sister's face when Clay Matthews signed an autograph for her.
I even got to participate in a youth passing drill with Browns 3rd and 4th string backup quarterbacks Tom Flick and Terry Nugent. It wasn't Sipe or even Paul McDonald throwing me passes, but I didn't care. I was on the field playing catch with the Browns!
But then as I was standing under the goal posts watching 11-on-11 drills on Thursday, I was quickly reminded that these guys on the field...well, they're the Browns.
After catching a TD pass from Cody Kessler, Kenny Britt celebrated. . . then walked with a trainer to the locker room. #3Browns

— Dave DeNatale (@dinocleveland) July 27, 2017
You can't make this stuff up. Britt outmaneuvered Joe Haden for a pass from Kessler, celebrated with Seth DeValve, then walked off the field. Cue the comedians on Twitter:
This is the most #SoBrowns thing I ever read lmaooooooo https://t.co/3H3yq7rkkJ

— Fim Oshin (@TheRealOshin97_) July 27, 2017
It's bound to happen, but not on a TD celebration. Sounds Duane Bowish... 😩 https://t.co/lnqw2JUV5q

— SPORTS SAGE (@PapaKelch) July 27, 2017
#Brownsing #PlayLikeABrown https://t.co/9oHuVJZ34Q

— Marisa Lee (@MarisaLeeMartin) July 27, 2017
Now as it turns out, Britt was apparently dehydrated and just needed some fluids, as did a couple of his other teammates on the hot, muggy afternoon.
That was pretty much the day's only drama.
As I ponder what's to come for the Browns over the next few weeks, I wonder if we might see an unheralded player become the talk of camp. It's happened several times since the Browns came back. Remember some of these guys:
My man, Ben Gay, 2001 camp phenom in Butch Davis' first year in Cleveland.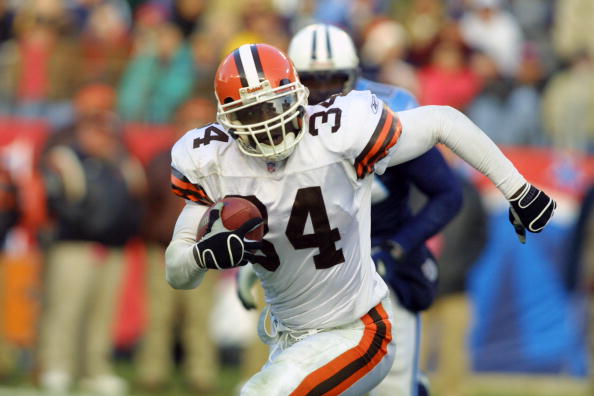 Syndric Steptoe. Great name.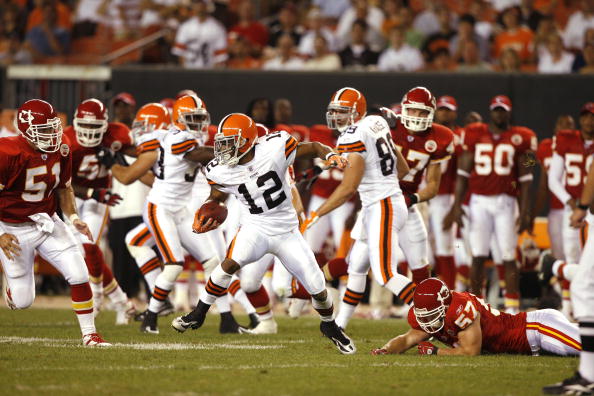 Remember this guy? Josh Lenz from 2015. I took more calls about him than just about any other player that summer doing talk radio, except for that Manziel guy.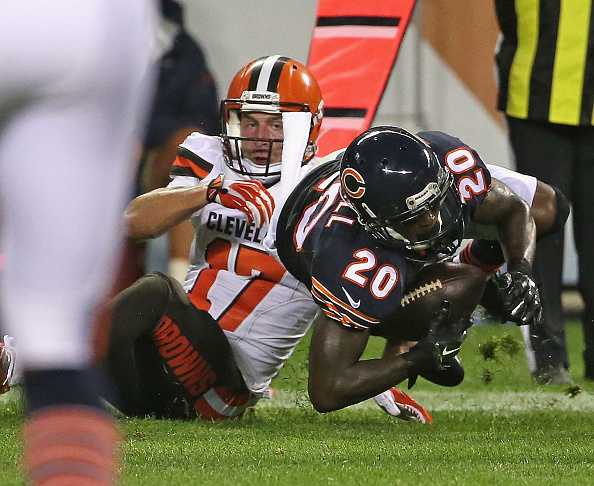 And that's just a sample.
We'll keep our eyes out for the next camp 'legend' when we're out in Berea. But we'll also be watching the quarterbacks, and Myles Garrett, and the wide receivers, and the rest of Hue Jackson's squad as they get prepped for this fall.
I don't know yet how much better this team will be than last year's 1-15 squad. I just know it won't be dull.
And if I get discouraged, I can always remember catching a pass from Tom Flick.
WATCH: Jimmy Donovan and I talked about Day 1 of Browns Training Camp and some of those phenoms of the past during Thursday's 'Donovan Live Postgame Show.' Jimmy reminded me that both Josh Cribbs and Isaiah Crowell both have to be included on the list because they were undrafted free agents. Let us know who else you remember fondly: