"Enough is enough. This isn't working."
That's what I thought on Sunday when I watched the Cleveland Browns get torn apart by the Houston Texans. The Browns are now 0-6 on the season and 1-21 since the franchise decided to throw conventional football operations out the window and try analytics.
Let me emphasize: It's not just the losing that's bothering me. I think if we were honest with each other, we knew that year 2 might have some potholes. But this season is shaping up to be a disaster of even worse proportions than last year. This team is not showing any signs of tangible improvement week in and week out.
Something has to be done.
So let me lay out the case as to why change is necessary:
Free Agency 2016--The Browns let key free agents Mitchell Schwartz and Tashawn Gipson depart. I don't include Alex Mack on this list, because he wasn't going to stay around for another regime change. But the Browns completely botched negotiations with Schwartz and still haven't filled the void at right tackle.
The 2016 NFL Draft--Even after the Rams moved ahead of Cleveland to take Jared Goff with the first overall pick, the Browns had a clear shot at QB Carson Wentz. Keep in mind, Browns coach Hue Jackson was the only NFL head coach to attend Wentz's pro day. Yet, they chose to pass up a potential franchise quarterback in a trade-down with the Eagles that has so far netted Corey Coleman, a first-round pick in 2017 (essentially Jabrill Peppers), a still-to-be-used 2018 second-round pick, and after a series of other moves: T Shon Coleman, QB Cody Kessler, WR Ricardo Louis, S Derrick Kindred, WR Jordan Payton, OG/OT Spencer Drango. Sorry, I'd rather have the franchise QB.
What made the trade even worse was Chief Strategic Officer Paul DePodesta's evaluation of Wentz to ESPN Cleveland's Tony Grossi, essentially declaring that the North Dakota State product was not a 'Top 20 quarterback.'
Free Agency 2017--The Browns allowed Terrelle Pryor to walk away in free agency and replaced him with Kenny Britt, who has all of the makings of a bust. They also essentially spent $16 million dollars on a 2nd-round pick in a trade with the Houston Texans for QB Brock Osweiler, who didn't even make the final roster. One team source told CBS Sports' Jason LaCanfora that Osweiler was "a cancer" in the locker room, did not to endear himself to teammates and brought little to the quarterback room.
The 2017 NFL Draft--The Browns deserve credit for taking Myles Garrett with the first overall pick, resisting temptation. But that's where the praise ends. They bypassed another potential franchise quarterback in Deshaun Watson in favor of stockpiling draft picks. Heck, they could have taken Malik Hooker at #12, who looks like a much more polished safety than Peppers.
One other nugget from the non-drafting of Watson came on Sunday courtesy of CBS. Apparently Hue Jackson texted Watson 'be ready,' implying that the Browns were set to take the Clemson signal-caller. Jackson denies the story, but given the Browns' past histories with texting, I don't doubt it. Was Hue cut out of the loop on draft day?
It seemed like a small thing at the time, but the Browns front office deserves criticism for an ill-advised offseason trade. Per LaCanfora, Executive Vice President of Football Operations Sashi Brown rankled many on the coaching staff by trading linebacker Demario Davis, a popular player in the locker room that was seen as a key part of Gregg Williams' defense, to the Jets for troubled safety Calvin Pryor, a former first-round bust cut loose at the end of the preseason after getting into a fight with a teammate.
I don't take everything LaCanfora says as gospel, but I do think that the disconnect he recently wrote about between the coaching staff and the scouting staff is real.
The prosecution rests, your honor.
So now that we've tried to make the case that this regime has to be cut loose, what happens next?
First, some breaking news: According to WKYC Channel 3 Sports, former NFL MVP QB Peyton Manning was in Cleveland last week. We haven't confirmed that he met or spoke with the Browns or the Haslam family. This has always been thought to be a plausible scenario: Manning, the former University of Tennessee star joins fellow Volunteer alum Jimmy Haslam with the Browns.
It's no secret that Manning has long wanted to be an NFL executive. He witnessed John Elway build a Super Bowl winner in Denver. My only fear is that he has no front-office experience. But Manning does have credibility around the league. That's not a bad thing. And remember that Elway didn't have front office experience before taking over the Broncos.
Put a pin in the Peyton report for a second and let me make my recommendations to Jimmy and Dee Haslam:
1. Fire Sashi Brown and Paul DePodesta right away. It's not fair for the Browns to be looking at Manning or anyone else if these guys know they're going to be lame ducks. DePodesta can start maneuvering to get back into baseball and Brown will certainly have the opportunity to be someone's legal counsel/cap strategist. Let Andrew Berry handle football operations on an interim basis for the remainder of the season.
Berry came to the Browns after seven years with the Indianapolis Colts, so its plausible that if (and it's a big if) Manning comes to Cleveland, there would be some familiarity there. And if not, Berry can certainly look to make an impression on whomever the Browns eventually hire.
2. Keep Hue Jackson and his staff intact for the rest of the season. I think DeShone Kizer deserves to have 10 more games of Jackson's tutelage and I'd like to see how this team would react if the cold war between coaching staff and front office is stopped by the firing of Brown and DePodesta.
3. Bring in a consigliere. What am I talking about, you ask? A consigliere is an adviser or counselor. If you've ever seen The Godfather, Robert Duvall's character Tom Hagen was the consigliere to Vito Corleone.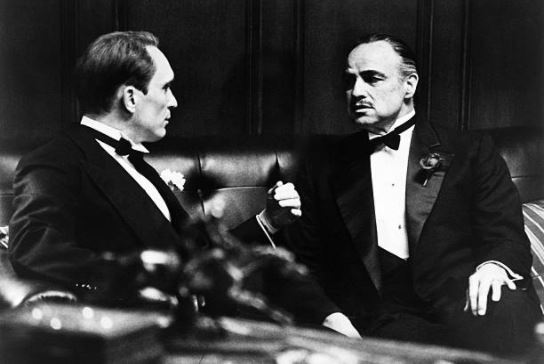 Jimmy and Dee need a football consigliere. Someone who can advise them in the task of rebuilding an NFL front office. My preference would be former Browns and Giants GM Ernie Accorsi, but he is currently the consigliere in Detroit. Perhaps after a couple of years helping out the Lions, he might be agreeable to coming back to his former team.
If you can't get Accorsi, try Hall of Famer Ron Wolf, or Charlie Casserly. Call Carl Peterson, Gil Brandt or Bill Polian. Just get someone who will have your best interests in mind when it comes to football operations and can be a part of the interview process. Someone who has had proven success, but doesn't need to be back in the fold full-time.
4. Don't settle. Get the person you want and then back off. Give said person full control of the 53-man roster and power to hire and fire those in player personnel, scouting, and the head coach. Work with this person to help shape the culture you want for the Cleveland Browns, but don't step on their toes.
After 24 hours of sitting and thinking about this, there are no shortage of qualified candidates out there:
Peyton Manning
Terry McDonough, Arizona Cardinals VP of Player Personnel
Rick Spielman, Minnesota Vikings General Manager and Massillon native
Thomas Dimitroff, Atlanta Falcons GM, Barberton native, and former Browns scout
Nick Caserio, New England Patriots Director of Football Operations, Lyndhurst native
Eliot Wolf, Green Bay Packers Director of Football Operations and son of Ron
Trent Kirchner, Seattle Seahawks co-Director of Football Operations
Manning is the only one you can interview right away, which makes him very attractive. But if you can't lure Peyton here, you can start making your list, do some due diligence, and be ahead of the game when the time comes to interview.
What the Browns are doing now simply isn't working. They are regressing and it's time for the Haslams to admit defeat, get up off the mat, and start again.