The standoff that shut down I-71 in both directions near Mansfield has ended.
The Mansfield News Journal reports that it ended after a SWAT team had appeared on the scene and a couple of loud noises heard after 2 p.m. by people in the vicinity.
Coroner's representatives were at the scene afterward.
By 2:34 p.m., law enforcement officials began reopening the southbound lanes. Just before 5 p.m., the northbound lanes -- where the crash and the standoff occurred -- were reopened.
About 3:40 p.m., the Ohio Highway Patrol provided an update:
"The Ohio State Highway Patrol is currently investigating a shooting which occurred in the rest area on Interstate 71 shortly after 11 a.m. in Delaware County. The suspect fired several shots at a vehicle, striking the victim. Both the suspect and victim were standing outside near the victim's vehicle at the time of the shooting."
"The Highway Patrol and Delaware County Sheriff's Deputies located the suspect vehicle and a pursuit ensued. The pursuit came to an end after the suspect's vehicle drove over road spikes and crashed into a guardrail on Interstate 71 northbound in Richland County."
"Troopers then surrounded the vehicle. Once contact was made with the suspect, he was discovered to be deceased from an apparent self-inflicted gunshot wound."
"The name of the suspect is being withheld pending notification to next of kin. The victim, whose name is also being withheld, is currently listed in critical condition at a local hospital. No officers were injured as a result of the incident. "
The Ohio State Highway Patrol had shut down traffic on Interstate 71 in Richland County, from U.S. 30 to Ohio 13, after a chase involving a suspect reportedly involved in a shooting at a rest stop in Delaware County.
10TV in Columbus reported that the State Highway Patrol in Delaware County confirmed that authorities there were investigating a report of a shooting at the northbound I-71 rest area.
That incident was reported shortly after 11 a.m. Sunday.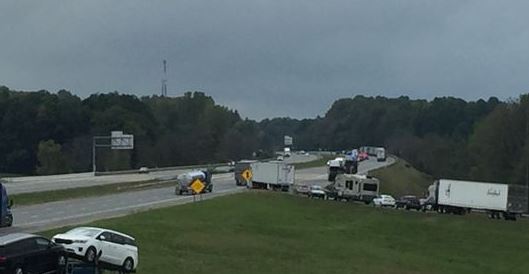 According to our NBC affiliate WCMH-TV in Columbus, troopers say a man and a woman stopped at the rest stop. The man went inside the building and when he came back out, witnesses saw the man get shot six times by an unknown suspect who sitting on a park bench.
The victim was taken to Grant Medical Center in an unknown condition.
The interstate was closed from the 176 mile marker post at U.S. 30 to the 169 mile marker at Ohio 13.
PHOTOS | I-71 Standoff