AKRON, Ohio — Monday's episode of 'The Bachelorette' might as well have been called 'The Michael Allio Show' because the Akron native got an incredible amount of camera time while baring his soul, braving an injury, and accepting his fourth rose as he continues to fight for the love of Katie Thurston.
Michael, 37, shared the story of losing his wife, Laura, to cancer with the majority of his fellow suitors for the first time, bringing the room to tears during their group date after party.
While talking with Katie that night, the single father got choked up telling his leading lady that she brings him comfort, while admitting that he'd had a 'lonely, thoughtful' day in the Bachelorette house earlier that week, on what would have been his late wife's 36th birthday.
And in addition to the emotional tears, poor Michael shed a few earlier in the episode as well, after getting rocked by a game-ending hit during a contest that Bachelor franchise favorite Wells Adams called 'rugby meets basketball,' all in the name of love.
But could Michael's journey for Katie's love soon be coming to an end? He was noticeably absent in preview clips for upcoming episodes, except for a moment on FaceTime with his son, James, where the two struggle with being apart.
No matter what happens from here, Michael appears to be in a good place. Before episode 5 aired on Monday night, Michael shared a post on Instagram with a caption wishing everyone a happy Fourth of July, and adding, 'So much to celebrate this year,' with a smiling face emoji.
Michael certainly had a lot to smile about by the end of Monday's episode of The Bachelorette, but not so much at the beginning.
On a group date with 12 other men, Michael found himself holding the ball in the middle of an aggressive game called 'Bachelorette Bash Ball Battle,' and had the wind knocked out of him when he was tackled from behind by contestant Justin Glaze.
Katie rushed to his side after the tough-to-watch collision, and Michael could be heard saying, 'It's hard to breathe.'
After being looked over by the medics, he eventually got up on his own, but after that Katie called the game. From there, the group got ready for the after party, where Katie pulled Michael away first for some one-on-one time.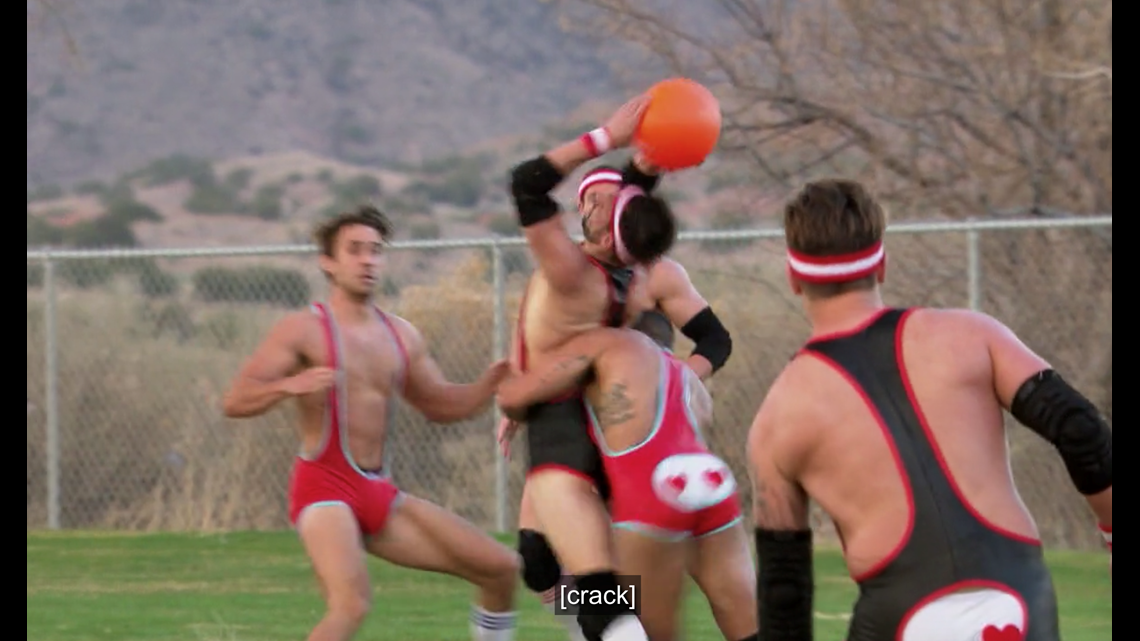 During that chat, Michael shared that he'd had a tough couple of days, being away from home on his late wife's birthday, but that Katie's company had helped him through it.
'It was like just kind of a lonely, thoughtful kind of day and usually I spend it with my family but you know, being here, you bring comfort in my life and I think there's something special here,' Michael told Katie.
'Oh, I know there's something special,' she responded, after telling him that she was happy he got to celebrate Laura.
The two shared a passionate kiss before Michael returned to the group, where he shared his story with the other men, along with the perspective having loved and lost has given him about time.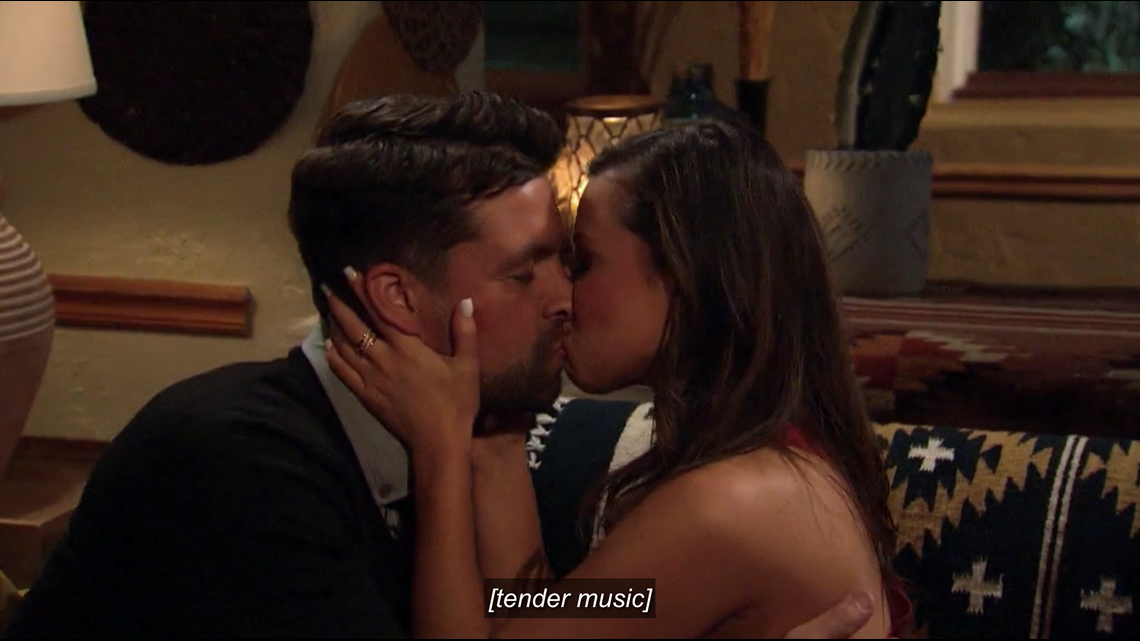 'We are here for a very finite amount of time,' Michael pointed out. 'Not here,' he added, while gesturing around him in reference to the television show, 'but this Earth. Don't waste your time.'
He continued: 'We're all here because we want to find a woman to support, share memories with, navigate life with. And it's the most beautiful thing when it happens. And when you find it, you try to hold on to it forever. And you don't know how long you will be blessed with that time.'
Michael shared that he and his late wife had been together for 16 years before breast cancer took her from him, which is what inspired him to create The L4 Project, a non-profit organization and apparel company that donates 100% of its profits to other groups that address the needs of and enrich the lives of individuals and families fighting cancer.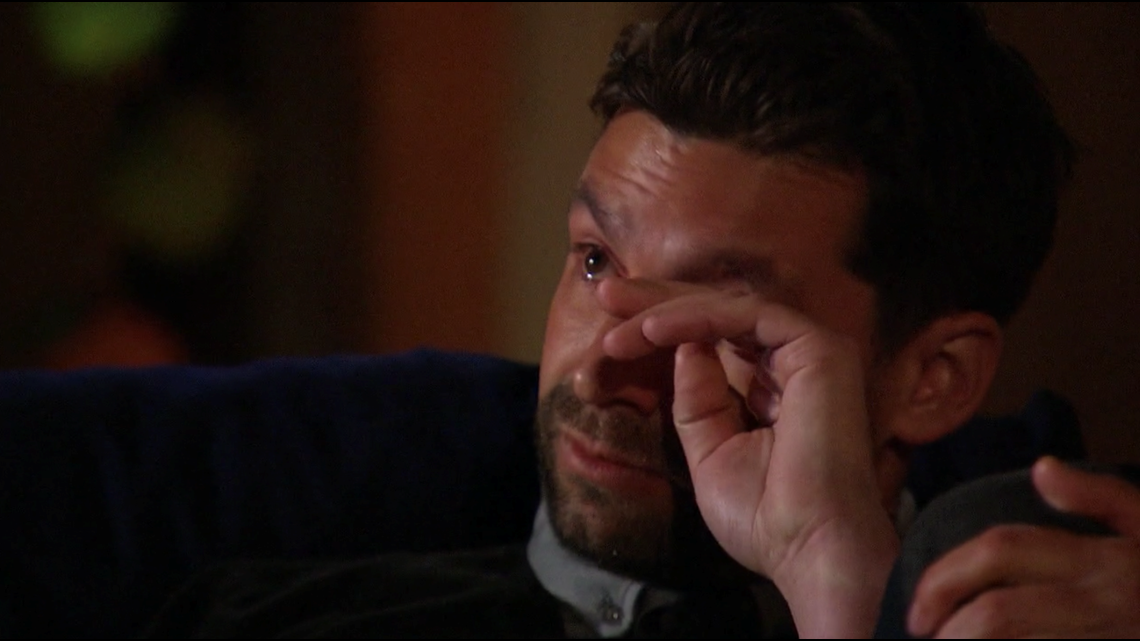 'L4' stands for 'Live Life Like Laura,' who Michael has shared on social media was a constant beacon of positivity even throughout her cancer diagnosis and treatment, much like he has been praised for being by the men on this season of 'The Bachelorette.'
Michael is now one of just 12 men left in the running, hoping to win Katie's heart. As the episode ended on Monday, though, fans saw Michael video chatting with his son, telling him, 'I miss you like crazy, buddy.'
His son, only 4 years old, can be heard struggling with the concept of his dad being away, saying, 'Maybe Daddy don't want to see me?'
Understandably, we hear Michael say, 'It just tore me apart,' and later appearing to tell Katie, I can't focus on anything else.'
For what's next in Michael and Katie's love story, check back in with us next week for the full recap of ABC's 'The Bachelorette.'