CLEVELAND — It has been about 15 months since the Ohio City Galley opened its doors in the historic Forest City Bank Building at the corner of W. 25th Street and Detroit Avenue, formerly home to Massimo Da Milano restaurant. The unconventional business model is one part food hall and one part business incubator – a relaxed public space where multiple food-service operators can test out new concepts in a low-risk situation, and diners can enjoy those foods in a communal dining hall and bar setting.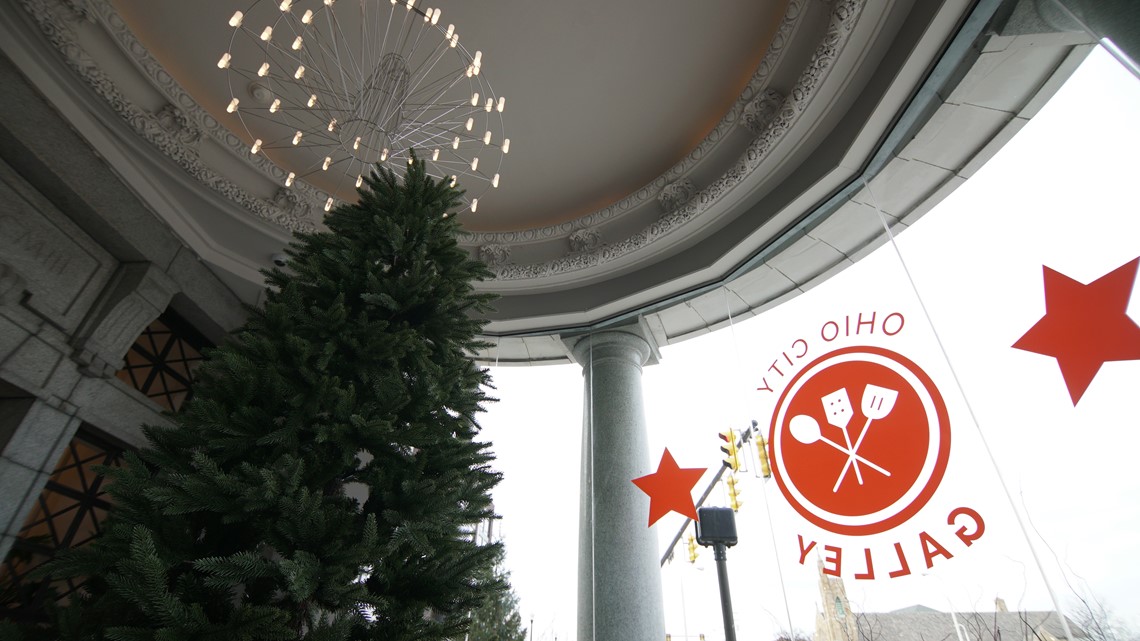 So far, diners have said "hello" and "goodbye" to The Rice Shop, Poca and Forest City Steaks. Sauce the City, one of the Galley's original tenants, has committed to sticking around for another year. That was recently joined by two new kitchen concepts from chef-partners Brett Sawyer and Vince Thomascik, who also operate the Plum in Ohio City and Good Company in Detroit Shoreway.
Pie2
Pie Squared (or Pie2) offers what Sawyer calls "Rust Belt-style pizza," because it takes its cues from various regional styles of pizza. They are square-cut, pan-style and feature a naturally fermented sourdough crust. The fabulous Mortadella version tops that tangy, airy crust with sharp brick cheese, zesty giardiniera, shaved Brussels sprouts, pistachio nuts and pecorino oil.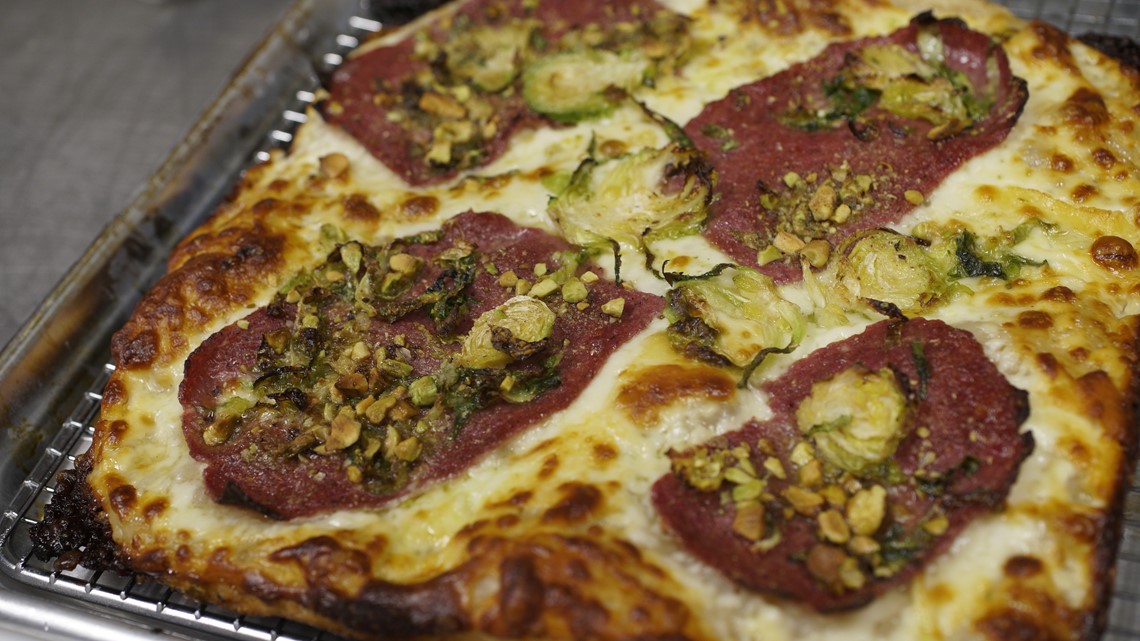 The sandwiches are also square and served on housemade brioche bread. Combinations include smoked chicken thighs with pimento cheese, dried green tomato, and crispy chicken skin, as well as a vegetarian mushroom sandwich that pairs braised kale and bleu cheese with caramelized onion and shredded lettuce.
Grains and Greens
Grains and Greens, also from Sawyer and Thomascik, offers wholesome grain bowls and salads. Bowls start with a base of either barley and amaranth, brown rice and lentils, couscous and quinoa, or spelt and rye, and are capped with any number of healthy and flavorful toppings. For the salads, Sawyer offers versions of classics like the wedge, Cobb, Caesar and taco. When ordering either a bowl or salad, diners can tack on proteins such as marinated tofu, salmon poke, chicken breast and smoked chicken.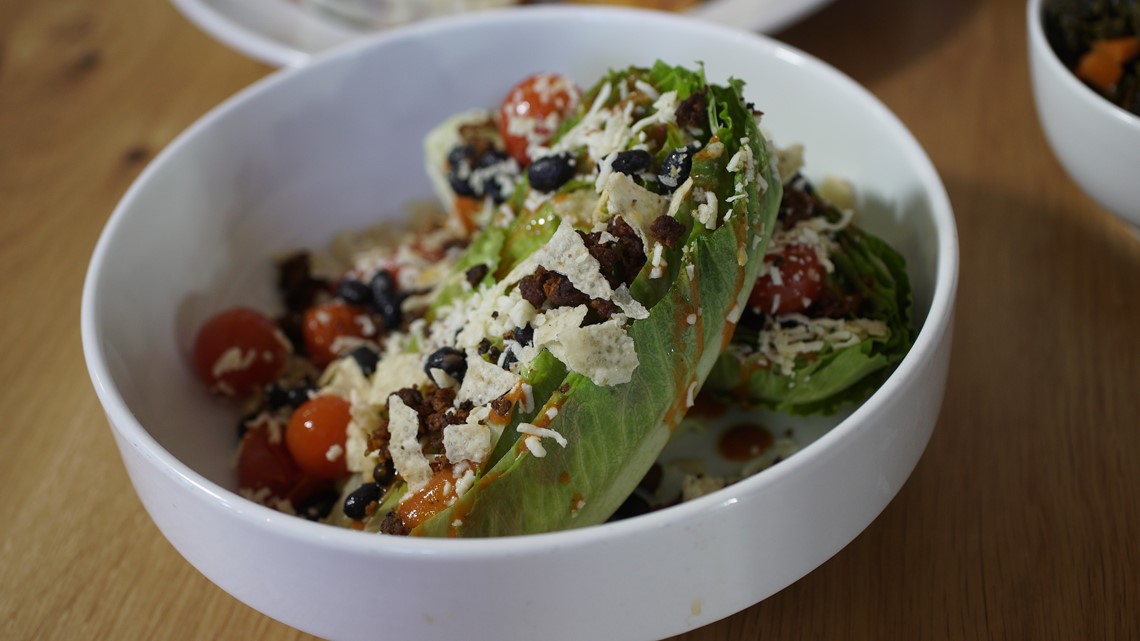 Sauce the City's new eats
Since day one, Chef Vick Searcy at Sauce the City has been offering electric hot chicken, hot chicken sandwiches and street corn. He recently unveiled new items like Corn Bowls that are filled with sweet corn, chicken and crema, and the Kool Ranch Chicken Sandwich.
A fourth, currently unoccupied kitchen will soon be home to an additional chef-operator whose name will be announced within the coming days or weeks.
In addition to the new food options, the Galley owners took advantage of a brief year-end closure to update the bar offerings and interior. Guests will likely notice plenty of new greenery, a brighter color palette, new lounge seating and furniture, and other cosmetic touches designed to improve the overall user experience.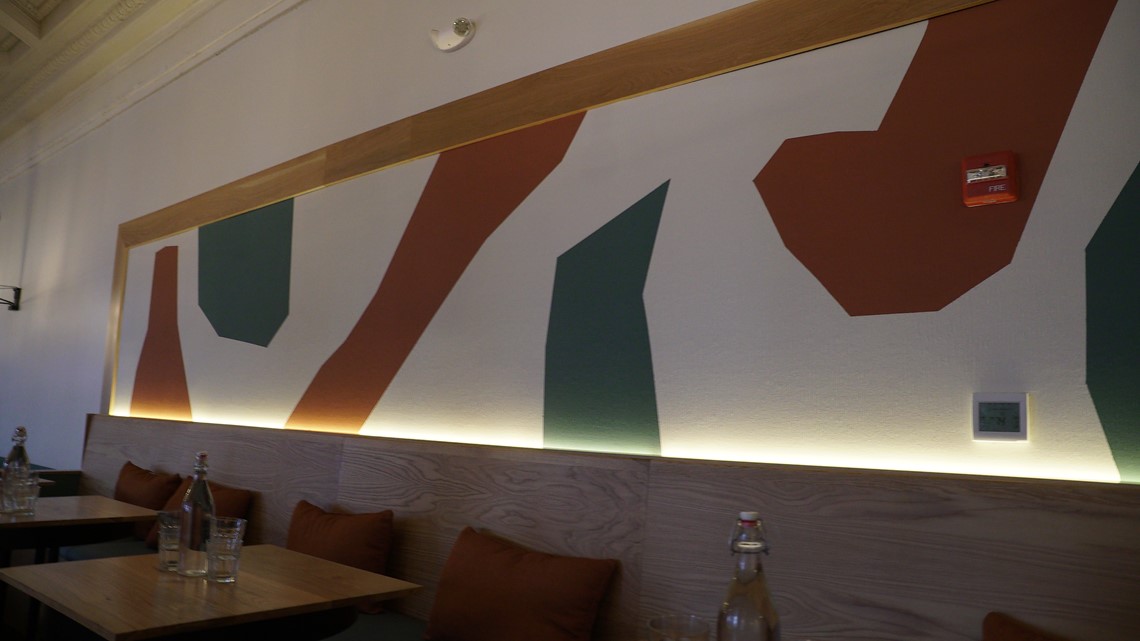 "The original design of the space was inspired by the existing historic and industrial elements of the space emphasizing the exposed brick walls and ornate plaster ceiling," said Maggie Young, an architect who worked on the project. "While these elements remain as important parts of the space, we took this opportunity to add a bright, playful layer to the design."
The Ohio City Galley is open for lunch, happy hour, dinner, drinks, and brunch. Hours of operation are Monday–Thursday 11 a.m.-9 p.m. (bar open until 10 p.m.), Friday–Saturday 11 a.m.–11 p.m. (bar open until Midnight), and Sunday 11 a.m.–9 p.m. (bar open until 9 p.m.).