EASTLAKE, Ohio — It's become one of the biggest parties in Northeast Ohio, and this year's edition may have been the best yet.
Browns wide receiver Jarvis Landry hosted his annual celebrity softball game Saturday at Eastlake's Classic Park. It marked a return for the event following a one-year hiatus caused by the COVID-19 pandemic, and 7,000 fans (most of them wearing brown and orange) crammed into the stadium to get in on the fun.
Several of Landry's Cleveland teammates were on hand for the occasion, including quarterback Baker Mayfield, defensive end Myles Garrett, receiver Odell Beckham Jr., and running back Kareem Hunt (a Lake County native). Kansas City Chiefs Pro Bowler and Cleveland Heights grad Travis Kelce captained Landry's opponents, with several other NFL players and musicians also in attendance.
"I'm at home, but it's still enemy territory," Kelce said, noting his team's budding AFC rivalry with the Browns. "It's so weird."
Before the game itself, some of the players took part in a special home run derby. Landry and Mayfield were among the finalists, with Mayfield ending up as co-champion with Landry's agent, Damarius Bilbo.
Unfortunately, Beckham didn't do nearly as well, but at least he didn't reinjure his recently repaired knee.
In the game itself, it was Myles Garrett's turn to shine, as the All-Pro defender belted a homer to aid Landry's team in a 22-7 rout. Garrett's trot around the bases was also legendary, but still no word on if he plans to pursue a baseball career.
Proceeds from the event benefit both the Lake Health Foundation and the Jarvis Landry Building Winners Foundation. Title sponsors included 1 of 1 Sports Cards & Memorabilia and UIG International.
Check out some photos from a fun day in Lake County!
PHOTOS: 2021 Jarvis Landry celebrity softball game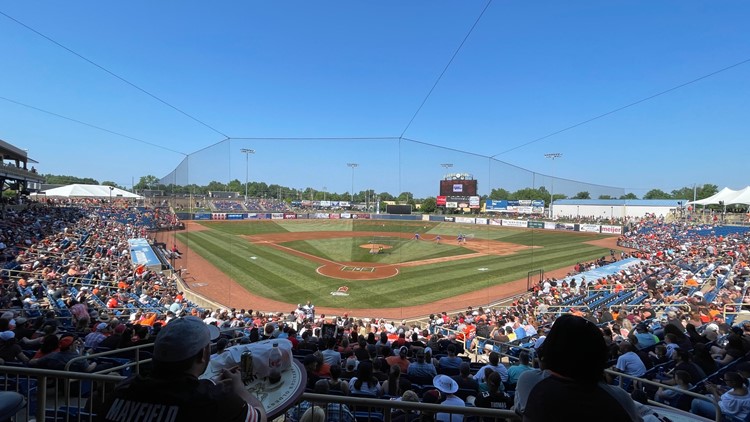 Tom Withers of the Associated Press contributed to this report