Kim Kardashian is finally opening up about Kanye West's recent public outbursts on Twitter.
The "Keeping Up With the Kardashians" star took to Instagram Wednesday morning to address West's current mental state, and controversial presidential run, after days of fans calling for her to get him help for his Bipolar Disorder.
"Those that understand mental illness or even compulsive behavior know that the family is powerless unless the member is a minor," Kardashian said in an Instagram story, "People who are unaware or far removed from this experience can be judgemental and not understand that the individual themselves have to engage in the process of getting help no matter how hard family and friends try."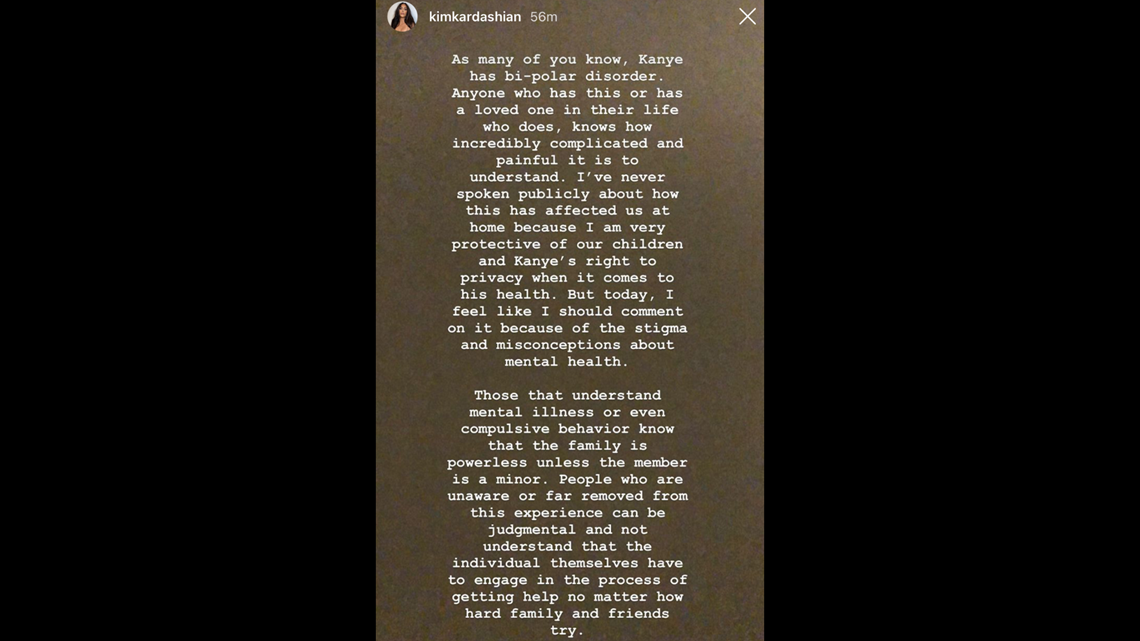 Many raised concerns earlier this week after West held a presidential campaign rally in Charleston where he said that prominent abolitionist and underground railroad leader Harriet Tubman "never actually freed slaves." West said he almost killed the couple's eldest daughter, North, while discussing the issue of abortion.
Since Sunday night, West has been incredibly active on Twitter, making head-turning comments leading many to question his soundness-of-mind.
The rapper alleged on Monday that Kardashian and her mother, Kris Jenner, were trying to have him "locked up" for his mental state, claimed that the horror film "Get Out" was inspired by him, and said that Bill Cosby was put in prison by NBC.
Kanye West series of tweets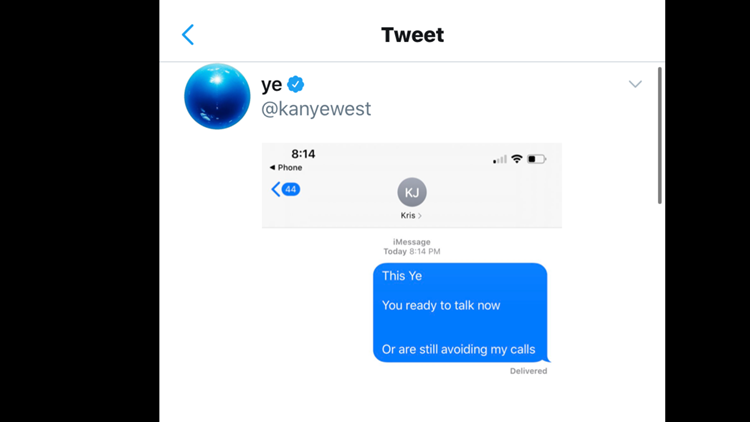 West later deleted the series of tweets, but did manage to leave up the final thoughts, saying he is just going to "focus on the music" and shared the upcoming tracklist for his album, "Donda," which comes out on Friday.
Many fans claim that the entire presidential run, along with the string of erratic tweets, has all been self-promotion for the album. Others believe that the rapper is having a Bipolar episode and desperately needs help.
On Tuesday night, the "College Dropout" once again managed to tweet, delete, and repeat calling Jenner "Kris-Jong-Un" and insinuating that Kardashian had an affair with rapper Meek Mill in 2018.
Kanye West series of tweets from July 21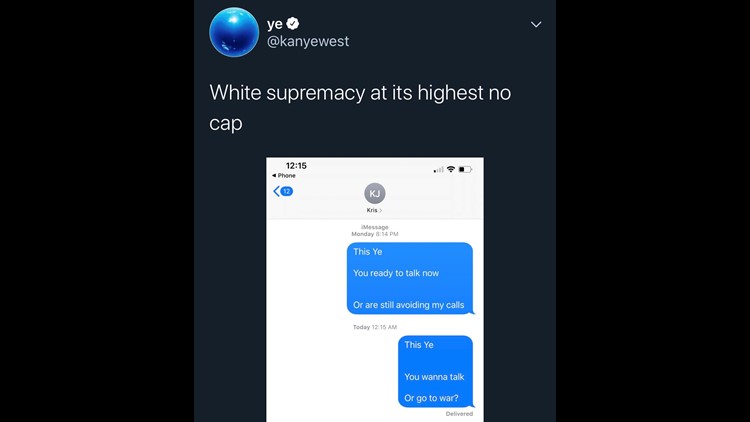 Kardashian, who has been a vocal advocate for prison reform in the United States, allegedly met with Mill - who had a nearly 12-year struggle with the legal system - at a hotel in 2018 to discuss the criminal justice system.
West wrote on Twitter Tuesday night that he has "been trying to get divorced since Kim met with Meek at the Waldorf for 'prison reform," and wrote in another tweet, "Meek is my man and was respectful... Kim was out of line."
The tweets were later deleted, but according to US Weekly, the damage was already done, reporting that Kardashian has been meeting with divorce lawyers.
Recent struggles aside, Kardashian ended her Instagram-story plea on Wednesday asking fans and the media for privacy during this incredibly difficult time.
"I kindly ask that the media and public give us the compassion and empathy that is needed so that we can get through this" Kardashian writes, "Thank you for those who have expressed concern for Kanye's well being and for your understanding."