CLEVELAND — EDITOR'S NOTE: The video in the above player originally aired on March 15, 2021.
Cleveland Mayor Frank Jackson has issued a Mayoral Proclamation recognizing March 25 as Michael Stanley Day in the city.
The proclamation comes after city council also named that day as Michael Stanley Day. The date coincides with the late rocker and radio & television personality's birthday.
The resolution notes, "Michael Stanley will live on through his iconic music and lyrics: 'thank God for the man who put the white lines on the highway.'"
"On behalf of the citizens of the City of Cleveland, I extend my condolences to the family and friends of Mr. Michael Stanley. In celebration of his impact to the world of music near and far, I am honored to declare March 25 as Michael Stanley Day. I invite all Clevelanders to join me in remembering Mr. Stanley and his immense accomplishments. He will be missed," said Mayor Frank G. Jackson.
The Cleveland native and local rock and roll icon passed away at the age of 72 on March 6 following a battle with a "serious health issue." Stanley's death has led to an outpouring of support in the Northeast Ohio community. He is well-known for his time as the frontman of the Michael Stanley Band. Stanley was also a disc jockey at WNCX, making him a staple of the Cleveland music scene since the mid-1970s.
You can read the entire proclamation below: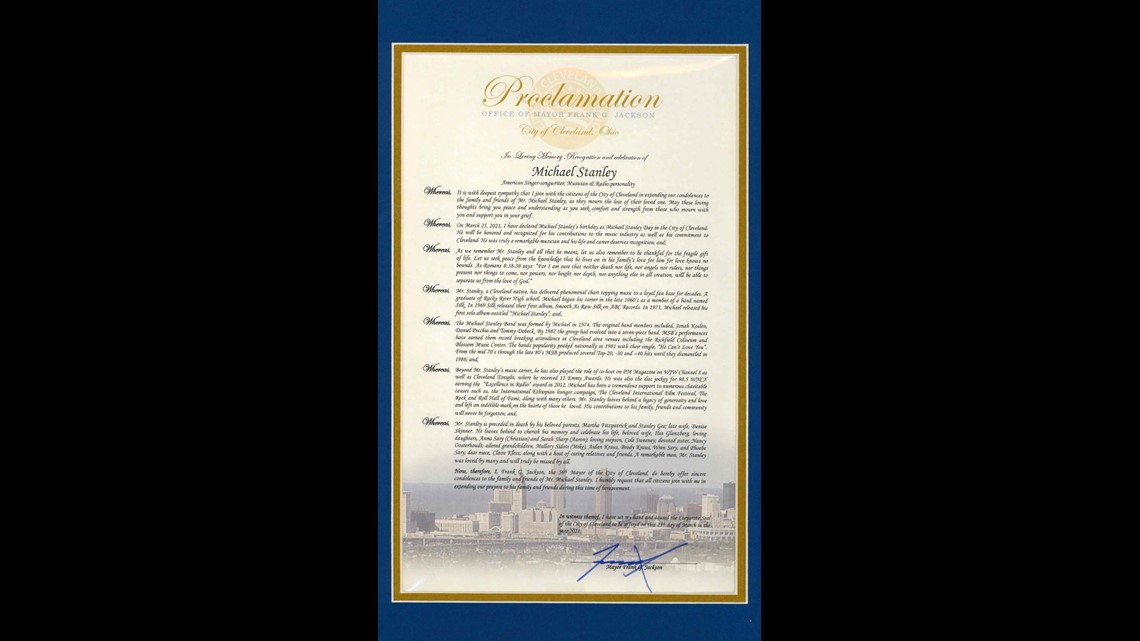 EDITOR'S NOTE: The video in the player below was posted on March 6, 2021.