COLUMBUS, Ohio — It's early August in Columbus, Ohio. The start of school is still weeks away, but it's time to go to work.
At the helm, Yolanda Johnson, a proud alum of THE Ohio State University and its world-famous marching band. A coveted experience that still could not fully prepare her for the role of band leader that she has today.
"Big change, I had nothing prepared for it. Nothing. No formal instruction before I started here," Johnson said.
"The Best Blind Band in the Land! Try to say that 10 times fast," said freshman Adyah Navarro, who was born with a condition known as Peters Anomaly.
"I'm excited to hear this and also dreading this first sound." It's the first time Johnson will hear her students play since school ended a few months ago.
"I would like you to get your instruments ready, and dust the cobwebs off of them."
There are more similarities between the Marching Panthers that we see perform on Friday Nights than there are differences, says Jeff Schneider, who is a retired band director, who started volunteering with the Panthers more than 15 years ago.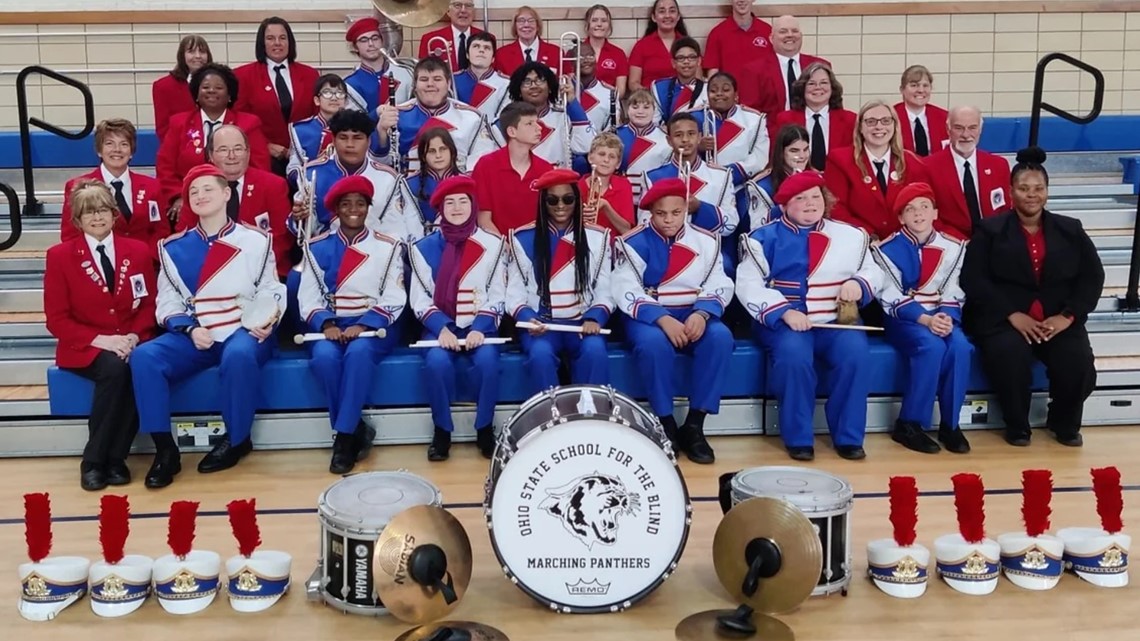 "What's going on in this band room is going on in every band room in the state of Ohio," he said.
When Schneider offered his services, to help the newly formed marching band, he thought it would be temporary.
"I think once somebody comes, they never leave. I now know why I retired because I have the opportunity to work with these kids because these kids are phenomenal," said Schneider, who serves as field director for the Panthers.
Just as their peers do, the Marching Panthers go through band camp brushing off rust, learning new songs and sets. But how they go about it, is of course different. The words "prepare, adapt and overcome" are proudly on display in the band room, for all who come here.
"Man, that's what these kids do every day. You know, that's what they do every day in their life," Schneider said.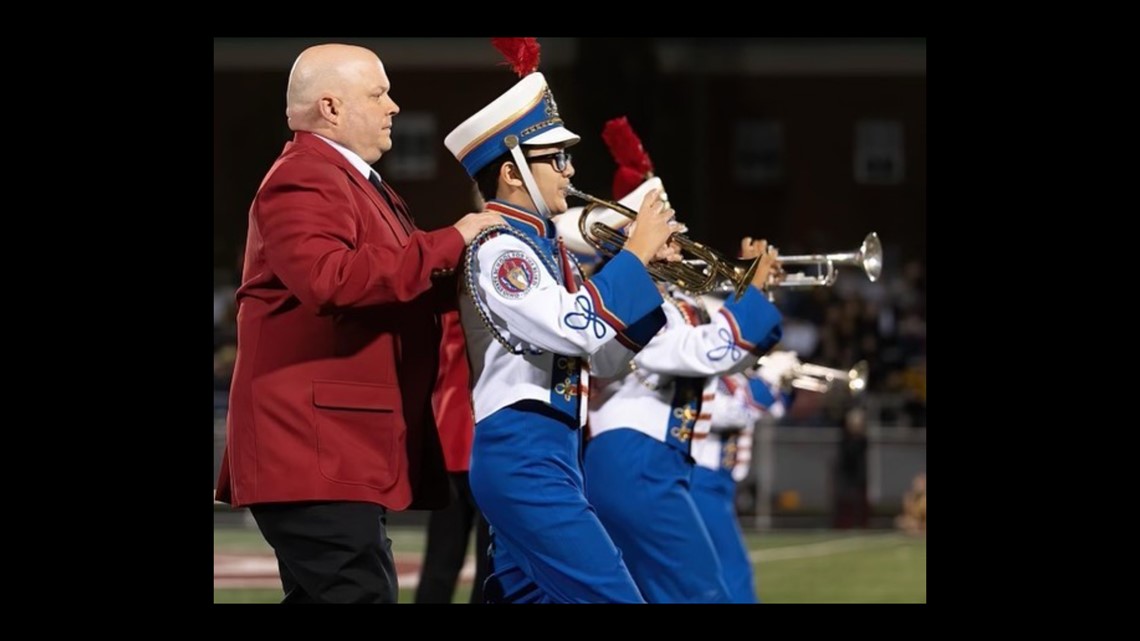 "People with disabilities are capable, and can be independent," said Jana Alou. The senior is not only visually impaired, she has significant hearing loss too.
"I can hear my drums pretty good, so I just play it like someone else," Jana said.
"I can do so many things that sighted people can do. If I haven't told you this already, I am pretty gifted," said Adyah
During camp, the pride of this "mighty" blind band travels with them across town.
Their Ohio State University counterparts are in the midst of tryouts, but never too busy for the Marching Panthers, who take to the field to perform what they've learned so far.
The OSU musicians, who perform some of the most difficult routines, clap and cheer loudly for the OSSB Marching Panthers.
Chris Hoch, Director of Marching Bands at OSU is always there to support.
"Great job! Thank you so much! Let me know if you need anything!"
But the field trip offers a surprise for Jana Alou, who learns a coveted role in "script Ohio" is hers this year.
"Did you ever think that you would be the "I" dotter? I am so proud of you," said Schneider.
"It was awesome. They did great for a first performance. Very proud of you guys, are you proud of yourself?" Johnson asks band members, as they head to the buses to wrap up another busy day at camp.
Emotions carry the students and instructors through the rest of the week. The days are long.
"Band camp has made me appreciate being able to sleep in," said Larry Hughes, a senior who only started playing the flute last year.
"I've jokingly said I'm not worried about the kids learning the show, I've gotta make sure that the marching assistants learn the show," said Schneider.
As is the list of what Yolanda Johnson hopes to accomplish. Once school starts their time together is limited.
"Just seeing them go from 'I can't do this! There's no way, this is too long. There's so much music' to 'That's easy. I got this down,'" Johnson said.
Friday arrives and so does family, anxious to see what their children have learned.
Jana Alou's mother is beaming at her daughter's progress.
Band camp is over and the outside world is allowed back in to see new friendships and lasting bonds formed.
"It's literally family here. And then when you get into the band - it's like even tighter family," Johnson said.
And like all family, nerves can fray, if but for a moment. It's September and the Panthers have their first Friday night performance. Dress rehearsals are over. The band room is a mix of excitement, nervous energy, and a few fears.
"When we do the transition to Sweet Caroline, when we do the crescendo -- that part, I don't want to mess it up," said Adyah.
"Mr. Jeff taught me, if I make a mistake, make it look like it was meant to happen, And keep going," said Larry.
It's their first performance of the season at a match-up between Columbus Academy and Buckeye Valley. The Marching Panthers will headline the halftime show.
"I'm nervous, but excited. Going back 54 years when I was in high school. I always tell the kids it's good to be a little nervous," said Schneider.
"And now, for everyone's half-time pleasure and enjoyment we present the Ohio State School for the Blind Marching Band."
Countless hours of practice lead to this moment. The band takes the field, running through their show, with the crowd clapping and cheering along.
Ability is just one measure, by which the Marching Panthers perform.
"We are around the kids all the time, we know what they can do, and we see them as just you know teenagers," said Yolanda Johnson.
Prepare. Adapt. Overcome.
It makes the Panthers who they are: The Best Blind Band in the Land.
The Panthers have performed all over the country, including at the 2020 Outback Bowl, and alongside the Best Damn Band in the Land, during halftime shows.
Learn more about the Ohio State School for the Blind Marching Band HERE!