BROOKLYN, N.Y. — Greetings from backstage of the 2019 Rock & Roll Hall of Fame induction ceremony at the Barclays Center here in Brooklyn.
As important as it is to bring you the sights and sounds of what is happening on stage this evening, we also are camped out in the press room, where many of the inductees, presenters, and special guests are expected to address the media.
Get a rundown on what is happening on stage with Ryan Haidet's blog here.
If you need a quick refresher on this year's class, check out their bios by clicking here.
Here's a real-time rundown of tonight's action:
10:30 p.m. - For a few minutes there, we thought they forgot about us backstage. Then we had a flurry of activity. Robert Smith of The Cure was here first, followed by Janet Jackson.
We captured Robert Smith's press conference on WKYC's Facebook Live:
9:04 p.m. - We have a photo gallery of tonight's backstage action!
PHOTOS | Backstage at the Rock & Roll Hall of Fame induction ceremonies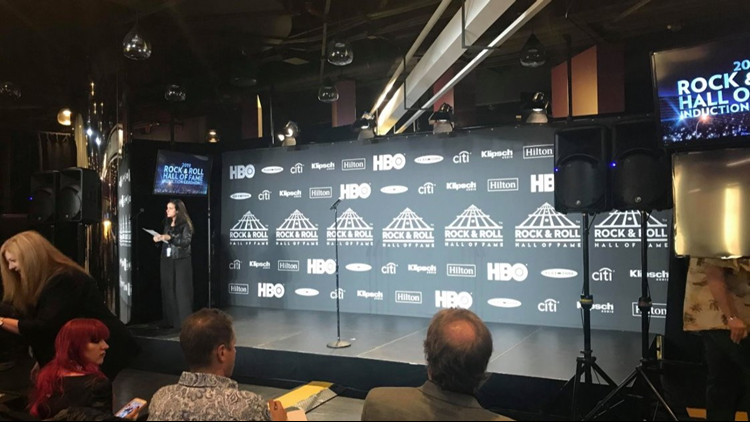 8:20 p.m. - Bella Donna has arrived! Stevie Nicks was funny in her comments to the media, including saying presenter Harry Styles was in N'Sync. We politely reminded her that Harry was in One Direction. "I'm never going to live that down," she said, laughing.
Check out Stevie's press conference with the media and an appearance by the members of her band, Fleetwood Mac, in the video below
8:00 p.m. - While we wait for Stevie Nicks to head backstage after her performance and acceptance speech, here's a cool tidbit: Inductee Janet Jackson took over Rolling Stone Magazine's Instagram feed earlier tonight.
7:00 p.m. - It's taken more than 50 years, but the Zombies are here and they are being inducted into the Rock Hall this evening. The English band that formed in 1962 and became famous with hits like "She's Not There" and "Time of the Season," is gearing up to play the 50th anniversary Woodstock concert later this summer.
6:30 p.m. - Our first inductees of the night have ventured backstage. Def Leppard is in the house and greeted reporters by asking them what song they want us to perform this evening. (Denise votes for 'Photograph')
The guys, joined by presenter Brian May of Queen, tell us that they are soaking all of this in.
You can see their backstage press conference in the player below: