A Cleveland icon: Rock and Roll Hall of Fame turns 25
Explore the history of Cleveland's legendary attraction.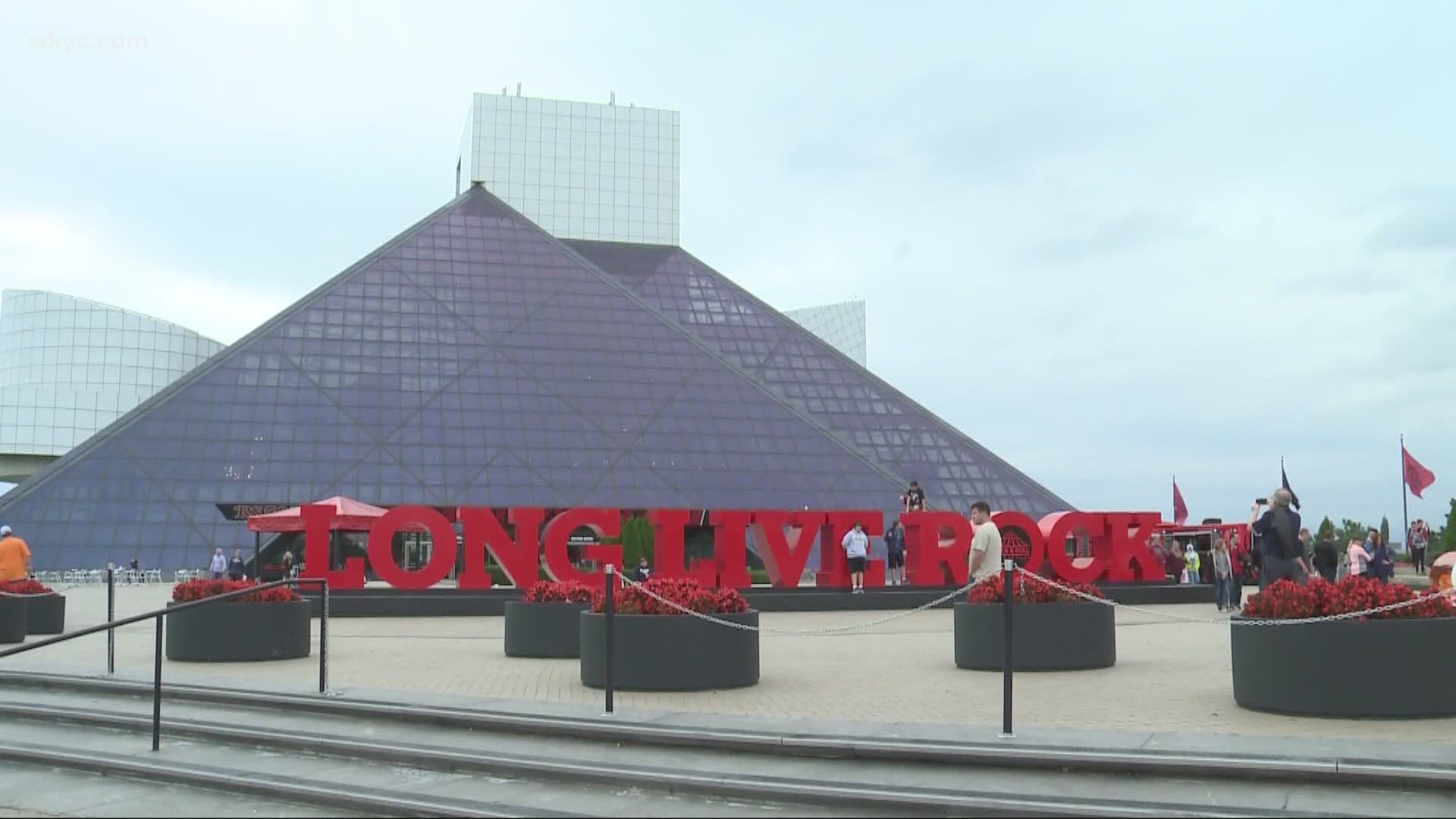 It's more than entertainment. It's bigger than a genre.
It isn't just music. Rock 'n' roll is a feeling, a movement and a staple right here in Cleveland.
This year, the Rock and Roll Hall of Fame celebrates its silver anniversary as the iconic Cleveland attraction turns 25 years old along the shores of Lake Erie. Since then, more than 13 million people from around the world have walked through its doors.
Find your favorite rock 'n' playlist, crank up the sound and take a tour with us through Rock Hall history.
Why Cleveland?
:
Rock Hall's roots
Sept. 1, 1995 marked the grand opening of the Rock and Roll Hall of Fame and Museum along E. 9th Street in Cleveland. It opened to the general public the following day. But landing its spot on Lake Erie wasn't an overnight event.
It started in 1983 with the birth of the Hall of Fame Foundation. The first induction ceremony came three years later in New York City. Both happened before the Rock Hall even had a place to call home.
With strong contenders throughout the U.S. campaigning for the Rock Hall to set its roots in their cities, Cleveland took the lead. When USA TODAY ran a poll asking its readers where the museum should be, Cleveland outdistanced its nearest competitor by more than 100,000 votes.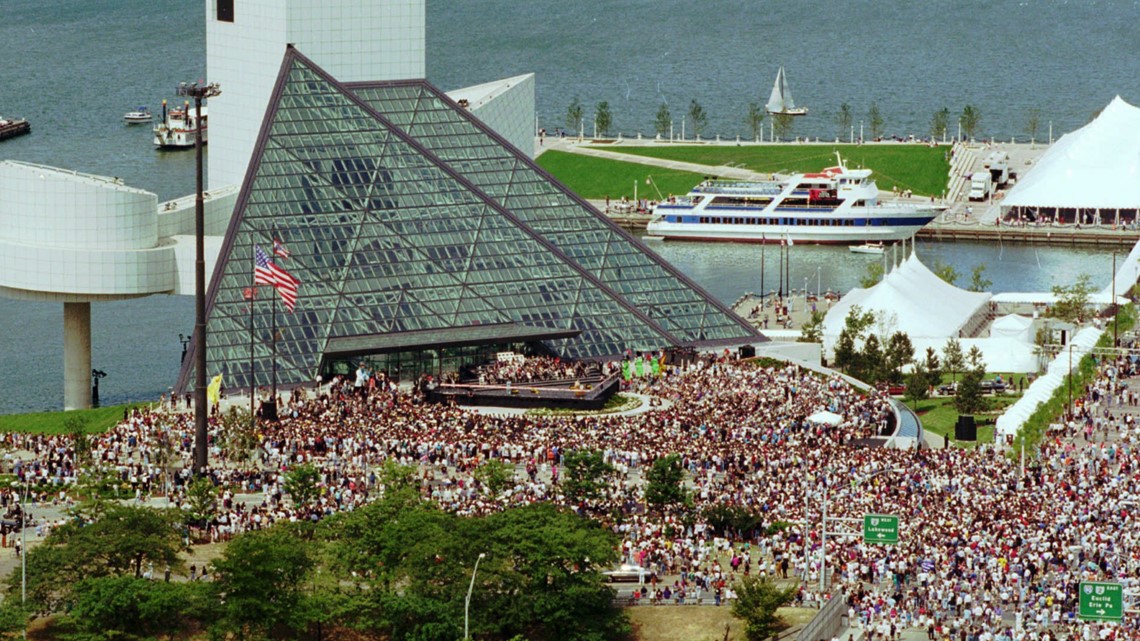 "A lot of cities wanted the Rock and Roll Hall of Fame, and many had a great claim to it," said Greg Harris, CEO of the Rock and Roll Hall of Fame. "Philly had Bandstand, Memphis had wonderful music and Sun Studios, Chicago had it, New Orleans was probably a very viable place. But Cleveland, Ohio, rallied. They raised public dollars, they raised private dollars, they had a wonderful connection to rock and roll history with Alan Freed, a great DJ in the area, and Bill Randle, another great DJ, and really the town embraced it. And together they wanted to have it here. They pitched it, (and) they were rewarded the rights to build it."
Todd Mesek, the former vice president of marketing and communications at the Rock Hall, said Cleveland has a history of breaking artists like Led Zeppelin, David Bowie and Bruce Springsteen.
"Robert Plant came through here and he said when Led Zeppelin did their first tour, their management told them, 'Forget about LA, and forget about New York. You make it in Cleveland, or you go home.' Cleveland has always had that in their DNA."
The final decision to bring the Rock Hall to Cleveland came in May 1986, but shovels didn't break ground until seven years later on June 7, 1993.
Architectural masterpiece
:
The design
Architect I.M. Pei designed its iconic pyramid structure with the goal of creating a lively atmosphere appropriate for the genre. Pei attended live shows by artists like U2, The Who and the Rolling Stones to experience and visualize the energy of rock 'n' roll.
The Rock Hall's structure is a composition of bold geometric forms and dynamic, cantilevered spaces that are anchored by a 162-foot tower. The tower supports a dual-triangular-shaped glass "tent" that extends (at its base) onto a 65,000 square-foot plaza, offering a dramatic main entry facade.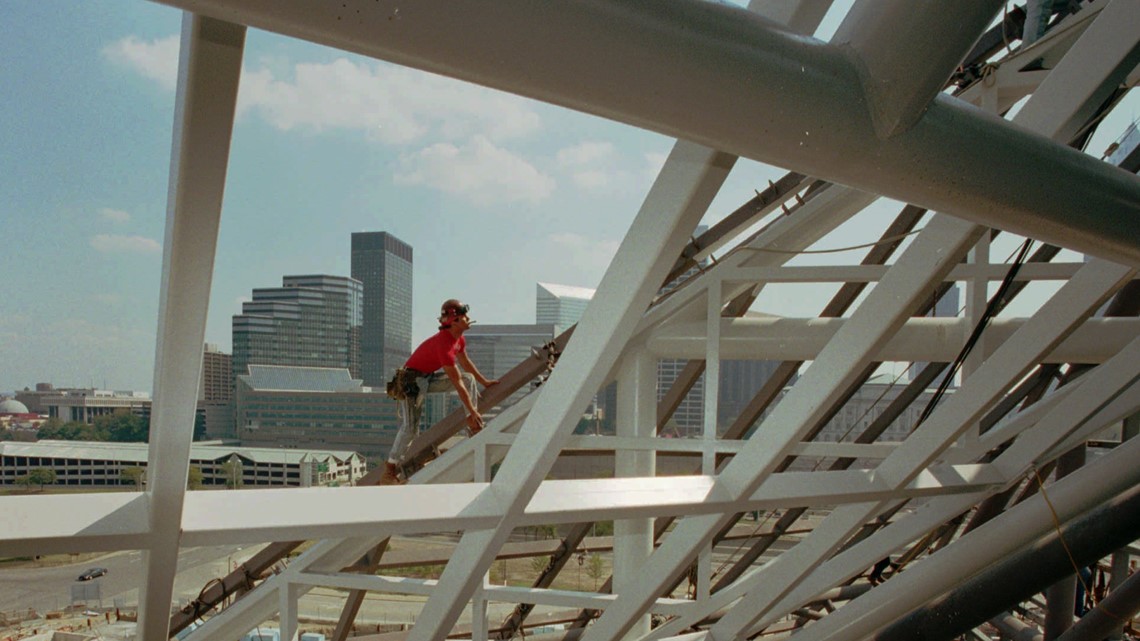 "From some angles, it looks like a turntable," Harris said back in 2015 for the Rock Hall's 20th anniversary. "From other angles, it looks like the neck of a guitar as you look up the guitar neck. So, either way, it captures an essence of rock and roll and the architect's desire to create a place that had power and momentum and energy."
Pei, who died in May 2019 at the age of 102, also designed the National Gallery of Art's East Building in Washington, D.C., the John F. Kennedy Library in Boston, the Museum of Modern Art in Athens and the expansion of the Louvre in Paris, among many other buildings worldwide.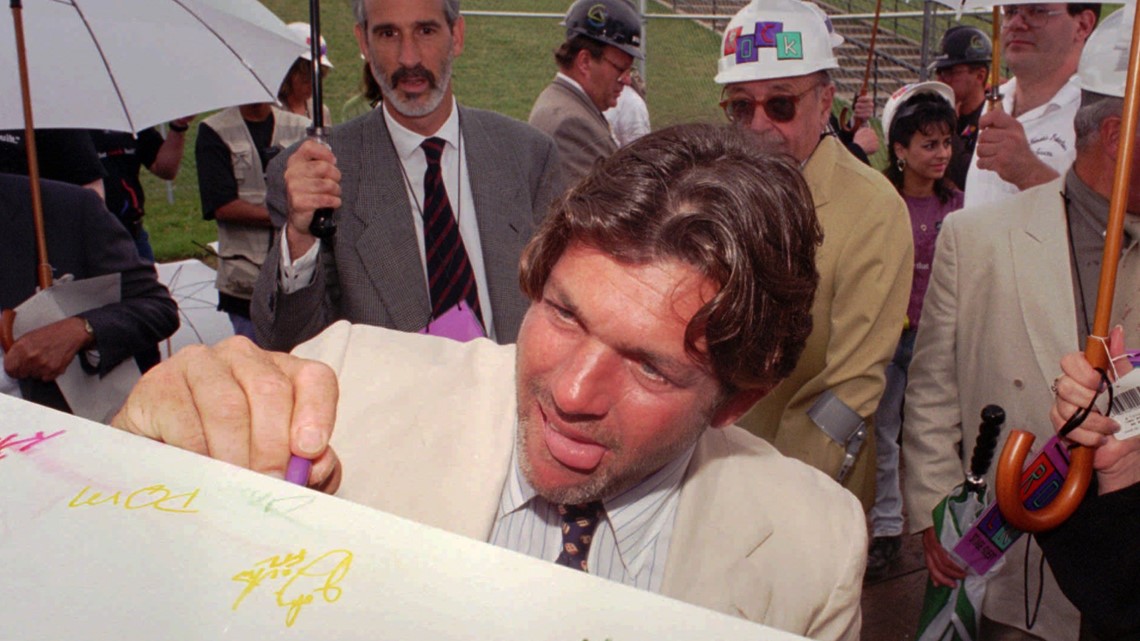 A public-private partnership funded the building. The state of Ohio, the city of Cleveland, Cuyahoga County, the Cleveland-Cuyahoga County Port Authority and Cleveland-area music industry corporations and foundations all stepped in to help. The land acquisition, construction, fees and equipment cost $92 million.
The building houses more than 55,000 square feet of exhibition space, administrative offices, the Museum Store, a café, a 180-seat indoor theater and a state-of-the-art radio studio where SiriusXM Satellite Radio and visiting radio stations from across the country conduct live broadcasts.
"What's fascinating is that everybody that walks through our front door has a favorite song," Harris continues. "They have a favorite moment, they have a period of time when rock and roll connected to them, and when they come through this door, they feel like they've come home."
Stepping into the archives
:
Rock Hall gold
"Some of the hidden gems include Jimi Hendrix's original written lyrics to 'Purple Haze.' These are lyrics he actually crumpled up, threw away and didn't use in the song we all know," says Andy Leach, Senior Director of Library & Archives when he gave 3News a private tour in 2015. "Someone actually rescued them from the trash and then, years later, sold them in an auction and we ended up with them."
From the first issue of "Rolling Stone" to rare magazines created by Bob Dylan fans, a walk through the archives is a music fan's paradise. One section is dedicated to box sets by famous artists, and you can listen to the music in the library while you work.
Musicians like George Clinton stop by for tours of the location just off I-77, and visitors from as far as Hong Kong have come to research at the archives.
"People in the business have given us really comprehensive collections that tell us stories that haven't been told before," Leach shares. "It allows researchers to come here and make connections that haven't been made, and tell new versions of stories that already exist."
Music legends
:
Inductions & artifacts
There have been 34 total induction ceremonies to date. The first was held in New York City back in Jan. 1986 when 16 -- like Elvis Presley, Buddy Holly and Ray Charles -- joined rock 'n' roll's hallowed halls. 2020 would have marked the 35th induction ceremony, but the traditional event was canceled due to the COVID-19 pandemic. Instead, HBO will air a special in honor of the new inductees, which includes Depeche Mode, The Doobie brothers, Whitney Houston, Nine Inch Nails, The Notorious B.I.G., T-Rex, Jon Landau and Irving Azoff. You can explore in-depth bios of each 2020 inductee HERE.
"We are always taking artifacts in and out," Mesek said back in 2015. "We have things that we take in and out of what we call 'the vault.' We rotate things around the museum, and we have things that sometimes go on tour or stay in storage."
Mesek says some of these items aren't just cool for rock fans, they're historically important, too.
"Yes, we are a music museum. But in a broader sense, we are a history museum telling that history through the lens of rock and roll. ... A lot of people believe that the guitar that John Lennon wrote 'Give Peace a Chance' on, that was a powerful song, but a year later, at the March on Washington, the thousands of people who have gathered there, who have asked for change in the world, have sang that. All of a sudden, a movement has an anthem. And then, that song and that guitar becomes something much bigger. It is no longer just a piece of wood. It is a sacred object."
Some of the most popular items in the Rock and Roll Hall of Fame are the costumes and artifacts from artists ranging from Michael Jackson to Beyoncé.
Walking through the halls, visitors can check out thousands of artifacts on each visit.
That's only a fraction of the items the museum keeps in the storage vault, with intentions of preserving fashion statements and prized possessions for the next 500 years.
"We protect Elton John's shoes like a Van Gogh painting," says Harris. "They're in our vaults, stored by our curators with all the love and care you would expect from these artifacts."
The curators rotate items in and out of the museum and archives, like one of the jackets from the cover of a Beatles album to one of Devo's iconic yellow jackets and red hats.
But the fashion doesn't stand alone. Information accompanies the displays to share tidbits about the significance of these items.
"We also want to make sure that the people who don't know that story, maybe if they are younger or they were not into that particular artist, they are told that story, they know why that is a sacred object," Mesek explains.
The induction process
:
Who's eligible?
To be eligible for induction, an artist must have released a record "at least 25 years prior to the year of induction and have demonstrated unquestionable music excellence."
But that's just the beginning of the criteria.
"We shall consider factors such as an artist's musical influence on other artists, length and depth of career and the body of work, innovation and superiority in style and technique, but musical excellence shall be the essential qualification of induction," the Rock Hall declares.
Induction falls within four categories: Performers, Early Influences, Award for Musical Excellence and Ahmet Ertegun Award (non-performer).
A nomination committee selects contenders for the Performers category. Then hundreds of artists, historians and members of the music business vote on them. Those with the highest number of votes get inducted.
The Rock Hall gave the public a chance to vote on inductees in an online poll starting in 2012.
Nominee ballots go to an international voting body of approximately 600 voters, including past inductees, musicians and industry experts. The performers who receive the highest number of votes by the voting deadline, and get more than 50 percent of the vote, are inducted. The Foundation generally inducts five to seven performers each year.
These are songwriters, producers, disc jockeys, record executives, journalists and other industry professionals who have had a major influence on the development of rock and roll. It used to be known as the Lifetime Achievement in the Non-Performer category.
This category includes artists whose music had an impact on the evolution of rock and roll and inspired rock's leading artists.
Award for Musical Excellence
This award honors musicians, songwriters and producers who have spent their life creating important and memorable music. Their originality, impact and influence have changed the course of music history. These artists have achieved the highest level of distinction that transcends time.
The name of each artist inducted is then etched in glowing glass, forever honored and immortalized inside the Rock and Roll Hall of Fame.
Snubs
:
Who's missing?
"Clearly, Dave Matthews Band fans came out and really supported the band," Mandy Smith, the Director of Education at the Rock Hall, said back in January. "That just shows you how the fan vote doesn't always match up with what the rest of the voters are doing."
Snubs like this have always been a hot topic among music fans.
"What it means to us is that we're relevant and people care," Harris says. "If people didn't have that passion, if people weren't firing e-mails to us, if they weren't sending us letters, if they didn't feel that, then it would mean that the honor didn't mean as much as it should."
Harris says induction is not determined by album sales or Billboard chart positions, but more about industry influence.
"It's relating to being impactful and influential. Did you take the art form and did you drive it in a new direction? Did you do something innovating and did you really bring it forward?"
But how does a group like the Beastie Boys or Run-D.M.C. -- neither resembling obvious rock 'n' roll -- land in the Hall of Fame while somebody like Pat Benatar is still out?
"If you start with the roots, it's blues, it's gospel, it's country, it's R&B. They form the core, which creates what we call rock 'n' roll. Well, rock 'n' roll was never just four skinny guys with long hair and guitars," Harris continues. "It was street corner harmony, it was rip-roaring rockabilly, it was Motown. That was all under the canon of rock 'n' roll. It includes heavy metal, it includes dance music, it includes straight-ahead guitar rock like everybody can connect with. But, in the end, it's about an attitude. It's about having some grit and some swagger, and pushing forward and always challenging the status quo. For us, that's more important than if it's guitars or saxophones or harmonicas or turntables."
Simply, rock 'n' roll is a genre of music, but if you ask any fan or musician, it's so much more than that.
It's a spirit, a feeling, a savior, a form of expression.
Rock 'n' roll takes on countless shapes and forms, and many are represented in the Rock and Roll Hall of Fame.
Through the years, artists have shared different expressions of rock 'n' roll, but how do they describe what they're creating?
We've compiled quotes from some rock and roll pioneers and legends with help from "Rock Facts: Rock and Roll Hall of Fame and Museum," and you can click through the photos below to read them.
Everyone has role models… even music legends.
From U2's Bono to Ray Charles to Elton John, some of the world's biggest stars grew up worshipping the records of rock and roll pioneers -- and even their own peers.
Not everyone has glowing things to say about their influences. Some musicians even jokingly admit to resenting others for setting the bar so high.
While some bands' influences seem obvious, others will surprise you.
Take a look at these candid thoughts on what made certain Rock and Roll Hall of Fame inductees so special, not only to fans, but to musicians as well.
What's next?
:
New expansion planned
What's ahead for the future of the Rock Hall? In April 2019, they announced plans for a $35 million expansion that would connect their building to the Great Lakes Science Center.
Aside from an indoor walkway between both museums, the 50,000 square foot expansion would also include more space for exhibits and classrooms. Work was scheduled to begin at the end of 2021 with completion by 2022.
3News confirmed these plans are still moving forward despite COVID-19.
Planning a visit?
:
Everything you need to know
Are you ready to step inside and experience the Rock Hall for yourself? Here are all the fast facts you need to know:
Location: 1100 Rock and Roll Boulevard in Cleveland
Tickets: Buy your tickets in advance HERE.
Contact: You can call 216-781-7625 or e-mail info@rockhall.org for more info.
Hours: See the schedule HERE.
NOTE: Many details for this story were compiled in 2015 when the Rock Hall celebrated its 20th anniversary.