For over 40 years, Sammy Hagar has been one of rock music's most energetic performers. He first broke onto the scene with the hard rock band Montrose before embarking on a multi-platinum solo career. Hagar would soon embark on a hugely successful stint as front man of Van Halen and more solo efforts with an amassed 25 Platinum albums and over 50 million albums sold worldwide to date.
He's set the tone for some of the greatest rock anthems ever written with songs like "I Can't Drive 55," "Right Now," and "Why Can't This Be Love" and earned the highest respect of the music industry with a Grammy Award and induction into the Rock and Roll Hall of Fame. The latest leg of his journey has Hagar on tour with "The Circle" a band featuring bassist and former Van Halen band mate Michael Anthony; Jason Bonham, the acclaimed drummer and son of Led Zeppelin's iconic drummer, John Bonham; and Vic Johnson, Hagar's longtime guitar virtuoso.
"There's Only One Way to Rock" - Sammy Hagar
"Why Can't This Be Love" - Van Halen
I caught up with Sammy shortly before his sold-out concert at the Hard Rock Rocksino. Over the course of our conversation, which you can watch below, among the many topics we covered were what being a Hall of Famer means to him, how he keeps going at 71, his Cleveland concert memories, making a difference in the communities he visits and what's next for the "Red Rocker."
Hagar recently celebrated his 71st birthday with a big party at his Cabo Wabo Cantina in Cabo San Lucas, Mexico. To see him in concert, with the energy he exudes you'd never guess he's entering the seventh decade of his life. When asked how he keeps performing at this stage of his life, Hagar says how could one not keep on rocking?
"What's not to love about this? There's an ugly side... being on the road. Sometimes the family's at home, the kids are in school. But it's really fun to play music and I think I owe it to my fans. I don't see how I could just stop. We have a party. I bring a lot of joy to those people and they give a lot of love back to me. So, I'm having a lot of fun doing this."
Speaking of fun, I asked Hagar if he had any particularly fond memories of past performances in Cleveland. The singer started laughing and responded with a sheepish grin.
"A lot of memories have been erased intentionally. You know, this used to be the hottest rock and roll town in America for Montrose. You'd go there and it was just a big hot town. The girls were there. The party was there. The old 'sex, drugs and rock and roll' thing. Plenty of that went on in this town and still does, I'm sure, but I don't participate in any of it except the rock and roll part."
It's those early years in Montrose that has become a passion project for Hagar as he wants his former band to join the hallowed ranks of Rock and Roll Hall of Fame inductees.
"Bad Motor Scooter" - Montrose
"I'm on a campaign now to get that band on the ballot somehow. Because without Montrose, there would be no Van Halen, there wouldn't have been Motley Crue, there wouldn't have been Def Leppard. Every band I meet, they're like 'The first Montrose record! The Montrose record!' I think we should be in the Hall of Fame."
Regarding his own induction, Hagar remembers the night fondly but wishes the rest of his Van Halen band mates had embraced the moment alongside him and bassist Michael Anthony.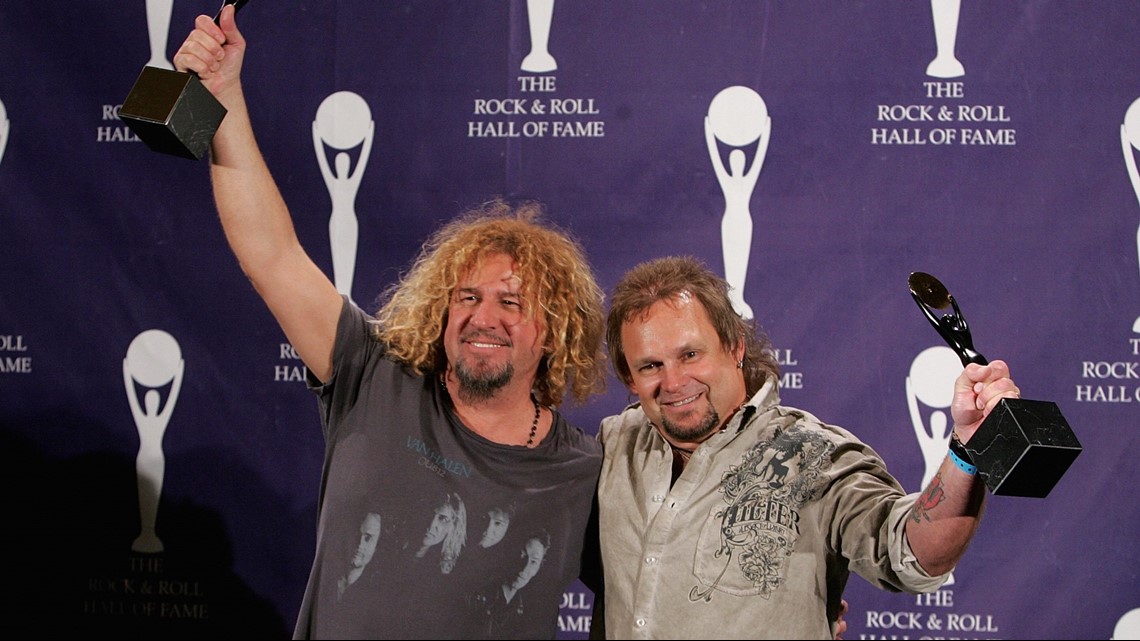 "It was cool. It just would have been great if the rest of the Van Halen gang had come. Dave and I would have both participated and done a song each and all that. But you know, those guys are hard to get along with. (laughing and looks at camera) I'm sorry folks. I think everybody is starting to realize it now."
Despite the disappointment of his former band mates not joining him and Michael Anthony at the ceremony, the meaning of being an Inductee is not lost on Hagar.
"It means everything. It's a validation that I haven't wasted this life and didn't make it. It's a validation. Yeah, 'You made it.' And you can show that to your grandkids. There's so many bands that get up for nomination year after year and don't get it. Everybody I know that isn't in the Rock and Roll Hall of Fame but should be, is bitter. So I'm not bitter."
Even if he wasn't in the Hall, it's hard to imagine Sammy Hagar as ever being a bitter person. With a still thriving music career plus a successful TV show and business ventures like his bar and various liquor brands, Hagar has a lot to be thankful for. It's not lost on him as to where that success come from. The fans. They are why he makes it a point to give back to every community on his tour. Prior to the Rocksino concert, he donated $2500 to the Akron Canton Regional Foodbank. It's a charitable act that Hagar has been making for a decade.
"I just feel bad going from town to town and just taking money. You go and you do the best show you can do, but to me, you feel like at some point, I want to give something back to that town. I've been playing Cleveland since 1972 and they've been good to me. And the fans have been good to me. And I just believe food banks are the best bang for the buck."
Now, about those driving habits of his that he turned into a hit song. After all these years, has Sammy Hagar finally learned how to drive 55?
"I Can't Drive 55" - Sammy Hagar
"Can I swear? Hell no! (laughs) Thank God they raised the speed limit. No, the kinds of cars I have, how can you not do that? I don't drive reckless. I've never had a reckless driving ticket. I've been stopped a lot of times. I get let off a lot because of that song. I like going on racetracks and not as much anymore. As I get older, I'm afraid to go 200 miles an hour. I've been 180 or somewhere around there. At that point you stop looking at the speedometer."
As for what's next Hagar has a new album with "The Circle" coming out next year and it's clear that he has high hopes for the upcoming release.
"I'm going to tour off it and I really want to promote it because I really want a successful record at this stage in my life. Guys like me don't have successful records any more. (Stares into camera) I want a successful record. Not for fame and fortune, but because it's that good. Well, let me put it this way. I hope it's as good as I think it is."
So do we all Sammy. So do we all.