Don't you... forget about me.
Ever since those lyrics rolled during the end credits of John Hughes' 1985 hit movie "The Breakfast Club," that Simple Minds song became identified as the anthem for the 80's brat pack and those who identified with struggles of the film's teen characters. It spent three weeks at the top of the U.S. rock charts and seemed poised to launch the band into the stratosphere.
While the Scottish rockers would eventually rack up six number one albums in the U.K. and go on to sell 70 million albums worldwide, they never quite took off in America like they did overseas. Their album Once Upon A Time, which came out right after "The Breakfast Club," yielded three top 40 hits - "Alive and Kicking," "All the Things She Said," and "Sanctify Yourself," but subsequent releases wouldn't garner quite as much traction with fans stateside.
Flash forward 30 plus years and we find Simple Minds in the midst of a massive worldwide tour supporting their latest album, Walk Between Worlds, with their most extensive booking of American venues in years. And for the first time in over 20 years, the band will be performing in Cleveland at the Hard Rock Rocksino at Northfield Park this Thursday at 7:30pm. I caught up with Simple Minds founding member and lead guitarist Charlie Burchill to talk about the current tour, how he and lead singer Jim Kerr have maintained a successful partnership for nearly half a century, why the band still records new music instead of living on past hits and his biggest regret to date.
Burchill founded Simple Minds with his childhood friend, vocalist Jim Kerr, in 1978. It's a lifelong partnership and one that endures because it's a case of opposites attract.
"We knew each other long before we had the band. We've known each other since we were about 7 years of age and we're very different. And I think that's what makes it interesting. Jim often says it's like a marriage except that I haven't taken his house away from him."
The latest offspring of that marriage is the album Walk Between Worlds. In a time where album sales have declined and touring is where most artists make their money, Burchill says studio time is key to the band's identity.
"We go into the studio and we spend huge amounts of money on records, even though records aren't selling so much. But the thing is, (without recording) we wouldn't know who we are. The record industry has changed. The music has changed but what we do has never changed. We write songs and we try and record them as good as we can, and then we go out on the road and play them for people."
Regarding Simple Minds' return to Cleveland for the first time in over 25 years, Burchill says the fans' patience will be well rewarded when they take the stage Thursday night.
"It's quite a long show. We play about two and a half hours and we cover everything that people want to hear. We got a great band. A great show with the lights. It'll be a great night."
A night that's not limited to a greatest hits package.
"We do 3 or 4 new songs. With our catalog, there's so much that we have to play. You have to cover so many periods. We still put the emphasis on being current and trying to create and not just some heritage band going around trying to peddle your old stuff."
Simple Minds' Charlie Burchill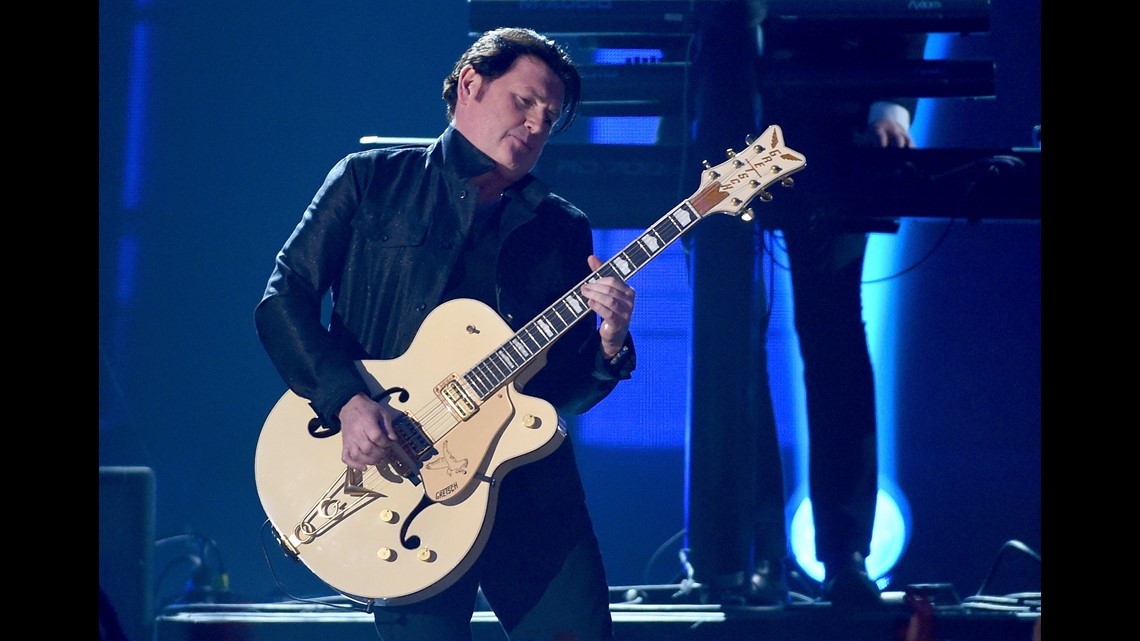 He also feels a kinship with Cleveland and the fans here, which is why he's looking forward to coming back.
"Cleveland's one of those places that has an amazing musical history. It's a dyed in the wool rock and roll place. It's kind of close to us in a way because we're from a very working class background which is usually the best places for the best audience."
Make no mistake, Burchill knows that many fans will be there to hear that one song that takes them back several decades and he's happy to oblige their wishes.
"It's great. The whole story with that is surreal. We resisted doing it for a few years. The record company kept hassling us saying it was going to be a part of a movie. Finally we decided, 'Okay, we'll do this.' And it was a great experience because we recorded it in about four hours. It's weird because it became this iconic song. The version we do live is very Simple Minds. It's just great to think that it's sort of a soundtrack to people's lives. And that's always a great thing."
As appreciative as he is of that song's success, Burchill says it is also part of one of his biggest regrets.
"We were so stubborn and stupid, that we didn't put it on our album at the time, Once Upon a Time, which was a big album in the States. It had three top 10 hits. And of course we didn't put 'Don't You' on it. We probably would have sold 5 times as many records had we done that."
While it may not have left its mark on Simple Minds' individual album sales, "Don't You (Forget about Me)" has definitely made an impact on pop culture which makes me wonder, how many people will be tempted to raise their fists in the air a la Judd Nelson as they leave the concert Thursday night?
If you have the urge to reenact that scene, tickets for the Thursday's show are still available and can be bought at the Rocksino box office, website or by phone at 1-800-745-3000.
For more on Simple Minds' tour and biography, check out the band's website.
To tide you over until the concert, enjoy this comprehensive greatest hits album Simple Minds released in 2013.