BEACHWOOD, Ohio — The Shining Star CLE signing competition is back in 2021 for its fifth year. The fun is taking place virtually again this year due to the ongoing Coronavirus pandemic.
The program provides scholarship money to high-school singers and benefits dementia and memory care programs at Menorah Park, a full-service senior healthcare provider with multiple independent and assisted living residences in Beachwood and The Weils of Menorah Park, a senior living campus in Chagrin Falls.
The vocal competition's finals will be live-streamed and open to the public on Sunday, August 29. For the fifth year in a row, the Finals Performances & Competition will be hosted by 3News' own Monica Robins.
Each of the top 10 finalists will receive the opportunity to be recorded in a professional studio for their finals performance where they'll compete for the $10,000 grand prize. In addition to the grand prize, the top four winners will be awarded college scholarships.
The virtual performances will be streamed live so that the public can watch and vote for their favorites out of the top four, selected by the celebrity judges.
The judges include, Jim Brickman, Rashad V. Chambers, Telly Leung, Trisha O'Brien, Gina Vernaci and Carl Topilow.
The top ten were selected from nearly 200 students grades 9-12 representing 73 high schools across seven counties. The students submitted online video auditions for the first round of competition and then competed via Zoom for the next two round of auditions with 25 students progressing to the semifinals. In mid-August, the Top Ten Finalists were chosen from the semifinals audition.
First place winner receives $10,000; second place winner receives $5,000; third place winner receives $2,500 and fourth place winner receives $1,000. Additionally, $2,500 will be awarded to the high school music department of the first place winner. The first place winner will also have an opportunity to perform with the Cleveland Pops Orchestra at Severance Hall.
Check out the list of Top Ten Finalists and the songs they will preform below:
Emelia Aceto - Highland High: "Defying Gravity"
Daniel Blum - Mayfield High: " Anthem"
Gabi Ilg- Medina High: " How to return home"
Kate Liang- Aurora High: " Black and Gold"
Olivia Belson - Chardon High: " In my Dreams"
Alexandra Newman- Western Reserve: " Astonishing"
Amir Smith - Cle School of the Arts: " Green the whole year round"
Kennedy " Pete" Smith - Andrews Osborne - "Don't worry 'bout a thing"
Leah Spacek - Brecksville Broadview : "Goodbye yellow brick road"
Calista Zajac - Magnificat High: " Being Alive"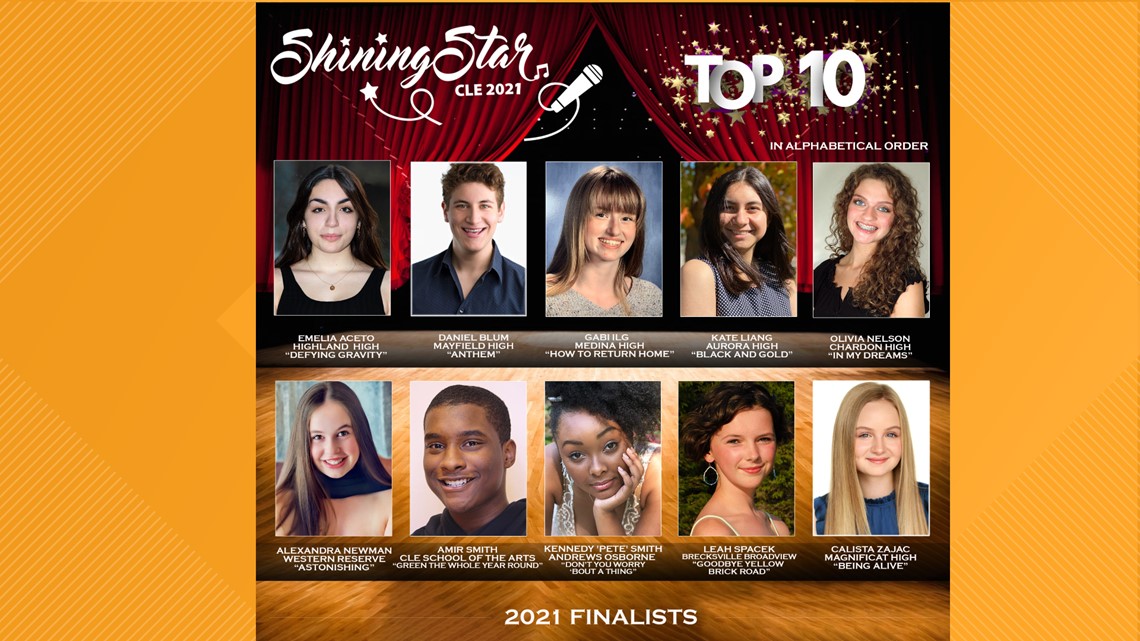 For more information on Shining Star CLE and the connection between music and memories, click here. You can stream Sunday's performances on YouTube or Facebook.
*Editor's Note: The video in the player above is from a previous report.