Cedar Point 2020: All the changes you need to know before visiting the park this summer
From new safety precautions to reduced hours, here's a guide of everything that will impact your next visit to Cedar Point amid the coronavirus pandemic.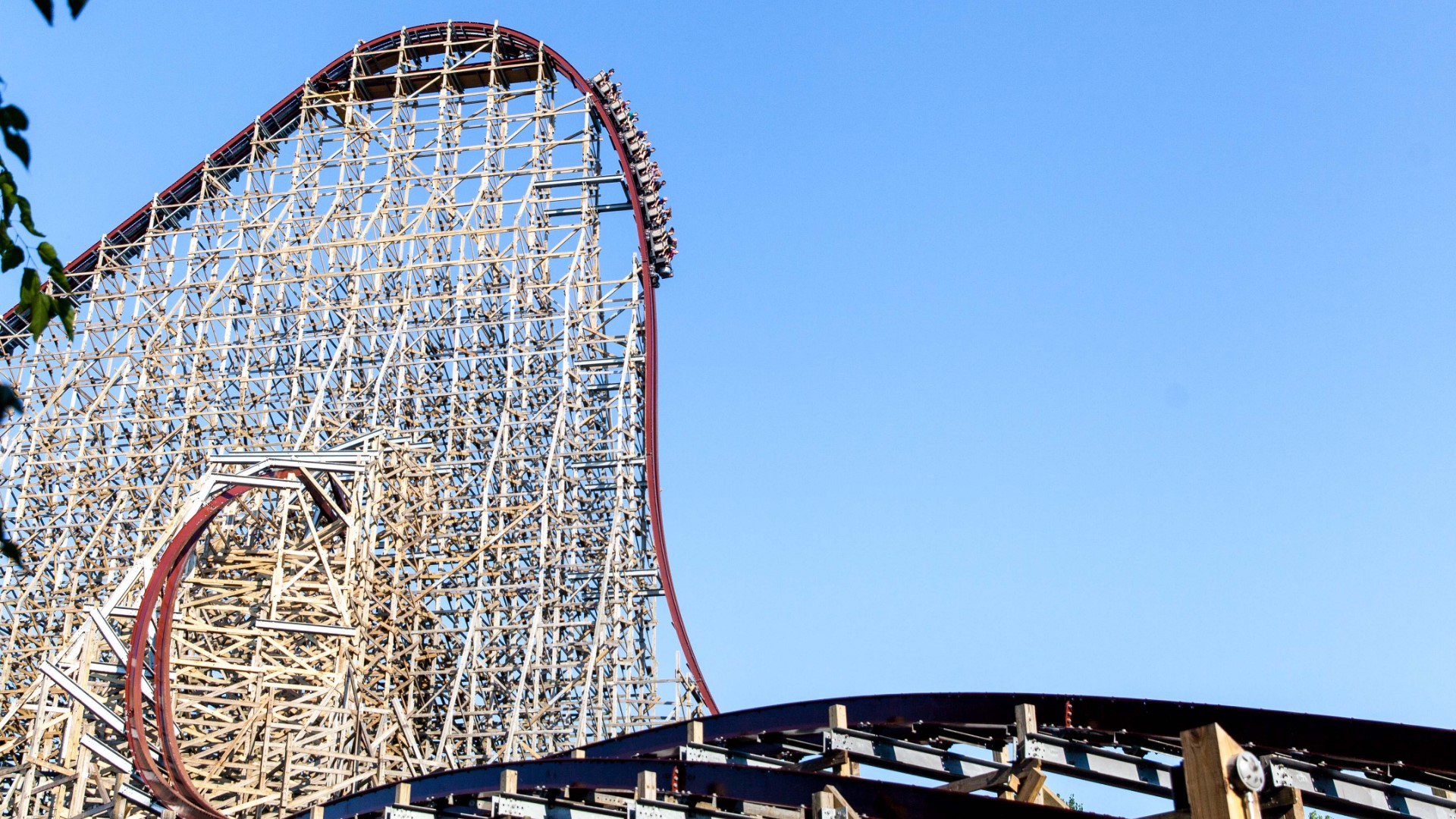 Are you ready to scream on Steel Vengeance or take the steep plunge down Millennium Force?
Cedar Point's gates are now open -- marking a two-month delay on the 2020 season because of the coronavirus pandemic. As guests return to the legendary amusement park throughout the months ahead, there are many new changes in effect that you need to know.
Explore the guide below before making your drive to Sandusky so you're fully prepared for your next visit to America's Roller Coast.
Reduced hours
:
See this season's schedule
The park will be operating with shorter hours all summer long.
Cedar Point's calendar shows the park will be open from 11 a.m. until 8 p.m. each day starting Thursday, July 9, through Monday, Sept. 7.
Cedar Point did not include any additional operating hours beyond that date.
All 2020 season passes and applicable add-ons have been extended through 2021, but early entry and bring-a-friend benefits will not be valid this year.
We were given a sneak peek inside the park Wednesday before it opens to the general public, which you can watch below:
Masks must be worn
:
The rules about face coverings
Don't forget to bring a face covering with you because all guests ages 2 and older are required to wear a mask during their visit -- even on rides.
"Face coverings may only be removed when experiencing water rides, while dining or when inside the RelaxZones, located throughout the park," according to Cedar Point's site. "In the RelaxZone, you may remove your face covering, provided social distancing of six feet is maintained between your party and other guests."
"Because our top priority is the health and safety of our guests and associates," park officials explain. "They're required everywhere, even on rides."
Employees will also be wearing masks throughout the park.
"If guests do not comply, and they do refuse to put it on, we will eventually ask them to leave," park spokesperson Tony Clark tells 3News. "We want to have fun. We want to stay open. We want to have a good time, but we need everybody to play along in order to maintain that safe environment that we already have."
Other safety protocols
:
What else the park is doing to combat coronavirus
Limited capacity, reservations and masks are just a few of the new safety measures in place at Cedar Point. Here are the other things park officials are doing to keep guests safe this summer as outlined on CedarPoint.com:
All guests will enter a thermal screening tent to check their temperatures. "If anyone in your party has a temperature of 100.4 degrees or higher, you will be directed to return home and reschedule your visit.
Bag and security policies remain in place.
There have also been some changes regarding the park's four entrances. The Valravn and Windseeker gates are both closed. The Magnum XL-200 gate is open for resort guests only. The main gate at the front of the park is where all other guests will enter.
Some areas, rides and attractions are not conducive for social distancing and are closed for now. Among the attractions that will remain closed this year include Snake River Falls, Forbidden Frontier and Snoopy Bounce.
Wait lines for open rides and attractions will be marked for social distancing.
Some seats and rows will be unavailable to accommodate social distancing.
Seats, restraints, headrests and armrests will be sanitized frequently.
Guests must obtain an access pass in order to ride Steel Vengeance, Millennium Force and Maverick. These time-stamped tickets are passed out for free at each ride entrance. Here's how it works.
Some tables have been removed for social distancing.
Distancing is marked on the floor for wait lines.
All disposable products in use, including pre-wrapped utensils.
Plastic barriers between guests and associates.
Contactless payments, including credit card, Apple Pay and Android Pay are encouraged.
Mobile ordering is available at select food locations in the park.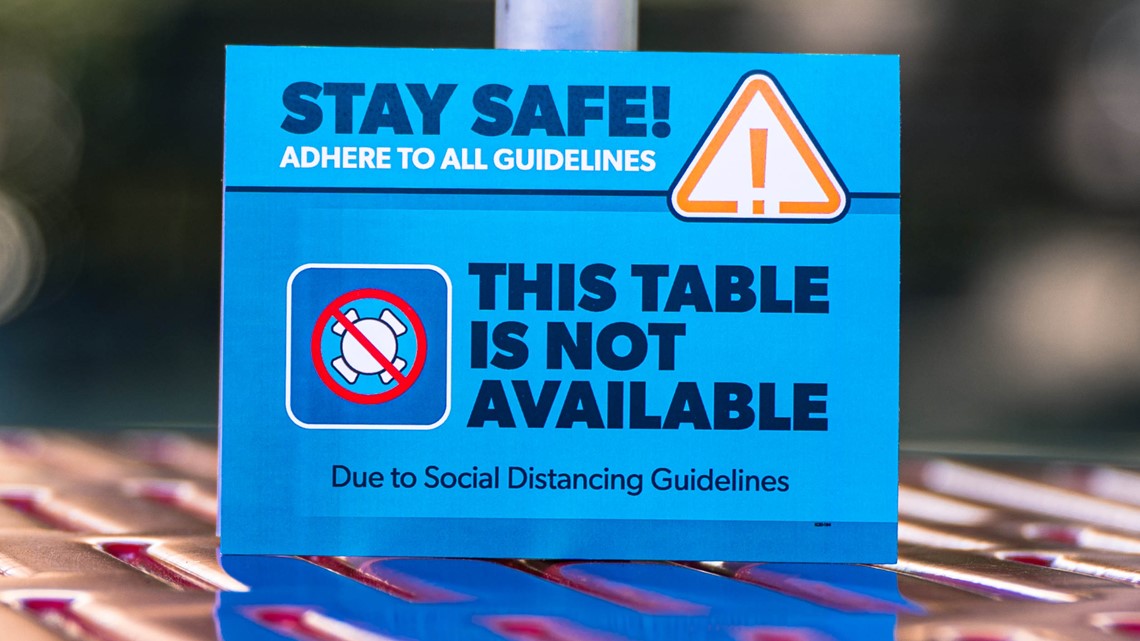 SHOPS, MERCHANDISE AND GAMES
Social distancing must be maintained at all retail and game locations (you need to wear a mask in those locations, too).
Contactless payment is encouraged where possible.
All indoor entertainment locations have been closed.
Sanitizing restrooms frequently throughout the day.
Deep cleaning restrooms at the end of each day.
Monitoring traffic within restrooms to allow for social distancing.
The beach is only available to Cedar Point resort guests or those with a reservation to visit the park.
Park issues coronavirus disclaimer
:
COVID-19 warning
Cedar Point posted the following coronavirus-related disclaimer for guests visiting the park:
BY VISITING THE PARK, YOU VOLUNTARILY ASSUME ALL RISKS RELATED TO EXPOSURE TO COVID-19
We have taken enhanced health and safety measures - for you, our other guests, and our associates. You must follow all posted instructions while visiting the park. An inherent risk of exposure to COVID-19 exists in any public place where people are present. COVID-19 is an extremely contagious disease that can lead to severe illness and death. According to the CDC, senior citizens and guests with underlying medical conditions are especially vulnerable.
If you are exhibiting any COVID-19-related symptoms, you should not enter or remain in the park.
Help keep each other healthy.
The park expanded this disclaimer in their "Welcoming You Back" guide with the following warning:
Upon arrival, your temperature will be taken. Anyone with a temperature higher than 100.4 degrees will not be permitted into the park. Temperature screening does not prevent the spread of COVID-19. Current medical information suggests that individuals without any symptoms (i.e., asymptomatic) may nevertheless be infected with COVID-19 and still transmit the virus to others. For this reason, taking temperatures does not eliminate the need to practice other steps to avoid the spread of the virus such as maintaining social distancing best practices, wearing a face covering, frequent hand washing and disinfecting, following all posted instructions while visiting the park and performing a self-assessment for the presence of COVID-19-related symptoms.
If you are exhibiting any COVID-19-related symptoms, you should not enter or remain in the park.
You can explore the park's full "Welcoming You Back" guide below:
Cedar Point Shores to remain closed
:
Water park expected to reopen in 2021
"Due to the reduced summer season, Cedar Point Shores will not open this year," according to a blog post from Clark. "We anticipate it will be back and better than ever in 2021."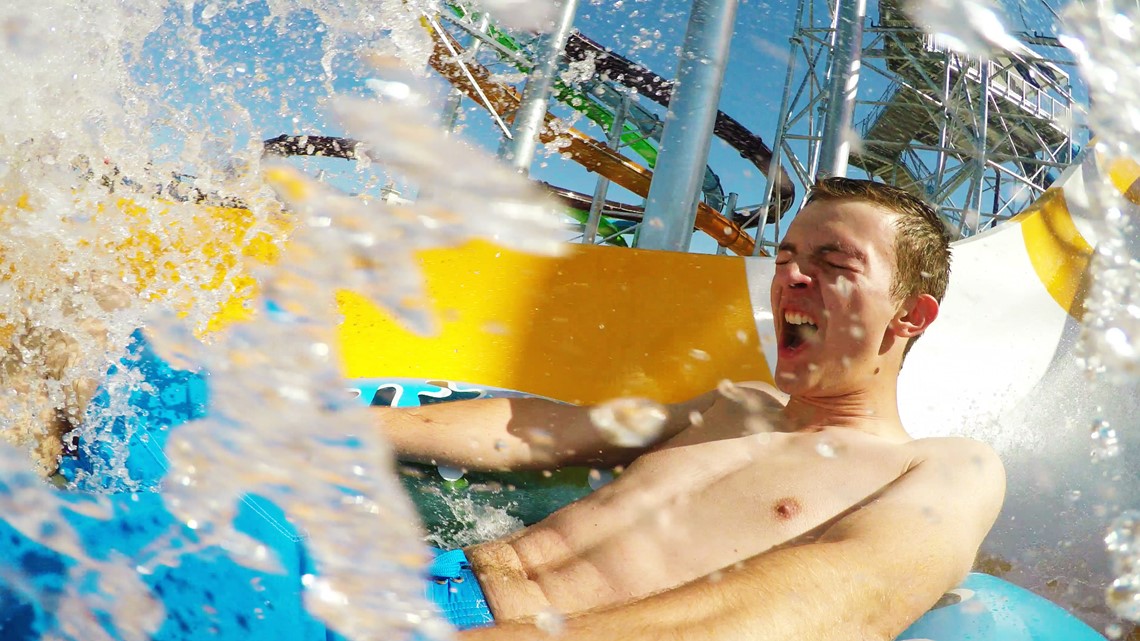 Until then... You can "cool off" by exploring this quick tour of the water park:
Smoking ban takes effect
:
No more smoking inside the park
Smoking will no longer be permitted anywhere inside Cedar Point. The new ban takes effect for the 2020 season as the park becomes a "smoke-free environment."
"Smoking will only be permitted in the designated smoking area outside the main gate," Clark said in a blog post.
This ban prohibits smoking of any kind within the park, including vapor and e-cigarettes, Cedar Point officials note. Cedar Point had previously offered designated in-park smoking areas.
Kings Island, their sister park near Cincinnati, also recently announced a smoking ban.
New eats
:
Updated food options and restaurants
You can expect multiple new food locations throughout Cedar Point this summer.
Corral: This updated food location is the place to grab cheese-on-a-stick, hand-breaded chicken tenders and pizza. You'll find it nestled in the shadows of the Raptor roller coaster along the main Midway.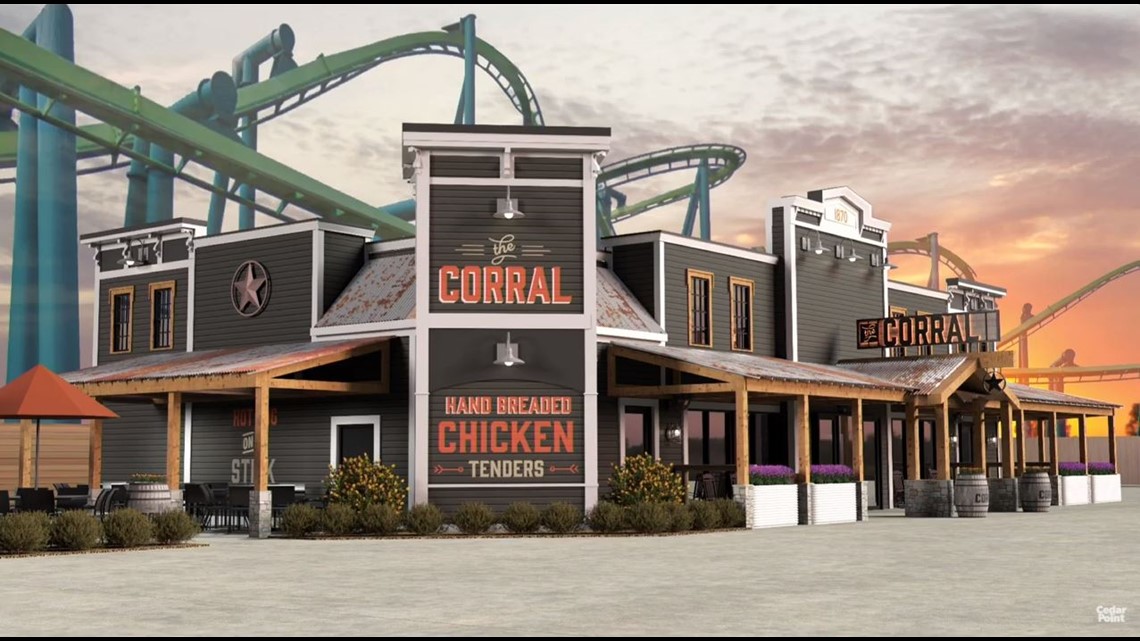 French Quarter Confections: Looking to satisfy your sweet tooth? This is the place to grab funnel cakes, waffles on a stick, cotton candy and fresh-made fudge. This spot, which was previously a walk-up location known as Bayou Refreshments, now offers indoor waiting and service. You'll find French Quarter Confections near the park's main entrance.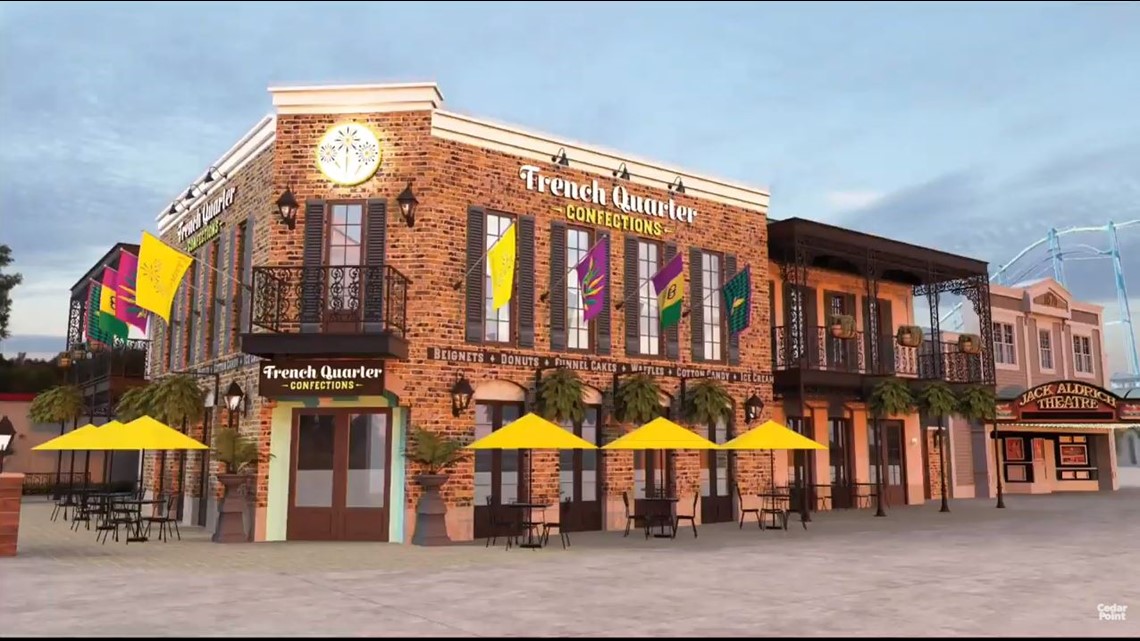 Other previously announced locations include:
The C.P. Juice Co.: Serving vintage fruit-shaped juice containers.
Mac Shack: A new restaurant with a variety of macaroni and cheese. This will be located near Toft's Ice Cream Parlor in the location formerly held by Pink's hot dogs.
The Roost: A new fried chicken restaurant that also serves tater tots and slaw. This will be located where Mr. Potato used to be near Wicked Twister.
Wild Turip: Vegan food options are on the menu at this location at the end of the Frontier Trail near Thunder Canyon. The menu includes a power salad bowl with broccoli, kohlrabi, Brussels sprouts and kale with a blood orange shallot vinaigrette. You can also feast on a plant-based bratwurst with sauerkraut and gluten-free personal pan cheese pizzas made with a cauliflower crust.
Fast Lane changes
:
Skip-the-line option updates
Hoping to skip the line this summer with Fast Lane? You may be out of luck.
"New Fast Lane wristbands will not be sold this season," Clark said. "However, if you've already purchased in advance, or have one as part of a ticket package, you will be able to use them this year."
Fast Lane is the premium ticket option that allows guests to pay for access to shorter wait times on multiple Cedar Point rides.
New entry toll plaza
:
A fresh look
When you first arrive at Cedar Point you will notice a big change right away.
"As guests drive over the Cedar Point Causeway, they'll stop at an all-new vehicle toll plaza," park officials announced earlier this year. "Designed to better streamline traffic flow in and out of the park, the plaza will include new booths, digital directional signage, additional vehicle lanes and improved traffic patterns."
Check out a sneak peek at the redesigned vehicle entrance below...
Will there be a HalloWeekends?
:
Schedule beyond Labor Day unknown
The 2020 calendar for Cedar Point does not include any information beyond Labor Day (Sept. 7). Does that mean the park will not be open for HalloWeekends this year?
But hopes of a season beyond Labor Day aren't totally lost.
Whether or not that includes HalloWeekends attractions is yet to be seen.
Other amusement parks across the country -- like Kennywood and Walt Disney World -- have already canceled their Halloween events for this fall, but plan to remain open during those times.
Until we learn Cedar Point's plan for the Halloween season, get your fall fix by watching the park's 2019 parade and Boneyard Battleground live show in the players below...
Looking ahead to 2021
:
New ride & more coming next year
This was the big year Cedar Point fans had been waiting for as the park was planning to celebrate its 150th anniversary season this summer. That celebration, however, will have to wait.
All of Cedar Point's planned 150th season attractions and festivities have been postponed until next year -- including the new Snake River Expedition boat ride.
Also postponed until 2021:
Town Hall Museum renovations
Celebrate 150 Spectacular immersive nighttime parade and show
Performances in the Park
Spring Youth & Education Programs
CoasterMania!
Frontier Festival
Coaster Campout
Run & Ride
Season Passholder Appreciation Weekend
Tours: VIP, sunrise, Segway and boardwalk cruiser
Not ready to visit?
:
Take these virtual rides
If you're not able to visit this year, we've got you covered. Take a live view inside the park HERE, or scroll down to climb aboard virtual rides on every Cedar Point roller coaster (and a few bonus attractions) from the comfort of your own home... Enjoy the ride!
Point Plummet drop slide:
Portside Plunge raft slide:
Cedar Point & Lake Erie Railroad (skip ahead to the 7:45 point for a journey through Boneville):
Forbidden Frontier in-depth tour:
Fearground Freakshow at HalloWeekends: