CLEVELAND — In honor of Playhouse Square's 100th anniversary, two Northeast Ohio artists have created a mural that spans 106 feet in the KeyBank Concourse/
Alicia and Nathalie started work on the mural on October 17, bringing their talents together for the first time.
"Both artists have created other public art around Northeast Ohio, but the mural at Playhouse Square marks their first time collaborating on a project," Playhouse Square Communications manager Kristen Jantonio told 3News, who further explained the selection process for their design.
"The organization received a dozen applications [in July], and Nathalie Bermudez's and Alicia Vasquez's design was chosen by Playhouse Square staff members and its executive leadership team."
Now that the work is complete, Playhouse Square hopes the mural "will welcome and inspire visitors, as well as commemorate the celebrated history and bright future of the not-for-profit performing arts center."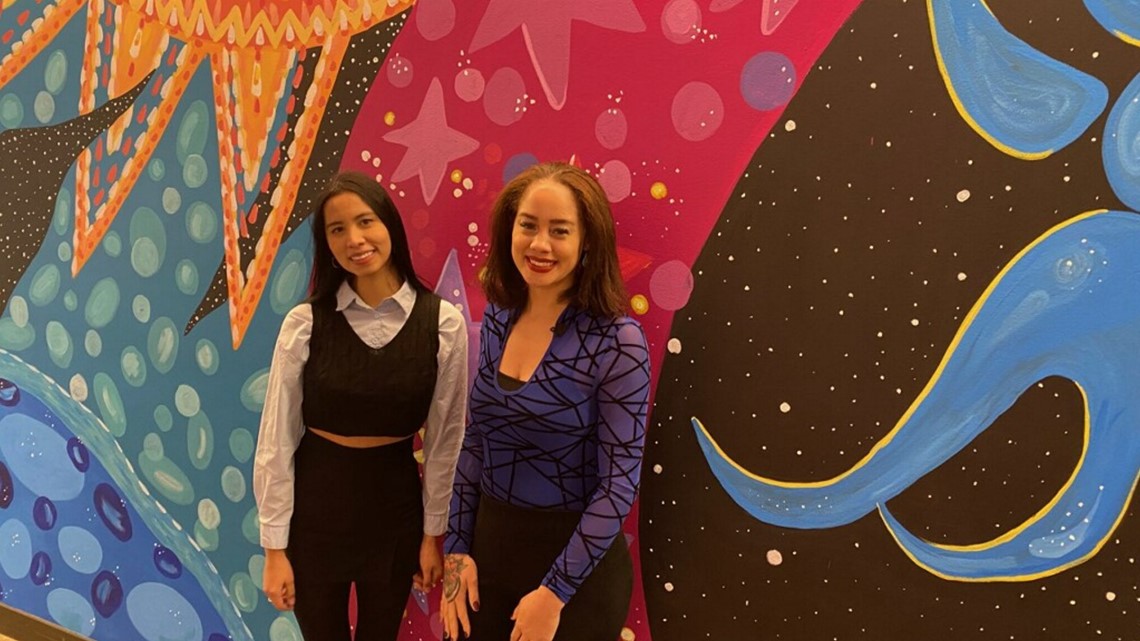 Playhouse Square President and CEO Gina Vernaci said the mural adds an opportunity for audience members "to immerse themselves in the arts from the moment they enter Playhouse Square."
"The joyful illustrations in this painting give us the opportunity to create a welcoming atmosphere for our guests, shine a light on the incredible talent we have here in Northeast Ohio and celebrate Playhouse Square's centennial anniversary," Vernaci said.
Alicia and Nathalie were inspired by the diverse community in Cleveland and the power of storytelling for this project, centering their concept on unity to reflect the "Together We Shine" theme.
"As visitors walk through the KeyBank Concourse, they will see a collage of scenes where both artists were able to join their artistic styles and imaginations," a representative from Playhouse Square told 3News.
"Guests will notice one scene of people dancing around a fire, which came from the idea of how storytelling began and how it has changed over time. It also represents the joyful dance and music performances seen at Playhouse Square.
"The larger-than-life, patterned blue and purple faces represent elements from the Earth working together, while the stars they hold – and are seen throughout the mural -- tie together the piece's overall theme. The stars also signify the light that each person has and the importance of sharing it with the community."
Theatre fans can find the mural in the KeyBank Concourse leading from the Playhouse Square parking garage to the theaters.