LYNDHURST, Ohio — Diane Friedman turned 100 earlier this month, but not much can slow her down.
The Lyndhurst resident is a bona-fide track star, who currently holds multiple world and U.S. running records. She's also pretty good at throwing the javelin.
For as active as she is on the track, she's even quicker in conversation, as I soon learned during our recent encounter at Beachwood High School. Diane had a comeback for almost everything I threw her way, but she was nothing but encouraging about my amateur attempts at throwing a javelin.
When I joked to her that my parents weren't so encouraging when I was a kid, Diane revealed that she, too, didn't get much support from her own parents when she displayed early talents in athletics.
"My parents didn't want me to do that," she recalled, "bcause it's not nice when you're a girl."
Remarkably, it wasn't until she was in her 70s that Diane started running competitively, and not until her 90s that she began breaking multiple world records in track and field. Bruce Sherman, an exercise physiologist and assistant coach at Beachwood, has been training Diane for the past five years.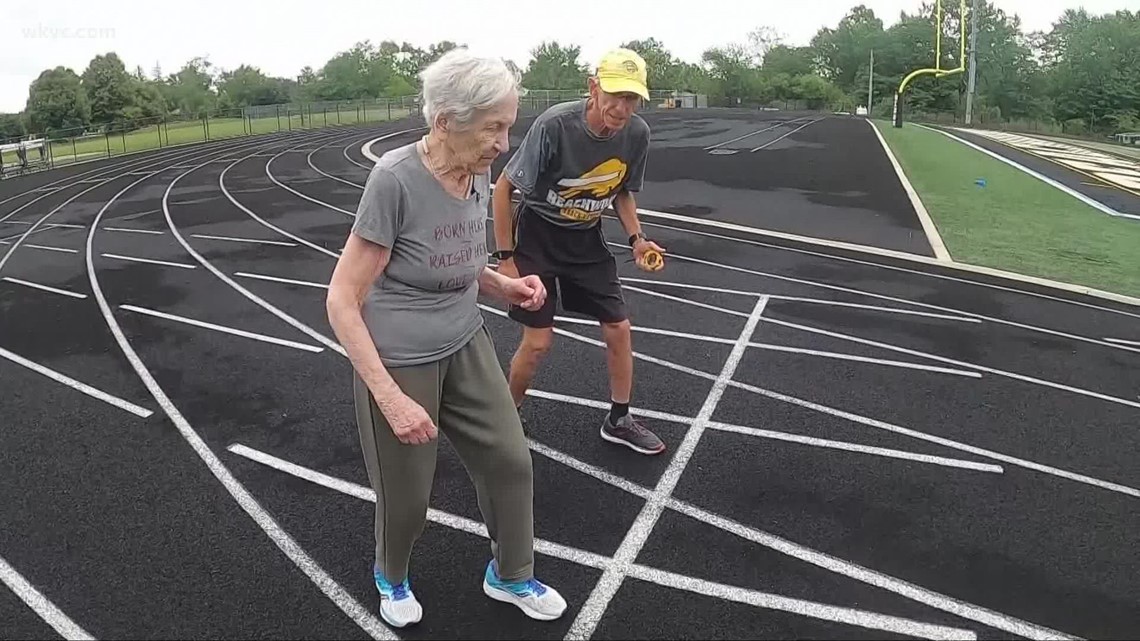 "She currently holds three world sprinting records at the 100m, 200m and 400m in outdoor track and indoor track," he explained. "She holds the United States records in the 60m dash and the 200m dash, and these records are in the 95-99-year-old women's age group."
During the time they've been successfully training together, Bruce and Diane have become great friends.
"Absolutely I would not be here without him," Diane told me. "[He's a] great guy."
He's also a dedicated coach. In fact, Bruce and Diane maintained their training routine despite the many challenges of COVID. Bruce says Diane was able to avoid some of the isolation and loneliness that many elderly folks experienced over the last year by keeping up with her training.
"We really didn't miss a step because we were able to adapt our workouts," he remarked.
Bruce credits good genes and a good attitude for Diane's remarkable feats at her age. She certainly gave me a run for my money on the track, schooling me in proper form and technique.
And of course, we couldn't pass up the chance to see if she had it in her to break yet another record - for the 100m dash in the women's 100+ age group.
Sure enough, she (unofficially) broke that one, too. It was a good practice run for the upcoming Michigan Senior Olympics meet next month, where Bruce hopes she will officially claim that record.
So next time you're feeling uninspired and you're thinking about skipping the gym that day, remember there's a champion in our own backyard who's still breaking new records, a champion who was born when President Warren G. Harding was in office. If that doesn't get you off the couch, perhaps nothing will.