CLEVELAND — With fitness studios and gyms closed right now, instructors have been offering at home classes for free, streamed online through various platforms.
ISSA certified personal trainer Sara Davis, who just so happens to train our 3News special correspondent Emily Mayfield, is leading the charge, with many workout routines available on her Instagram page.
"Right now I think it's important to get everyone moving," Sara told 3News digital anchor Stephanie Haney over video chat.
"It's important for our mental health and our physical health to keep us all in a community, which workouts help provide, and right now I think whatever all of us can do to give back is the best option."
With that in mind, Sara, who exclusively coaches women, showed Stephanie how to do three simple moves, without equipment, and ways to adjust the techniques to meet your personal fitness needs.
"Equipment can be a big hurdle for people so today we're going to show three body weight movements," Sara said. "You need nothing except for something to elevate you're foot on (like a couch) and a good pair of socks."
Watch the training session here, and read below for a breakdown of each move and how to connect with Sara:
#1: Bulgarian Split Squat (10-15 reps on each side)
The Bulgarian split squat is the perfect move to activate your quads, hamstrings and glutes.
Stand in front of something you can use to elevate your foot, and rest the top of your shin on that surface, parallel to the floor, with the front of your body facing away from the piece of furniture.
Position your other foot forward, far enough away from your body so that when you dip your torso your knee stays over top of your foot.
Place your hands on your hips, keep your core tight, and be sure to squeeze and engage your glutes (the muscles in your booty), as you compete one set of 10-15 reps per side.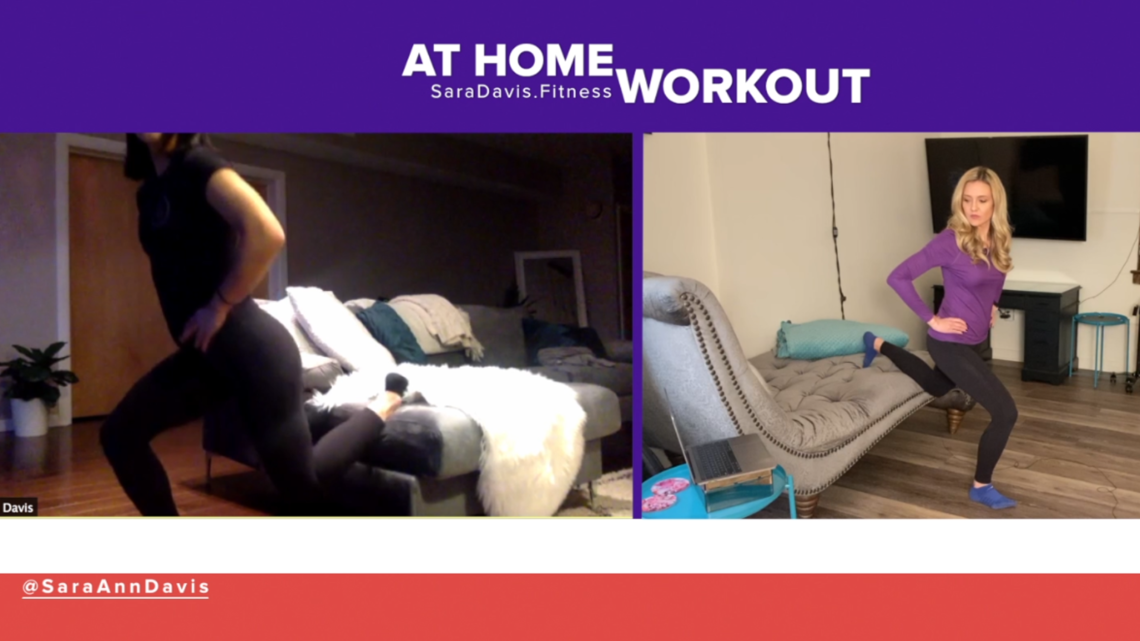 More difficult: Bulgarian Split Squat with a Jump (10-15 reps on each side)
For more advanced people, you can throw in a little jump as you return to your starting position. Bring your hands together in front of you as you dip, and as you come back up with the jump, throw your arms down at your sides.
"It's just gonna be a small jump," Sara said. "You don't need a lot and it doesn't have to be super high. Just enough to get that little quad burn."
For this version, you can do 10 reps on each side per set.

#2: Plank Tucks (10-15 reps)
Next we're going to move on to our abs, which everybody loves to workout. This is where your socks come in to play, and it's something that you can do every day, Sara said.
Move to the floor, into a plank position, either supported by your hands or resting on your forearms, with your shoulders stacked over your wrists.
While keeping your core tight and your body level, slide your feet forward so your toes align with your belly button and then slide them back out to your starting position. Do this 10-15 times, with the motion to and from the starting position counting as 1 rep.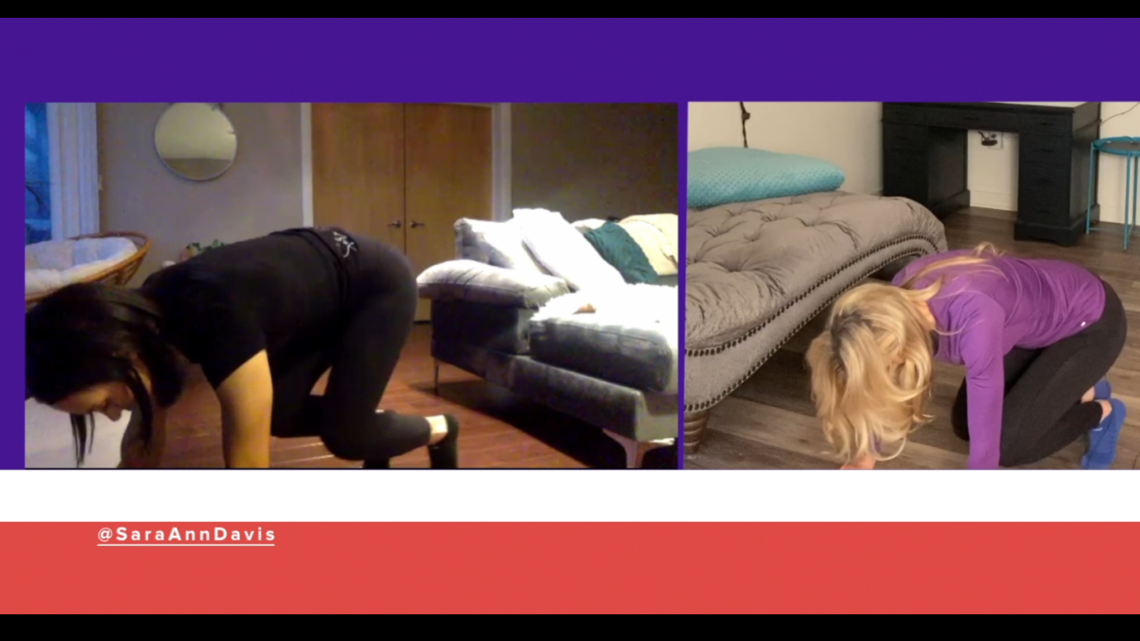 Less difficult: Alternate feet (20-30 reps with each foot)
For those who would prefer a more intermediate version, you can adjust this move to something more like what's called a "mountain climber."
Rather than tucking in both feet at the same time, you can alternate feet, at your own pace.
You may choose to move more slowly, with one foot tucking in and returning to its starting position before you go through the same motion with your other foot, or you can choose to pick up the pace, and slide one foot back into the start position as you are already moving the other foot into the tuck position.
When you pick up the pace, make sure to watch those hips. You don't want a lot of movement in the hips because that takes away from the focus on keeping your core right.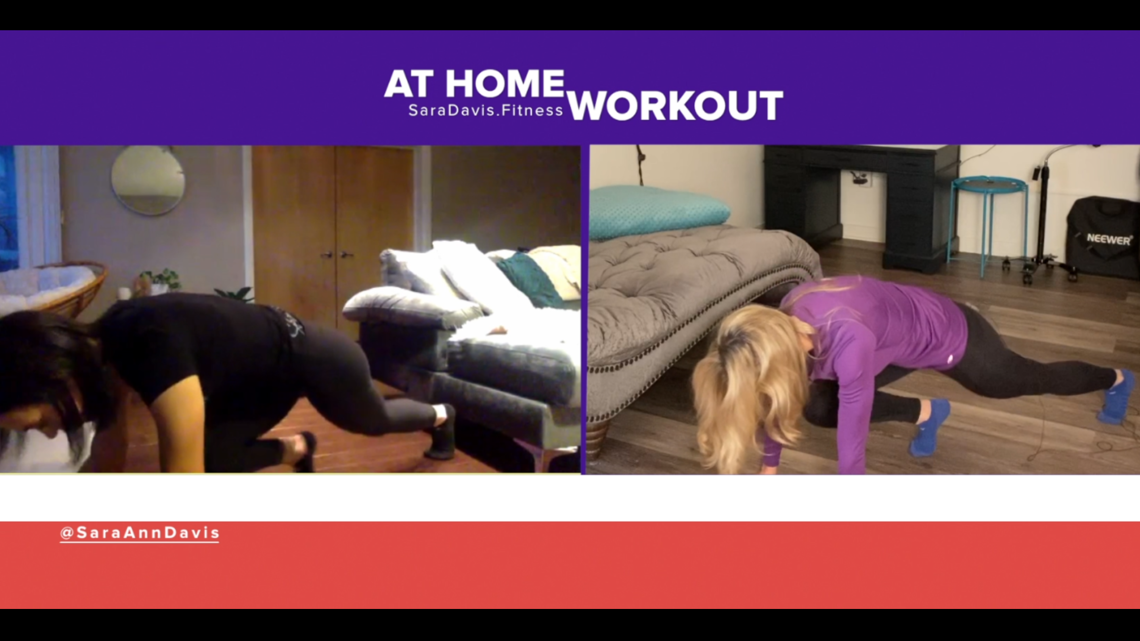 #3: 2 Sumo Jump Squats to 2 Jumping Jacks (10 reps)
Last but not least, there is the Sumo jump squat combined with jumping jacks.
From a standing position, place your feet shoulder-width apart or slightly wider, and keeping your torso straight, sit back and down like you're sitting into an imaginary chair. Keep your head facing forward as your upper body bends forward a bit. Try to get your thighs as close to parallel to the floor as possible, with your knees over your ankles, and press your weight back into your heels, as you bring yourself back to the starting position, and explode off of your heals at the end into a little jump.
Like before with the Bulgarian split squat with a jump, bring your hands together in front of you as you squat, and as you come back up with the jump, throw your arms down at your sides.
Do that twice, before going directly into two jumping jacks.
All together, those four moves count as one rep, so do that a total of 10 times per set.
Less difficult: 2 Sumo Squats to 2 Jumping Jacks (10 reps)
If you have knee problems, a squat without the jump is perfectly fine, Sara said.
Combination: Complete all three exercises for a full body circuit (3-5 sets)
Sara recommended doing one set of each of those three moves in a row, and doing that a total of 3-5 times for a full body workout.
"Do that and you've got yourself an awesome sweat for the day," she said.
Under normal circumstances, you can usually find Sara training small groups of only women at Old School Iron Gym at the Academy Athletics facility in Brook Park.
Because she works in a small group setting, her training sessions are typically $25 per person, per house.
Sara also regularly teaches at least one larger boot camp class per week, that incorporates cardio and light weight training.
For now, you can follow her on Instagram for daily workout posts, including multiple at-home routines.
For her digital HIIT (high intensity interval training) Challenge guide or her 4-week dumbbell workout guide, designed specifically for those of us who are self-isolating to help stop the spread of the COVID-19 coronavirus, visit her website: SaraDavis.Fitness.