SANDUSKY, Ohio -- It's alive!
Steel Vengeance has welcomed its first riders at Cedar Point -- and video of the entire roller coaster experience has finally been unleashed!
In the new footage, Cedar Point's Vice President / General Manager, Jason McClure, climbs aboard Steel Vengeance with park spokesperson Tony Clark.
Although the roller coaster flips riders upside down four times, there are no over-the-shoulder restraints.
"The lap bar also has a shin pad that holds you in place along with the larger lap bar with pad," Clark explains on Cedar Point's blog. "This restraint system means that a traditional over-the-shoulder harness doesn't need to be used."
Clark says the coaster offers a much different thrill than anything else at the park.
"The 27.2 seconds of airtime is no joke, and it continues right off the lift. All the way down the first drop and into the speed hill. The first massive hill is pure ejector all the way over the top and it continues into the outer-banked airtime hill, which, I can't really put into words. It's the weirdest feeling being sent to the side, but also getting airtime. Again, the whole coaster is just nuts."
Steel Vengeance opens to the general public as the 2018 season kicks off on Saturday, May 5.
"I will go out on a limb and say that Steel Vengeance is the best roller coaster in the world," Clark continues. "Yes. I said it."
The ride first began testing in March, and WKYC's team will get their first experience on Steel Vengeance throughout the morning show on Wednesday, April 25 from 4-7 a.m. Be sure to tune in!
With the addition of Steel Vengeance, Cedar Point has the most roller coaster track in the world with 11.4 total miles. It's also the only amusement park with six roller coasters taller than 200 feet.
PHOTOS | Steel Vengeance construction tour at Cedar Point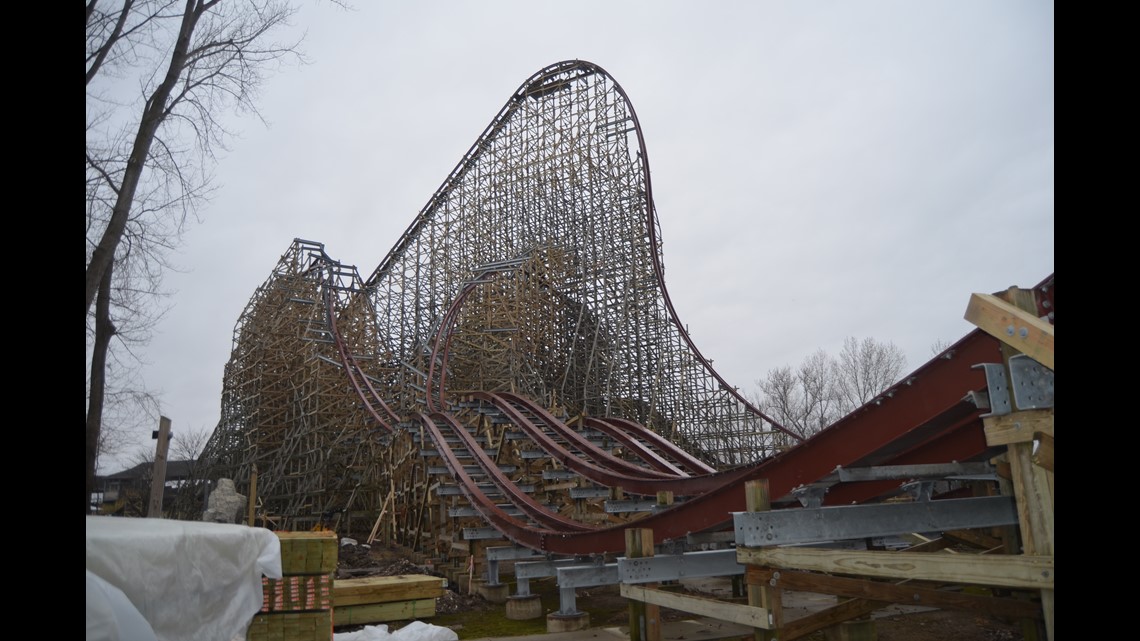 ►TIMELINE | From Mean Streak to Steel Vengeance
►LIST | Cedar Point unveils more 2018 secrets: Chick-fil-A returns
►MORE | Cedar Point making changes to Maverick roller coaster
Unlike other roller coasters at Cedar Point, Steel Vengeance will offer thrillseekers the opportunity to purchase a video of their ride experience.
Steel Vengeance takes over the space once held by the rickety Mean Streak roller coaster, and breaks a total of 10 world records.
NEW WORLD RECORDS
- Tallest hybrid roller coaster (205 feet)
- Fastest hybrid roller coaster (74 mph)
- Longest hybrid roller coaster (5,740 feet)
- Steepest drop on a hybrid roller coaster (90 degrees)
- Longest drop on a hybrid roller coaster (200 feet)
- Most inversions on a hybrid coaster (4)
- Fastest airtime hill on a hybrid coaster (73 mph)
- Most airtime on a hybrid coaster (27.2 seconds)
- Most airtime on any roller coaster (27.2 seconds)
- World's first hyper-hybrid roller coaster
STEEL VENGEANCE RIDE STATS
- Ride time: 2 minutes, 30 seconds
- Maximum speed: 74 mph
- Capacity: 1,200 riders per hour
- Model: Hyper-hybrid (Wood-steel coaster higher than 200 feet)
- Lift hill height: 205 feet
- Angle of first drop: 90 degrees
- Vertical drop height: 200 feet
- Total track length: 5,740 feet
- Ride: Three, 24-passenger trains named after 'Wanted' characters "Blackjack," "Digger" and "Wild One"
- Restraints: Lap bar with redundant safety belt