PEPPER PIKE, Ohio — It's not often you see a full Secret Service motorcade driving down the street in Pepper Pike, Ohio. But sure enough, a long line of flashing lights could be seen here the night of Sept. 29, 2020.
Resident Jim Linhart says there was much excitement in the neighborhood that evening.
"I happened to get up in the middle of the night, and I looked out the window and I saw these green dots next to each other," he recalled. "I realized that was all the Secret Service in the woods and all around watching out, and I was blown away."
That late September night happened to be the night of the first presidential debate of 2020 between President Donald Trump, and former Vice President Joe Biden, held here in Cleveland at the Health Education Campus of Case Western Reserve University and the Cleveland Clinic. That event will go down in history for all of the wrong reasons, but for Linhart--co-owner of Lemon Falls Cafe/Marketplace in Chagrin Falls--it's a night he'll always remember in a very good way.
That's because that evening, Biden's team had booked the house right next door to Linhart's on Airbnb for the VP and his wife, Dr. Jill Biden. So how did Linhart end up becoming next door neighbors for the night with the future president and first lady?
It all started with a phone call from his neighbor, Dr. Bradley Cohn. The two men have known each other since childhood, and both are next-generation owners of their family homes.
"I've lived here for almost 10 years now," Linhart said. "It was my aunt's house that I purchased from my cousins and so it's been in our family since my uncle built it, so it's very special."
Cohn, a local dentist, still owns his late parents' home and rents it out on Airbnb from time to time.
"Bradley is a friend of our family," Linhart said. "His mom and dad purchased the house. They built it through my uncle, so I've known Bradley since we were little kids."
On occasion, Cohn will ask Linhart to provide a tray of baked goods from Lemon Falls for his Airbnb guests.
"I was at work and he told me that I needed to bake a huge cookie tray because he had a guest staying," Linhart recalled. "He said, 'I just found out [the Bidens are] going to be staying in the house,' and so of course I was like a madman trying to get it all done and perfect.
After dropping off a tray filled with chocolate toffee, peanut butter and oatmeal cookie deliciousness, Linhart says he was shocked to see eventual President-elect Biden making his way over.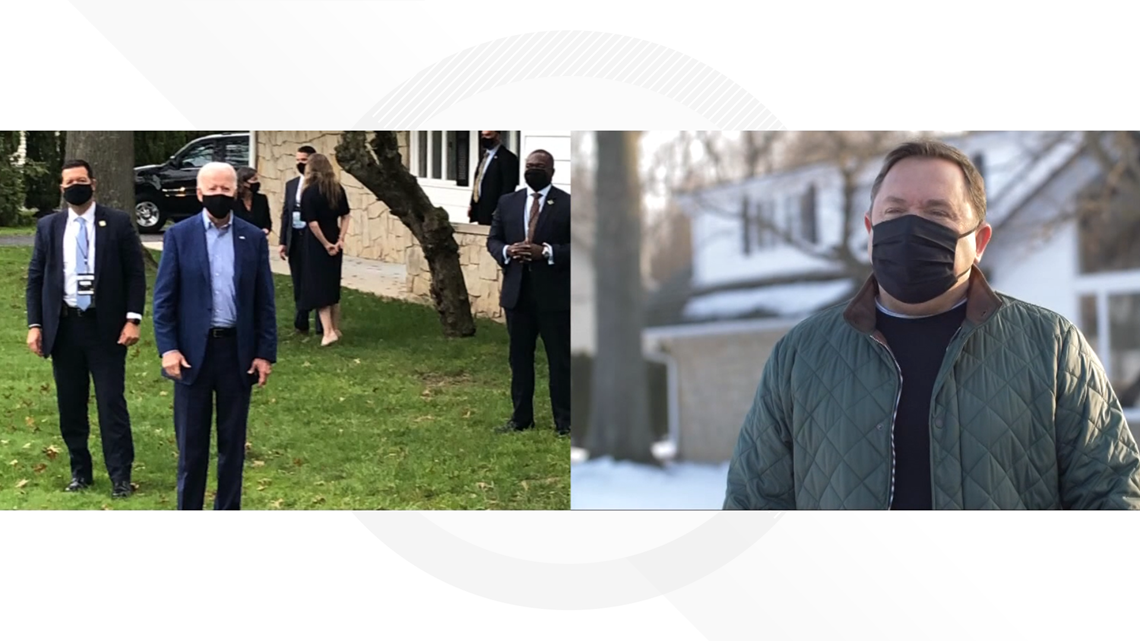 "All of a sudden he comes out [and] he walks across the front lawn," Linhart remembered. "He said, 'Thank you so much for the cookies. That was so kind of you, and what a lovely neighborhood this is. It's beautiful. I'm so excited to be here in Cleveland.'"
An unexpected local stop on the way to the White House, and a very special memory for Linhart.
"The fact that he came out and thanked me and was so, so genuine and gracious just made me like him even more than I already did," he said. "It was really special to me."