AKRON, Ohio — The Akron Marathon is virtual this year: You won't see a crowd of people lined up at the starting line. But what you will see if you happen to be around Akron Children's Hospital, is one dedicated father, running for his son, who's battling cancer.
"I don't think there's any way to convey how proud of Andrew we are. He just takes everything so positively. He's got this amazing outlook on things," Kolt Codner said of his 4-year-old son, Andrew.
He remembers the day that changed his family's life forever. It began when Kolt and his wife, Tristan, saw something that was a bit off while at their home in Poland, Ohio.
"Right around the beginning of quarantine, we start noticing some swelling around his eyes. We thought, 'okay, you know, it's probably allergies, something like that," Kolt remembered.
It wasn't allergies. Andrew had acute lymphoblastic leukemia.
"That day was the worst day of my life in terms of just kind of that emotional roller coaster," Kolt told us.
The next few hours after Andrew's diagnosis were gut-wrenching, a complete blur. But even in his parents' darkest hours, Andrew's light came beaming through.

"So, it's the first time he's ever been in a hospital overnight, and we get to up to his room and Tristan and I are sitting there, very concerned and dejected, and all of those emotions you would expect. He looks up at us and goes, 'alright, so what are we going to do now, guys?'" Kolt said of his son's remarkable attitude.
Andrew has a long road ahead with treatment, made easier by medical caretakers at Akron Children's Hospital, and his favorite nurse, Josh.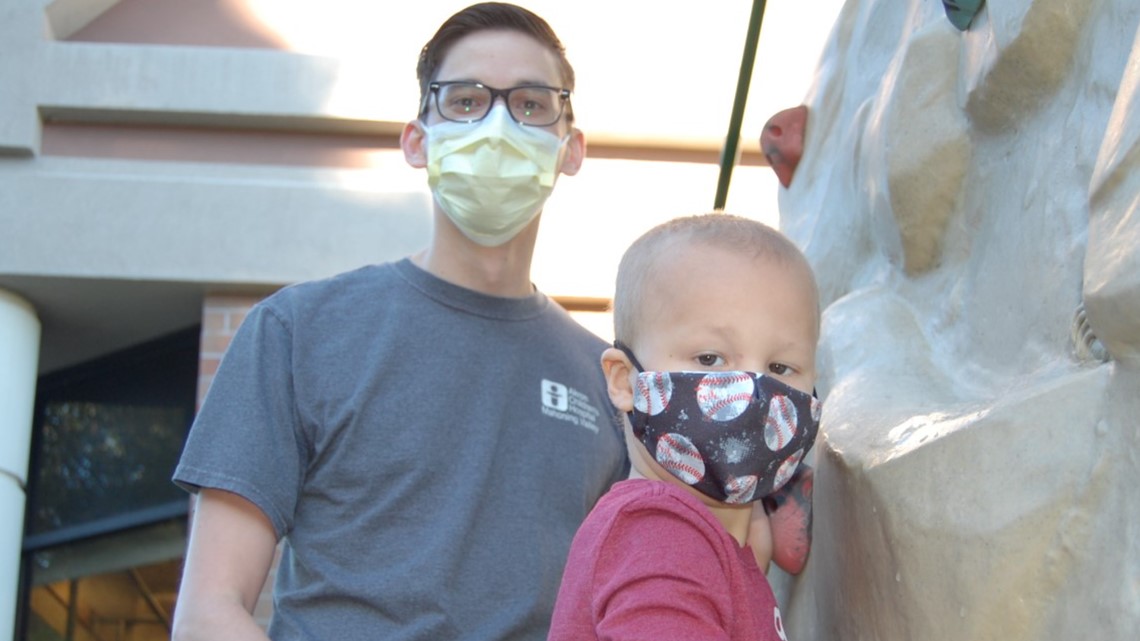 "It's been this amazing thing to see these folks during this really difficult time, connecting with (Andrew), not only as a caregiver, but also as just a warm person who cares for him," Kolt said. "It's been impossible to convey how much we appreciate what those folks have meant to him and to us."
Heroes – all around. But none more than Andrew, inspiring his own father to tackle a valiant mission himself: running a full marathon around the hospital where his son will be inside, getting lifesaving treatment.

"So I'll be running around his room. He's all excited about making signs and he's going to bring the medal. And then whenever I get done, I'm going to come up to the room and he's going to give me the medal," Kolt said. "Those inpatient days tend to be pretty long days in the hospital where you're just kinda hanging out. So hopefully, that'll break up four or five hours of his day and keep him entertained."

Kolt is going the distance for Andrew ... and all the other kids courageously battling pediatric cancer.
"I mean, all of these kids are phenomenal. The stuff that they're asked to endure, and the way that they do it, it's nothing less than just incredible," Kolt said.

And, the pride. It's almost indescribable for Andrew's dad.
"I would just tell Andrew how proud of him we are and what an inspiration he is. I hope he's as proud of us as we are of him."
To learn how to help Kolt's marathon fundraiser, click HERE.
Interested in running the Akron Marathon? Click HERE.