BRECKSVILLE, Ohio — A retired teacher-turned-author is on a mission to help animals in need, and is doing so with help from another former Brecksville Bee.
"I always figured that I wanted to retire and do some things that I never got to do before," Dave Lubinger, retired Brecksville-Broadview Heights teacher, says. "After retirement, I decided the one thing I wanted to do was write books."
Lubinger taught history, sociology, and law for 32 years before hanging up the bookbag and deciding to focus on the books themselves. After dabbling a bit, he took a few classes at the Hudson Library and began to study. He read, took notes, and spoke to authors before putting pen to paper on a children's book.
"I thought, 'I got those books in my head," Lubinger remembered. "'My daughter and my dogs, they're based on true stories. I can tell these stories.'"
After Lubinger got several books written about his daughter and their dogs, he needed to find an illustrator. For that, he looked no further than one of his former students at Brecksville-Broadview Heights High School.
"I reached out to Adam, because I saved some of his pieces of art," Lubinger told us. "They were brilliant for my history classes. A little gruesome, but brilliant."
"I met up with him and saw what he had going, and the ideas started coming into my head," adds Adam Slivka, Class of 1999. "I just kind of sketched out some things, what I thought it could be, and I could see it coming together."
The two were off, former student and teacher, now colleagues. Some habits are proving hard to overcome, however
"I still call him Mr. Lubinger," Slivka laughs. "He says to not, but I can't not do that."
The first book in a series of self-published children's tales titled "The Adventures of Jill, Jake, and Stimlin" hit local book stores, Barnes and Noble, and Amazon in May of 2021. They're hoping to have the second book released this March.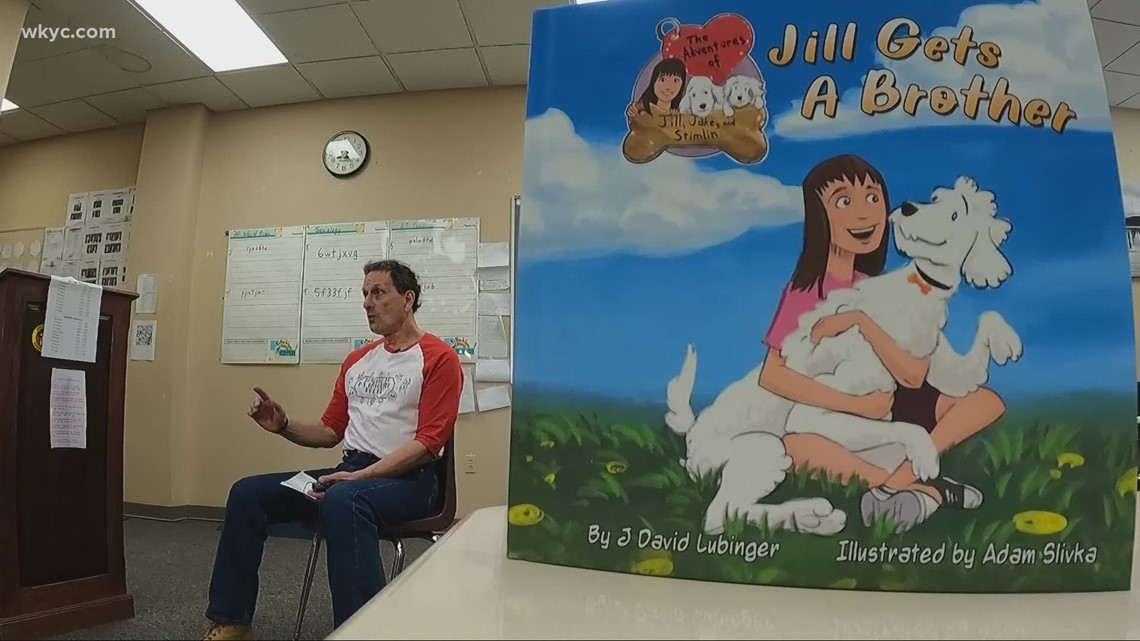 The stories certainly had an impact on the Lubingers. Jill is now at the Ohio State University studying to become a vet, and Dave is donating his proceeds from the series to animal shelters and sanctuaries. They're now hoping their past adventures will help to inspire a new generation of animal lovers and artists.
"My dogs, Jake and Stimlin, were like my sons," Lubinger said. "I basically, if anyone would ask, would say I have a daughter and two boys. They just happen to have four legs."
"I hope it inspires kids to become artists of their own," Slivka said of the project. "If they see what they like, it might light a little spark in them."