CLEVELAND — The rhinos that roam in their habitat at Cleveland Metroparks Zoo will soon be able to enjoy a lot more space.
When the newly-named Daniel Maltz Rhino Reserve opens in late spring, it will double the size of the Zoo's habitat for its critically endangered Eastern black rhinoceros herd.
Plans to significantly expand the rhino habitat were announced last year and construction began in September on the $2.5 million project. The expansion replaces the former Monkey Island exhibit, which was removed as its former resident Colobus monkeys were transferred to a nearby habitat with more climbing space.
The Cleveland Metroparks Zoo and Cleveland Zoological Society says it received two significant donations to the project. In honor of Daniel Maltz's gift, the Reserve will be named after him. Equally generous support from The Walter E. and Jean C. Kalberer Foundation will fund the project's Walter Kalberer Bull Barn and Jean Kalberer Rhino Yard.
"We are thrilled to welcome the Daniel Maltz Rhino Reserve as the next habitat at Cleveland Metroparks Zoo," said Cleveland Metroparks Zoo Executive Director Chris Kuhar in a statement. "Daniel and the Kalberer family are passionate advocates of both animal welfare and conservation, and their gifts will help provide a new home for the Zoo's growing herd."
The expansion also includes a second indoor rhino barn and introduces several new complexities for the rhinos including overhead shade and misting areas, a mud wallow and rubbing posts. The area will also feature a new, fully accessible viewing deck for guests.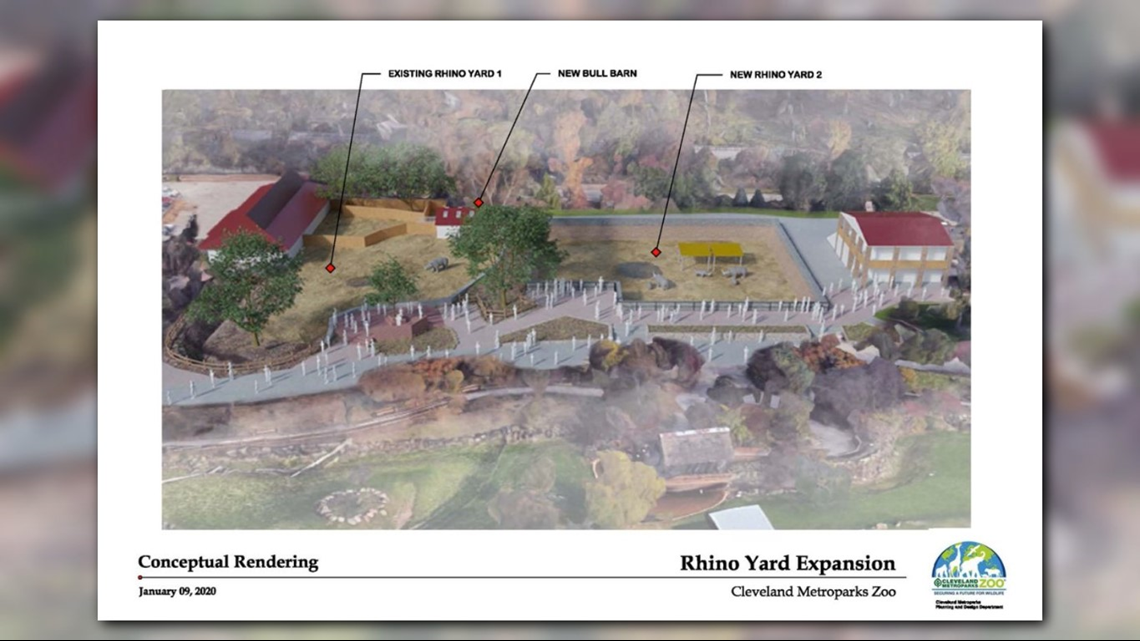 Cleveland Metroparks Zoo has had significant success in breeding critically endangered Eastern black rhinoceros including the birth of two calves in 2018. Eastern black rhinoceros are critically endangered and less than 750 remain in the wild due to poaching and habitat loss.
Since 2011, Cleveland Metroparks Zoo and Cleveland Zoological Society have invested $35 million in larger and more complex animal habitats, including African Elephant Crossing, Rosebrough Tiger Passage and, most recently, Asian Highlands.
The Daniel Maltz Rhino Reserve is expected to open to the public in late spring.