MOGADORE, Ohio — From the toll of the coronavirus, political discord and racial inequality, the need for healing in the United States in 2021 is evident.
Two ministry leaders in Summit County are turning their attention to racial reconciliation because they believe the wounds of history, both past and present, need proper healing.
The reason? Unhealed wounds are prone to infection.
"There's something that says, you should be afraid," says Gordon Hayberg, pastor of My Community Life Church in Mogadore. "And so, the healing in me occurs when I have a safe place in Kurran."
THE AWKWARD MEETING
Hayberg, who is white, met Kurran Bishop, a 43-year-old Black man, nearly three years ago. Their intention was to form a relationship that would help address and reconcile racial wounds. Their first meeting, though, was a little uncomfortable.
"We jokingly joke about it being the awkward first date because we were like, 'We just don't know anything about each other,'" Hayberg recalls.
"Thankfully the person that connected us kind of knew that we had a similar heart for kids, and for Christ and seeing racial reconciliation happen in our communities," Bishop adds.
The two, who are both Christian church leaders, continued to meet and found common ground.
Both are husbands and fathers with children at different campuses of the same private school and both are runners -- but there's one big difference between them. For the process of racial healing to begin, they say that difference needed to be acknowledged.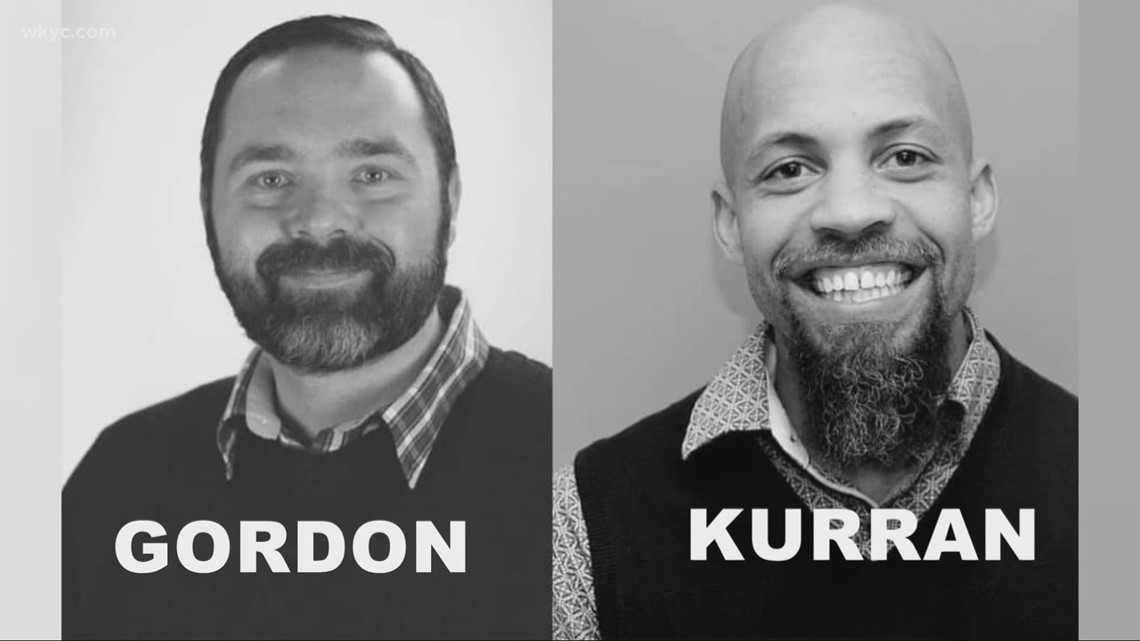 SEEING COLOR
"I used to wave a banner that says 'I don't see color. There's no race but the human race," explains Hayberg as he talks via Zoom with Bishop. "For me to say I don't see color, Kurran, you taught me well, then, that means, you don't see me."
As a person of color who grew up in the inner city of Cincinnati, Bishop says seeing a person's color is imperative to seeing change.
"First, I have to see your color then I could see the division in our nation and now we can start to heal the two sides," says Bishop, who is an Elder at the Shepherd's Pasture for All Nations, a predominantly Black church in Tallmadge.
Both Hayberg and Bishop say they believe racial healing is a process of looking within.
ADDRESS THE MESS WITHIN
"Let's start with the fact that there's a difference and let's address what's going on inside of me that is not accepting of that difference,'" Hayberg shares.
Sparked by the death of George Floyd, Bishop and Hayberg took their process of addressing their own mess public. The two had a candid conversation on Facebook Live to find ways to heal from what the nation saw.
"I don't care what he did, he didn't deserve that," Hayberg says in the video referring to Floyd.
The 41-year-old explains his remorse over his initial response to seeing the video documenting the moments leading up to Floyd's death.
"My white ears are hearing this poor man screaming 'I can't breathe,' and I'm looking at this and I'm going 'that doesn't seem right," Hayberg says. "I'm tormented by the fact that this thought comes through my head, but the next question is 'well he must have done something to deserve it.'"
Hayberg says he's thankful for his friendship with Bishop, who helps him process through his thoughts by giving him a safe space to ask questions, learn and change.
"I can go to my brother Kurran and I can say, 'Here are some things that I'm thinking as a white pastor. What does this mean to you?'" Hayberg describes. "Moving forward, I can then have the humility … to say 'teach me, educate me, because I have not been where you have been. I have not walked down those roads."
Bishop and Hayberg say they hope to be an example of how seeing color and addressing one's own bias within a secure relationship can begin to mend wounds and produce racial healing.
DUPLICATING A RELATIONSHIP MODEL
Their relationship is modeled after the friendship between Bishop's Black pastor Bryndon Glass and Rick McKee, a white pastor in Stow. Glass and McKee have worked together for years to promote racial reconciliation in the Akron area.
"To hear of Pastor Gordon and of Elder Kurran for them to be doing the same, I applaud them," McKee says.
"It just kind of speaks to how infectious this can be," Glass adds. "Relationships is what's going to be the grassroot approach to change when it comes to matters such as this."
"I think [racial] healing is going to happen more face-to-face, human-to-human, as we go in humble and listening and looking to build bridges and not to tear them down."
Hayberg, who says he loves the idea of exposing people to his friends, has asked Bishop to speak to his predominantly white church later this month.
"Kurran is coming to be a presence in order to honor Black History Month as a way of simply doing life together."
Bishop will speak on making sacrifices to love others well, especially in the midst of conflict.