CLEVELAND — It was certainly a time for tears and sadness, but also a time for reminiscing and solemn cheerfulness. That's the way Bishop Anthony Pilla would've wanted it.
Clevelanders said goodbye to their former bishop, one of the most prominent and beloved Roman Catholic figures in the area's history, in a Tuesday funeral Mass at the Cathedral of St. John the Evangelist downtown. Pilla, who led the diocese for 25 years, died one week ago today at the age of 88.
The Mass of Christian burial concluded two days of events memorializing Pilla's life on this earth. Current Bishop Edward C. Malesic served as main celebrant and was joined by scores of local and national clergy members, many of whom had been ordained by Pilla himself. Others in attendance included Pilla's sister-in-law, several nieces and nephews, and Ohio Gov. Mike DeWine and his wife Fran.
"He died close to the faith, close to God, and with the protection of Jesus and the prayers of Mary," Malesic said in his eulogy, remembering how Pilla was wearing a t-shirt with an image of Mary holding Jesus at the time of his death. "It's because of that faith -- faith in a saving God -- that we can have a bit of peace ourselves today, for death does not have the last say for a person of faith."
The son of Italian immigrants and a native of Cleveland's Little Italy, Pilla graduated from Borromeo College in Wickliffe (a part of John Carroll University) before being ordained as a priest in 1959. Twenty years later, he was consecrated as an auxiliary bishop in Cleveland, but just over a year passed before Pope John Paul II promoted him to bishop after James Aloysius Hickey was named Archbishop of Washington.
Pilla became the first (and thus far only) native Clevelander to head the diocese since its establishment in 1847, staying in the position from 1981-2006. His tenure saw a wide expansion of modern participation for lay Catholics as well as his advocating for the city's urban neighborhood parishes. He became known for his warmth and kindness with members of the community, and also fought quietly to help bring the Church's liberal and conservative factions together as one.
"[When writing my homily,] I reserved the last place for the first expression of sympathy. I wrote, 'The Pilla family,'" Father Edward Estok, pastor of St. Albert the Great Parish in North Royalton and Pilla's former priest-secretary, told the congregation. "Once again, I heard that little, kind voice [of Pilla's] ... come rushing in my ear, and he said, 'They're all the Pilla family.'"
Like most bishops of the era, Pilla's term in the early 2000s was affected by the clergy sex abuse scandal that rocked the Catholic Church worldwide, and several accused priests were transferred rather than removed earlier in his term. Despite these earlier errors, Pilla would work to atone by removing abusive priests and establishing new safeguards that remain in place to this day, including a lay review board that looks into such allegations. As a public gesture of reconciliation, he even washed the feet of a woman who had been raped by a priest as a child.
"Like so many of you, I knew the bishop prayed for me," Estok said of Pilla's compassion. "'Live on in my love' was not only his motto, his path to personal holiness, but it became the hallmark of his episcopal work, what I call 'Leading by loving.'"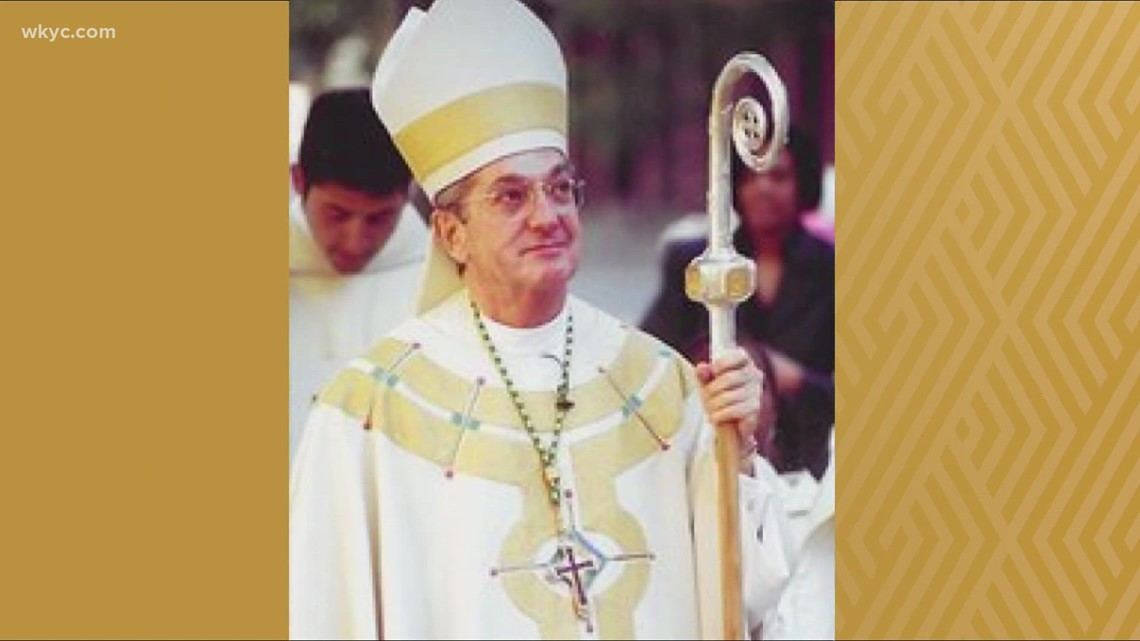 Due in part to the stresses of the job as well as burgeoning health problems, Pilla retired two years earlier than expected at the age of 73 and subsequently became bishop emeritus. His replacement, Richard G. Lennon, later closed or consolidated 50 of the parishes Pilla had fought to keep open, although the Vatican later partially overruled him and left 12 in operation.
Pilla remained a presence in Greater Cleveland for the next 15 years, most recently making an appearance at the Feast of the Assumption in Little Italy. Malesic, who worked closely with Pilla during his own first year as bishop, had fond memories of their shared experiences at the event this past August
"He was out with the people, walking cautiously up the hill with his cane, and they were crowding around him, asking for his blessing, talking with him, reminiscing," Malesic recalled. "A man with his people, or as Pope Francis might say, 'A pastor going out to get the smell of his flock.' In this case, the smell on Bishop Pilla was of meatballs, sausage, and garlic."
Cardinal Secretary of State Pietro Parolin sent a letter on behalf of the pope offering prayers and condolences for Pilla and his loved ones. Dignitaries representing the Catholic Church in-person included former Cleveland Bishop Nelson J. Perez (now Archbishop of Philadelphia), Cleveland Auxiliary Bishop Emeritus Roger William Gries, Cincinnati Archbishop Dennis Marion Schnurr, and other diocesan leaders from across the United States.
"Recalling with gratitude the late bishop's many years of priestly and episcopal ministry to the Church in Cleveland, his zeal for Catholic education and inter-religious dialogue, and his leadership within the United States Conference of Catholic Bishops [as president from 1995-98], the Holy Father joins you in commending his soul to the merciful love of Christ, the Good Shepard," Parolin wrote.
Following the Mass, Pilla's coffin was interred inside the cathedral's Resurrection Chapel, along with other bishops from the diocese's past. Schnurr gave the final commendation, speaking of Pilla's stated preference for his home of Cleveland rather than the higher places of authority in the Church.
"When I'd call him and say, 'Bishop, the Holy See wants us to come to Rome for some meetings,' he would say, 'Dennis, is this meeting really necessary?'" Schnurr, who served as USCCB general secretary during Pilla's time as president, remembered with a chuckle. "He loved this community. ... Your loss is my loss."